After what appeared to be a strong recovery in hearing aid sales during the third quarter of 2020, hearing aid net unit sales receded again during the last three months of 2020, as regional Covid-19 outbreaks depressed sales across the United States. From October to December, Hearing Industries Association (HIA) statistics show that commercial/private practice unit sales decreased by 5.9% (and 7.5% overall) compared to the same period in 2019—after a fairly robust mid-year recovery that followed a 52.5% market swoon during the second quarter, the initial wave of the pandemic (see Figure 1).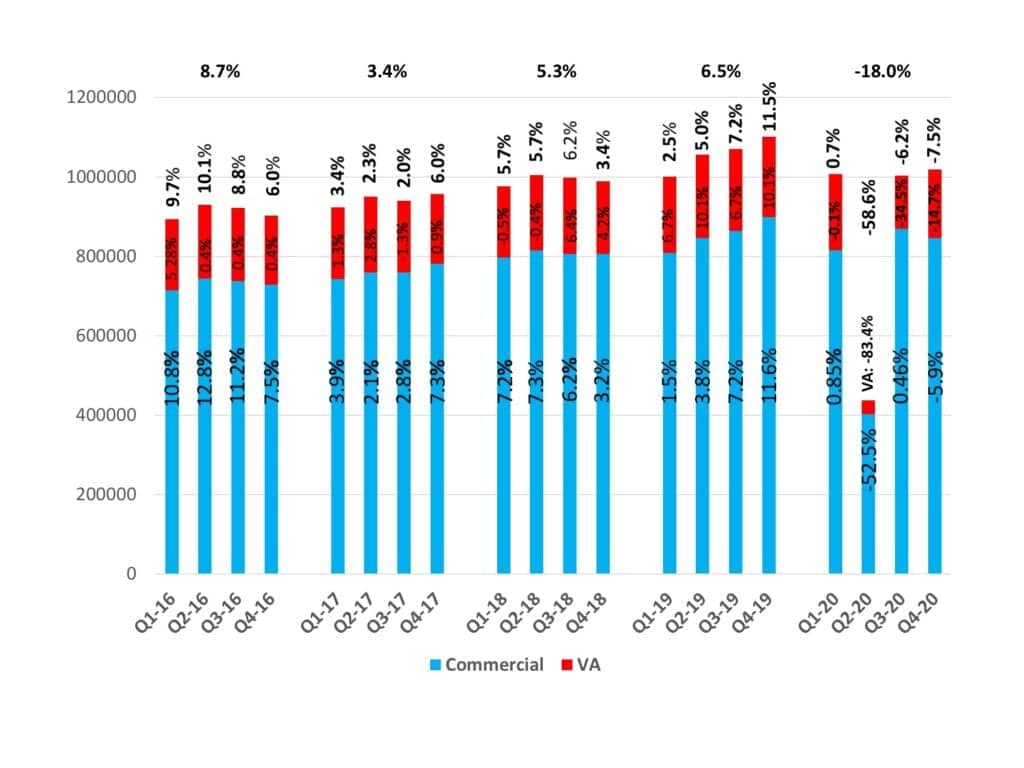 Implications for Private-practice Dispensing
Even though we are (hopefully) seeing the final stages of the pandemic—and vaccines are now being administered—seniors, older adults, and people more susceptible to the effects of the virus can still be wary about venturing out and obtaining hearing help. MarkeTrak 10 shows the average first-time hearing aid user is 65+ years old, squarely in the demographic endangered most by Covid-19. Although states have the final authority, it is now well established that hearing healthcare is an "essential service," and audiology services are critical for individuals with communication disorders, which include hearing loss, vestibular disorders, and other auditory problems.
Here are four strategies in response to the pandemic that hearing care practices are employing.
1) Infection control and making consumers feel safe. A June Hearing Review webinar with Douglas Beck, AuD, VP of Academic Sciences for Oticon, and Clifford ("Dr Cliff") Olson, AuD, a private-practice owner in Phoenix and popular vlogger (webinar available on-demand at: https://bit.ly/38qoVFY), discussed how Covid-19 may have lasting effects on hearing care. Dr Beck lauded the rapid response of hearing care professionals and industry in implementing personal protective equipment (PPE) for effective infection control, while changing office protocols to safeguard patients and employees.
Dr Olson said that consumers may be apprehensive about visiting medical-related facilities in general during Covid-19 outbreaks. For example, even though his practice uses unbundled billing, has robust teleaudiology capabilities, and did everything possible to ensure patients' safety in the spring, the initial shortage of PPEs nationwide never really impacted his business. That's because patients just weren't coming through the doors. "The problem is," said Olson in the June webinar, "we now have had, at least in Arizona…a huge increase in positive tests. You can debate all you want about 'Is that [due to] more testing?' or whatever the case may be, but it's really irrelevant. Because, at the end of the day, it all depends on if consumers are actually willing to come into the clinic now that we have all the appropriate safety protocols in place from an infection-control standpoint."
In other words, the prevalence or threat of Covid-19 is not the only determining factor; it's also about the patient's perception of safety. If older consumers feel unsafe about visiting your practice, then it's unlikely they will make and/or keep an appointment. Hearing care providers who adhere to stringent infection control measures, while informing patients that their practice complies with all CDC and state guidelines for their safety will be rewarded. Infection control has become a component of practice marketing, and given our patient demographic and its threat from all forms of colds and flus, this may be a "new normal" in hearing healthcare.
2) Improving your online access and marketing telecare. A huge number of consumers are turning online to make major purchasing decisions. This past holiday season, consumers spent $188.2 billion in online purchases—a 33% increase over the year before. Hearing aids and hearing care practices increasingly rely on their online image to bring new customers in their doors. That means website design and obtaining online reviews for your practice is more important than ever. Likewise, the ability to make online appointments and enjoy the benefits from teleaudiology—including online consultations and hearing aid adjustments—can be a major selling-point for today's prospective clients. As noted, some patients may be hesitant to visit the office in person, and hearing care professionals can tailor their care to offering remote fittings, curbside delivery of hearing aids, and even hearing screening/evaluations.
3) Making payments digestible and marketing financing options. In challenging economic times, practices need to provide financial solutions for placing the recommended hearing aids within the budgets of more patients. Affordability and accessibility have been huge issues in hearing healthcare during at least the past 5-10 years; hearing aids almost always require out-of-pocket costs that can be daunting for some people on fixed incomes. One alternative to a large upfront expenditure is a hearing aid financing plan that allows the patient to pay over a period of time for the devices they need, including optional remote mics, TV systems, etc. Whatever a patient's fiscal needs may be, a company like Ally Lending can help ease the financial burden associated with obtaining care, by offering set, low-interest, monthly payments that can be budgeted in with other expenses.
4) Re-establishing links to patients and marketing newly introduced technologies. The pandemic has put a slight bind on new product introductions in hearing healthcare. However, in the next 3-4 months, we will see a large number of new product launches from hearing aid manufacturers. These are expected to include innovative technologies that will improve satisfaction and benefit with hearing aids when listening in noise, connection with phones and peripheral devices, widen the applications of artificial intelligence, and more—providing your practice with new opportunities for patient communication and hearing aid upgrades.
Covid-19 is still impacting hearing aid sales, but the above strategies are ways to blunt its effects, while preparing your practice for what many experts and analysts see as a big year for hearing healthcare in 2021.
Image: © Manjurul Haque | Dreamstime.com