By Karl Strom, editor
It may not be a miraculous market recovery for the hearing healthcare field, but it's still very good.
Total US hearing aid net unit sales—while still down by -6.2% in the third quarter (Q3 2020) compared to the same period last year—made what can be considered a strong rebound from the -58.6% thumping experienced from April-June (Q2) due to the COVID-19 pandemic (Figure 1). In particular, statistics generated by the Hearing Industries Association (HIA), Washington, DC, show that private/commercial sector hearing aid sales increased by 0.5% compared to Q3 of last year—and it should be noted that Q3 2019 sales had increased by 7.25% over the previous year (ie, representing a strong basis point). So, private sector hearing aid sales appear to have snapped back impressively to at least 2019 quarterly sales levels.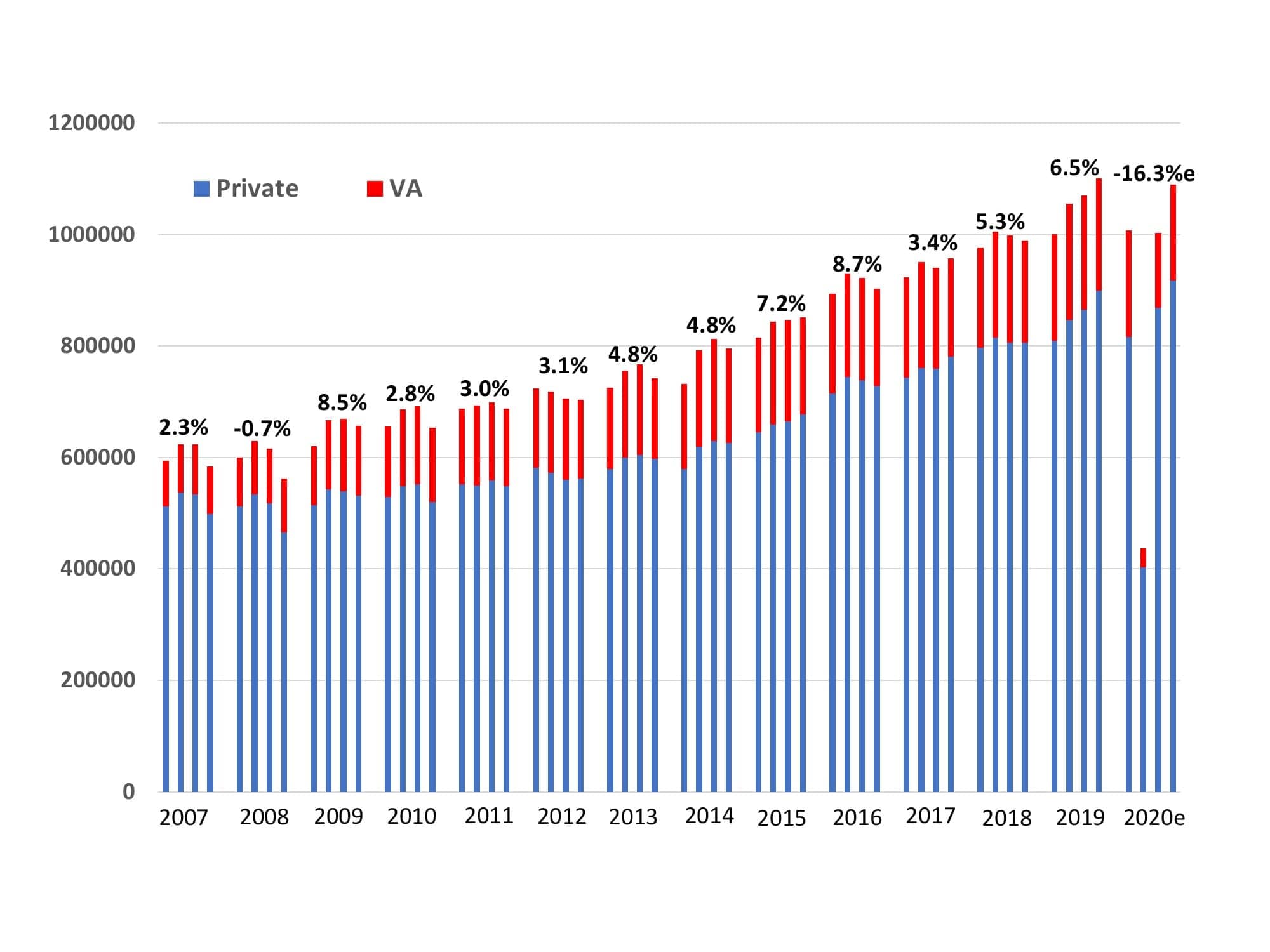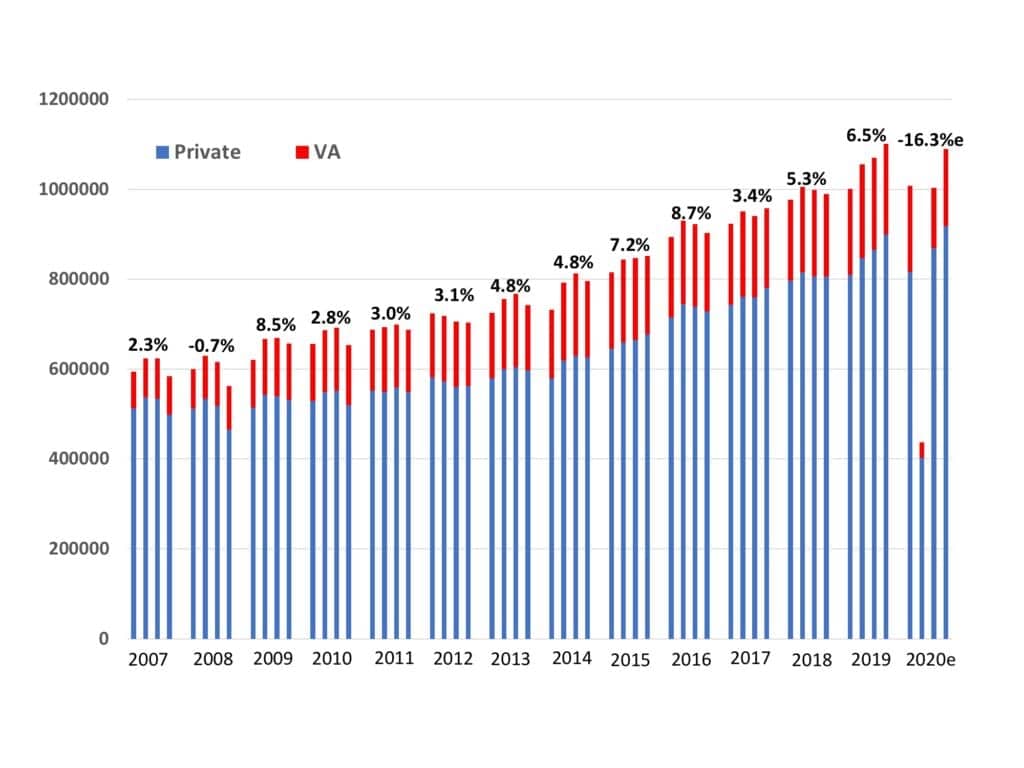 Unfortunately, dispensing activity at the Department of Veterans Affairs (VA) has been far slower to recover, probably due to the VA's unique patient demographic, priorities for specialty care, and the setup of its facilities. In the third quarter, VA hearing aid sales were down -34.5% compared to Q3 2019. However, it should be noted that VA hearing aid dispensing had decreased to near-zero in April and most of May—for an 83.4% decrease in the second quarter. So, even though the VA's Q3 sales are still depressed by about one-third compared to last year, it still represents a substantial recovery from the pandemic-ravaged second quarter.
Related article: US Hearing Aid Sales Fall by 59% in Second Quarter 2020
When looking at this entire awful year of 2020 through three quarters, overall US unit sales decreased by 21.7% for the entire market, with a 17.2% decrease for the private/commercial sector and a 40.5% decrease for the VA. To put things in perspective, the VA usually constitutes over 20% of all US hearing aid sales; so far in 2020, it has made up only 14.7%.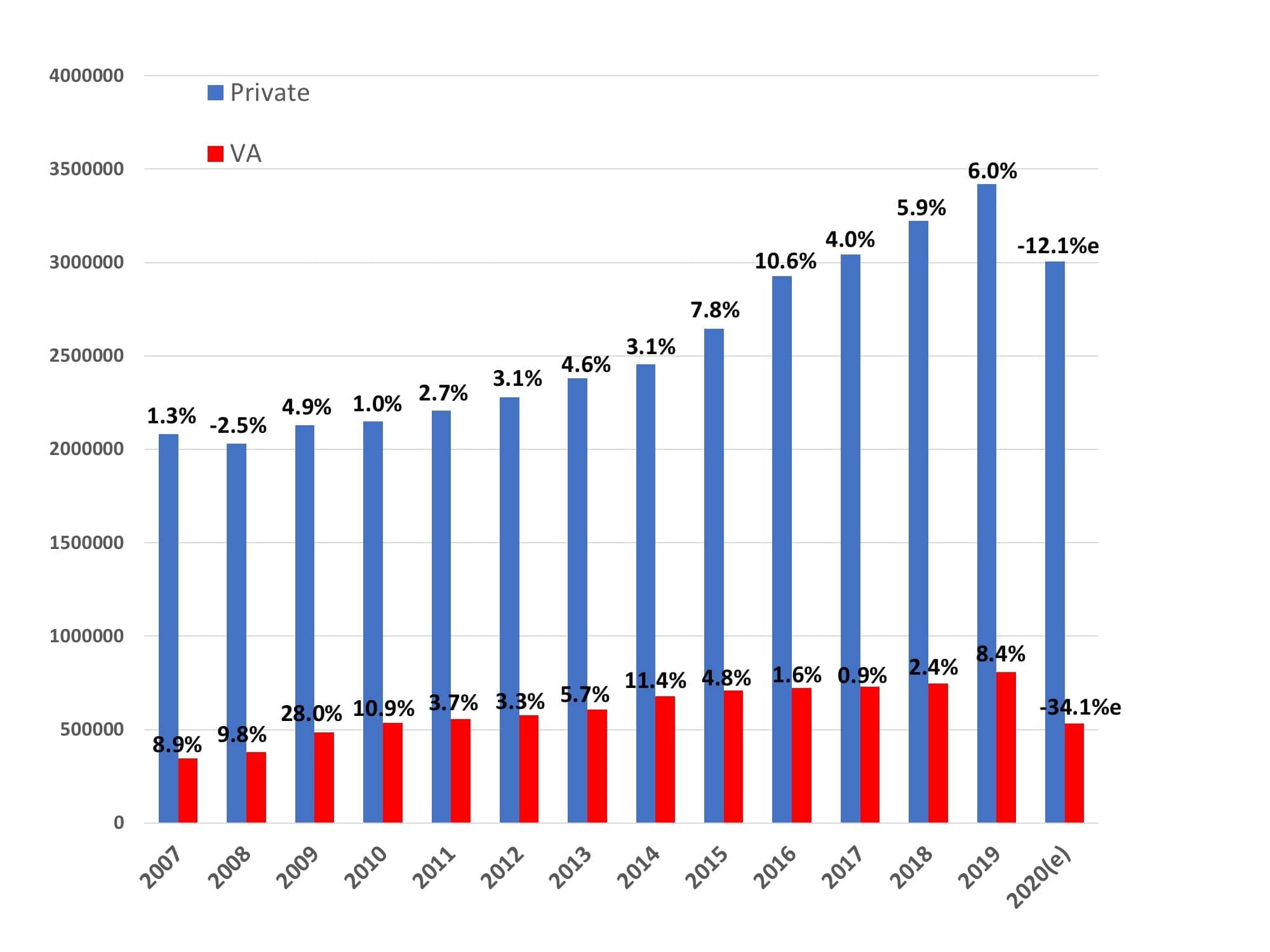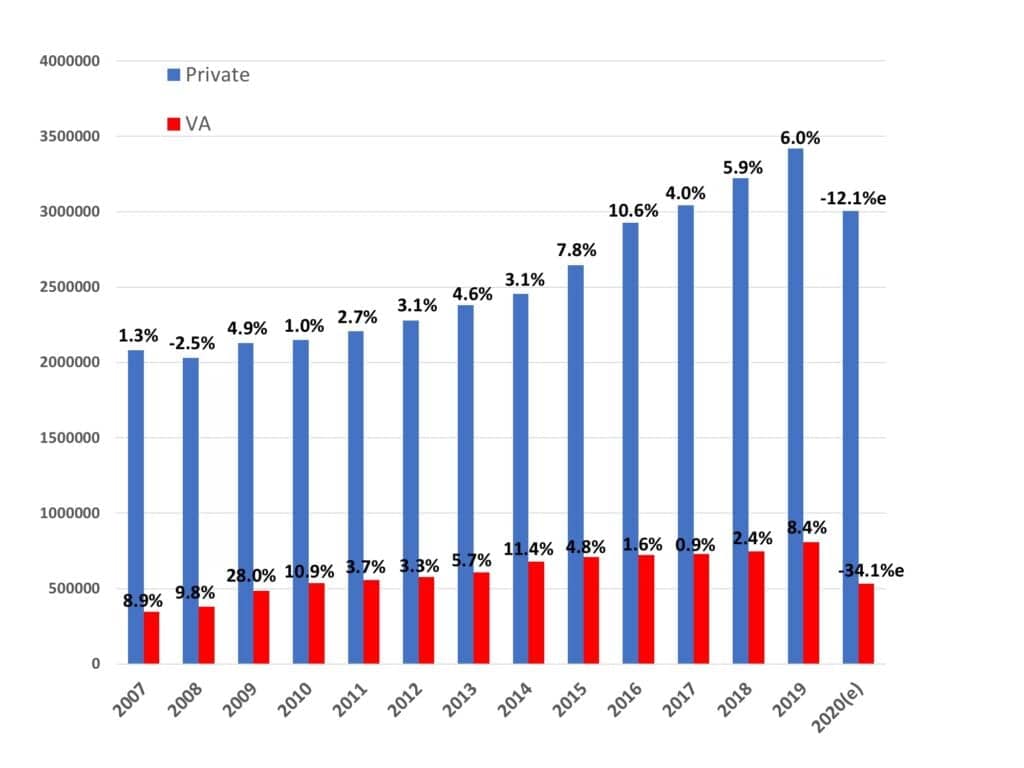 According to the HIA statistics, the popularity of RIC/RITE-style hearing aid sales continue to trend upward. Through the first three quarters of 2020, about 4-in-5 (79.5%) of all hearing aids sold in the United States were RIC/RITE hearing aids, while another 8.2% were traditional BTE-style aids. That compares to 77.8% and 9.8%, respectively, during the same period last year. Of those BTE/RIC-style aids, 59.9% featured rechargeable systems, compared to 46.4% through the third quarter of 2019. A total of 96.4% of all hearing aids sold were classified by reporting manufacturers as wireless hearing aids.
What Might We Expect in Q4?
The fourth quarter of 2020 includes a very significant recession despite some positive numbers in job gains and Wall Street, a heated presidential election, and what might seem like a never-ending pandemic with different regions taking turns at being the hot-spots for Covid-19 cases. However, as noted in previous HR market analyses, hearing aid sales have proven to be relatively resilient during recessions. For example, during the Great Recession of 2008, hearing aid sales decreased by only 0.7% compared to 2007; during the recession of 2001-2002, unit sales decreased by about 1%. This may reflect the fact that consumers—once they acknowledge their hearing loss—tend to think of hearing aids as a medical necessity rather than an electronic device. Without question (and VA sales withstanding), the hearing care market has rebounded in an exceptionally strong way during Q3 2020.
Barring a major escalation in COVID-19 case numbers, massive civil unrest, or some other unforeseen catastrophe, Hearing Review predicts that overall US hearing aid sales in 2020 will finish at around 3.54 million units. As Figure 2 indicates, that would imply an overall decrease in unit sales of 16% (-12% private/commercial sector and -34% VA) compared to 2019.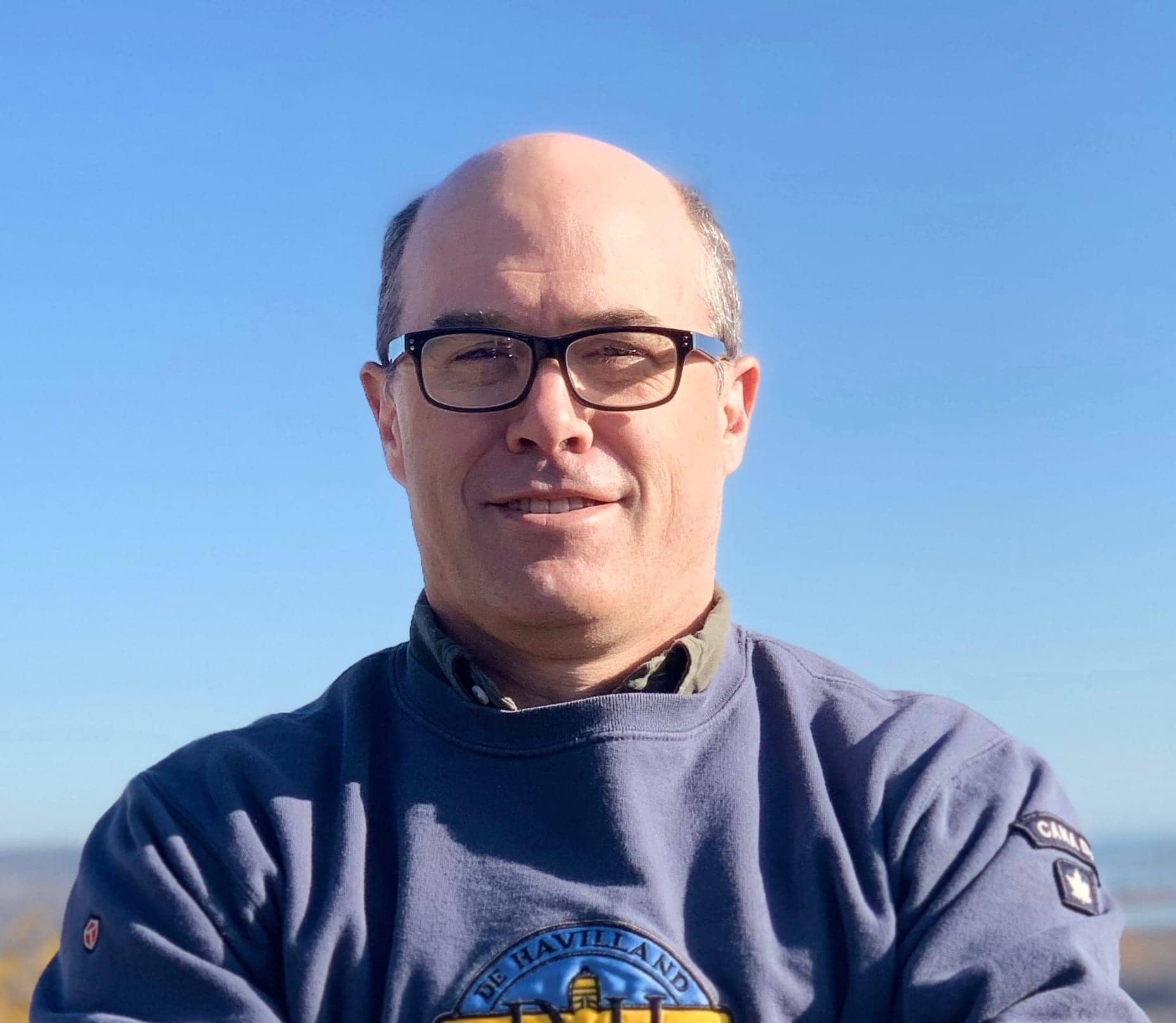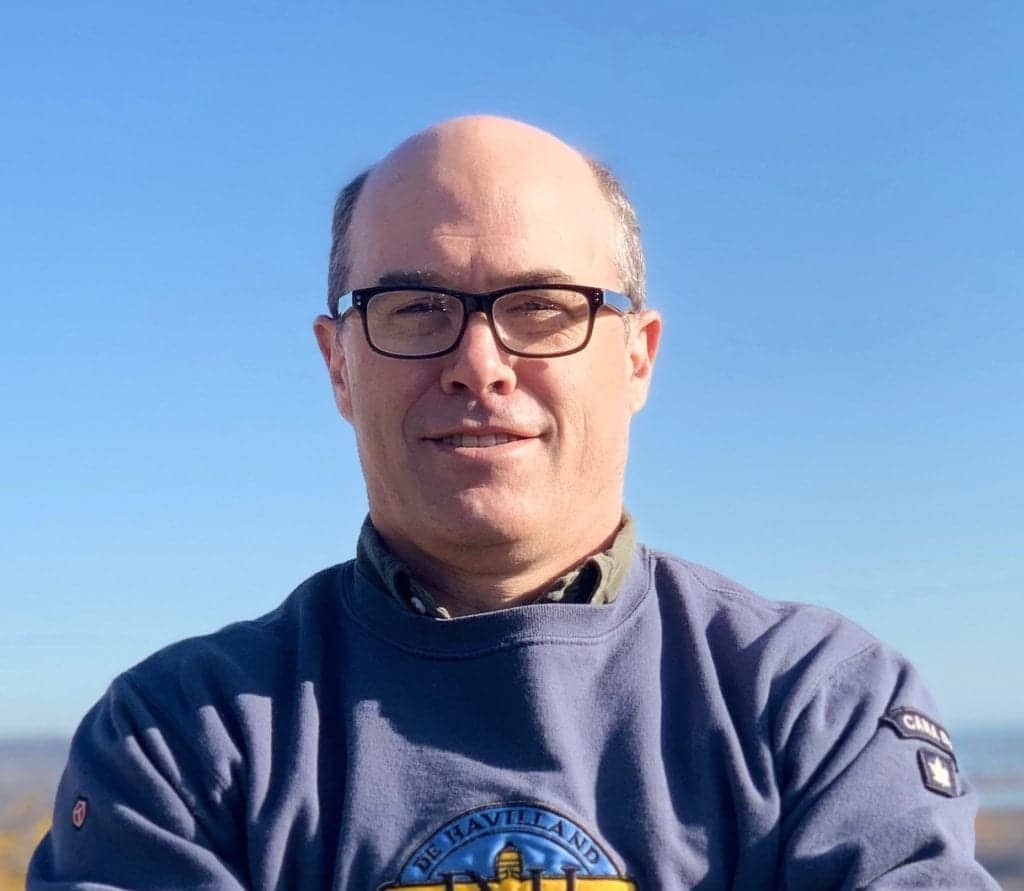 About the author: Karl Strom is editor of The Hearing Review and has been reporting on hearing healthcare issues for over 25 years. Correspondence to: [email protected]