Sonova launched a wide range of new products at last week's International Congress of Hearing Aid Acousticians (EUHA) held in Nuremberg, Germany. For Phonak, this included a significant expansion of the Roger 2.4 GHz wireless system for Sonova hearing aids (as well as competitive hearing aid and cochlear implant brands), the new Sky Q pediatric hearing aid, and the Baseo BTE and Tao ITE basic/economy-level hearing aid lines. These new introductions are designed to complete Phonak's Quest platform, which now offers a hearing solution in the RIC (Audeo Q), BTE (Bolero Q), ITE (Virto Q), Power (Naida Q), and Pediatric (Sky Q) categories. Similarly, Unitron added the "next step" in the evolution of its Era platform by launching Moxi2 and Quantum2, offering new styles across four different technology levels. Both of these new Unitron families are available with the Flex:trial option that provides consumers with what the company calls a flexible and risk-free hearing trial solution.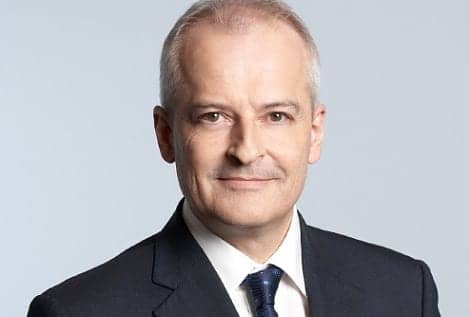 Lukas Braunschweiler
"With the introduction of comprehensive solutions from both Phonak and Unitron, Sonova once again demonstrates broad based industry leading innovation," said Sonova CEO Lukas Braunschweiler in a press release. "We are excited about the ongoing roll-out of Roger, a new digital wireless communication standard operating at 2.4 GHz, which fits perfectly into the group's wireless strategy. Within 1 year, Phonak has successfully launched the most complete portfolio of solutions ever on its well-received Quest platform, including related wireless solutions and accessories. The last piece of the puzzle comes with the launch of a broad range of pediatric devices and tools at this year's [EUHA] Congress. This is a remarkable achievement. At the same time, Unitron is building on the success of the unique Flex product and service concept, which supports the brand's mission to be a service leader in the industry."
New Products for Phonak. By expanding its range of Roger products, Phonak is offering users with severe to profound hearing loss an extra performance boost in the most difficult listening situations, reports the company. With Roger, which uses the 2.4 GHz wireless standard, the speaker's voice is directly transmitted into the user's hearing aids. The range of solutions includes the compact and easy-to-use wireless Roger Clip-On Mic and the inconspicuous Roger Pen with fully automated microphone settings and Bluetooth cell phone connectivity. The expanded Phonak Wireless Communication Portfolio also features the new Phonak DECT CP1 cordless phone, which transmits the conversation simultaneously to both hearing aids and can also be used by the whole family.
Based on 40 years of experience in pediatric audiology and in close collaboration with pediatric fitters worldwide, Phonak has developed one of the most complete portfolios of pediatric solutions ever. It includes Phonak Sky Q, an expanded range of wireless accessories with the new Roger technology and the improved fitting software Junior mode within Phonak Target. The portfolio of solutions has been designed specifically to meet the needs of children.
Designed for great sound quality and easy fittings, the Phonak Baseo Q-15 and Tao Q-15 models bring Quest technology to cost-conscious clients for the first time. According to the company, all models offer an outstanding first fit acceptance and can be fit with the Phonak Target software, allowing hearing care professionals to use one software for all their fitting needs. The Baseo Q-15 BTE and Tao Q-15 ITE models offer a perfect balance between performance and affordability, making them one of the most competitive offerings in this performance class.
New Products for Unitron. On October 1, Unitron announced the next generation of its popular Moxi and Quantum hearing instruments built on the Era platform. Available at four technology levels, the Moxi2 and Quantum2 product families incorporate technologies that are designed to deliver the ease of listening and clarity of speech necessary to create a best first fit experience and overall increased patient satisfaction. In addition, the product families are available in new styles, including the new robust Moxi2 Dura as well as a new BTE.
Moxi2 and Quantum2 are also available with Flex:trial, the industry's first flexible and risk-free hearing trial solution aimed at improving patient satisfaction and hearing instrument adoption. With Flex:trial, patients can be fit the same day with a trial instrument at the recommended technology level, at no cost or obligation, allowing them to experience the benefits of hearing instruments in their daily lives. According to Unitron, Flex:trial has been very successful since its introduction to market a year ago, and it is providing hearing care professionals with a unique ability to meet patient expectations while enhancing their business.
New Processor for Advanced Bionics. Following regulatory approvals in Europe, Canada, and the United States earlier this year, Advanced Bionics showcased Naída CI Q70 (Naída CI), an advanced BTE sound processor for cochlear implants. According to the company, Naída CI clearly demonstrates the combined R&D strengths of Advanced Bionics and Phonak by featuring a full performance package, including 100% wireless connectivity to consumer electronics and Binaural VoiceStream Technology for the best in bilateral and bimodal hearing. Further demonstrating that these two innovation leaders are partners for better hearing, the new Roger technology will be available for use with Naída CI processors providing AB recipients with access to the new digital wireless standard from Phonak.
Source: Sonova