The second edition of Geriatric Audiology by Barbara E. Weinstein, PhD, has been published by Thieme publishers, New York City, providing state-of-the-art information on the evaluation and management of hearing loss in the geriatric patient.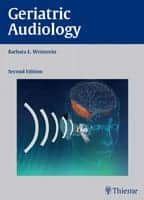 Focusing solely on geriatric audiology, this new edition reportedly contains the latest information on the demographics of aging, as well as the biological, sociological, and psychological factors that affect geriatric hearing loss and its ramifications. Based on Dr Weinstein's experience in geriatric audiology, this book is an important resource for audiologists, speech-language pathologists, and others involved in the care of elderly patients.
Dr Weinstein is professor and executive officer at the Doctor of Audiology Program at CUNY Graduate Center in New York City. Geriatric Audiology is a 376-page hardcover book that contains 69 illustrations and is available at Thieme for $79.99 (€69.99). You can get more information by clicking here; the ebook is available from Amazon, Barnes & Noble, and iTunes.
Praise for the first edition:
"A comprehensive and detailed review of the subject…good background for audiologists anywhere…fascinating insights…I want this book in my department library." —Institute of Sound and Vibration Research, University of Southampton, UK
"A wonderful resource, full of information that facilitates understanding . . . clear, succinct, and reflective of our changing caseload . . . recommended wholeheartedly." —International Hearing Society