In honor of National Grandparent's Day on September 10, hearing implant manufacturer MED-EL USA released new survey results that indicate a growing acceptance of conversations surrounding hearing loss, the company announced. The survey also found that family members and major life events would play a key role in motivating people with hearing loss or difficulty hearing to have their hearing checked. MED-EL Medical Electronics is an Austria-based company that develops hearing solutions such as cochlear and middle ear implant systems.
The new survey found that nearly half of Americans—46%—know someone with hearing loss or difficulty hearing, and 64% have had a conversation with that person about it. Further, 83% of adults said that they would feel comfortable talking with someone they knew if they thought they may be experiencing hearing loss or difficulty hearing, signaling a potential shift in overcoming stigma that has traditionally surrounded hearing loss.1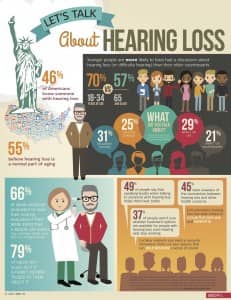 Compared to one in five adults (22%) who said that they would be offended if someone they knew approached them because they thought they were experiencing hearing loss or difficulty hearing, the vast majority—78%—disagreed with this statement, according to MED-EL.
Family members would play a large role in helping to motivate people with hearing loss or difficulty hearing to seek evaluation, particularly among older adults: 79% of adults 65 and over said that if a family member or loved one approached them about having their hearing checked because they were experiencing hearing loss or difficulty hearing it would motivate them to do so.
"The reality is, while some people might have a hard time admitting that they have a hard time hearing, most people around them notice that communication is growing more difficult," said Barbara Weinstein, PhD, professor and founding executive officer of the Doctor of Audiology Program at the City University of New York Graduate Center. "The first conversations surrounding hearing loss are usually with family members, particularly in the case of older adults. It's important to keep those lines of communication open."
Additionally, 66% of Americans said that a major life event (eg, marriage, birth of a child/grandchild, health scare) would motivate them to get their hearing checked if they were experiencing hearing loss or difficulty hearing.
This was the case for Sherri Ely, who participated in clinical trials for MED-EL's SYNCHRONY EAS Hearing Implant System.
"Learning that I was going to be a grandmother was a turning point for me in my hearing loss journey," said Ely. "My hearing loss had cost me my career and relationships. The thought of not hearing my grandchild motivated me to seek out a solution for my hearing loss," she said.
In addition to changing attitudes, hearing implant technology has evolved, especially for older adults who experience severe hearing loss, said MED-EL. Earlier this year, MED-EL USA launched EAS, which combines acoustic hearing with the electrical stimulation of a cochlear implant. Older adults reportedly represent one of the fastest growing segments of the population who are candidates for cochlear implant surgery when hearing loss progresses beyond the point of help from a hearing aid.2
Ely sought out the EAS clinical trial and was one of the first people in the US to receive one.
"Six months after my implant, my first grandchild was born. Hearing her voice for the first time was amazing. Being able to talk with her and build this relationship has been a truly joyful experience," she said.
This survey was conducted online within the United States by Harris Poll on behalf of MED-EL USA from June 28-30, 2017 among 2,264 U.S. adults ages 18 and older. This online survey is not based on a probability sample and therefore no estimate of theoretical sampling error can be calculated. For complete survey methodology, including weighting variables, please contact [email protected]
1. Wallhagen MI. The stigma of hearing loss. The Gerontologist. February, 2010; 50(1):66–75. DOI: doi.org/10.1093/geront/gnp107
2. Lin FR, Chien WW, Li L, Clarrett DM, Niparko JK, Francis HW. Cochlear implantation in older adults. Medicine. February, 2012;91(5):229-241. DOI:10.1097/MD.0b013e31826b145a
Source: MED-EL, The Gerontologist, Medicine
Image: MED-EL