Phonak, Stafa, Switzerland, announced today the introduction of Audéo
™
 B-Direct, a new "Made for All" hearing aid that directly connects to any cell phone with Bluetooth
®
4.2 technology, including Android
™
, iPhone
®
, and the most other "classic" cell phones that can be popular with older adults. The new hearing aid is the first to make use of Sonova's latest chip and wireless radio technology, called SWORD
™
.
Audéo B-Direct is designed to deliver excellent sound quality within the company's proven Belong platform and AutoSense OS
™
. The wireless chip reportedly has the lowest power consumption of any hearing aid using Bluetooth Classic. As it supports the classic Bluetooth protocol, it provides 2.4 GHz direct connectivity to cell phones with no extra body-worn streaming device required.
Android-based smart phones are said account for more than 80% of sales versus 13% for iPhones. According to
a recent report
, over 4 in 5 smartphone buyers worldwide choose the Android operating system. The Audéo B-Direct addresses this sizeable market, while also providing compatibility with Apple's iPhone. In addition, the new solution addresses the more than 23% of hearing aid wearers ages 50+ who own a classic cell phone, says Sonova.
Phonak US President Jan Metzdorff told
The Hearing Review
that previous smartphone solutions involving hearing aids were restricted primarily to Apple iPhones. "What we have done is we have found a solution to stream to almost any phone—whether it's iOS, Android, Samsung, Nokia, and even the good old clam-shell type flip phones," he said during a morning break at a new product launch in Chicago where Phonak was unveiling Audéo B-Direct to about 300 dispensing professionals.  "We're pretty much now able to stream with, and to, any kind of cell phone."
In addition to the Made-for-All platform, Metzdorff also emphasized that dispensers at the product launch were excited about the underlying capabilities of the new SWORD chip. "That's what really makes all of this possible," says Metzdorff. "This sort of chip is not available anywhere in the commercial market, and we've developed this ourselves over the last 4 years or so. The uniqueness of the SWORD chip is the ability to run with a number of parallel protocols and languages…So we can run Bluetooth and Bluetooth Low Energy, we can run our own proprietary protocols like Roger, we can run TV streaming solutions and AirStream™, and more…SWORD will allow us to evolve the product and offer connectivity to other devices in the future with some very exciting possibilities going forward."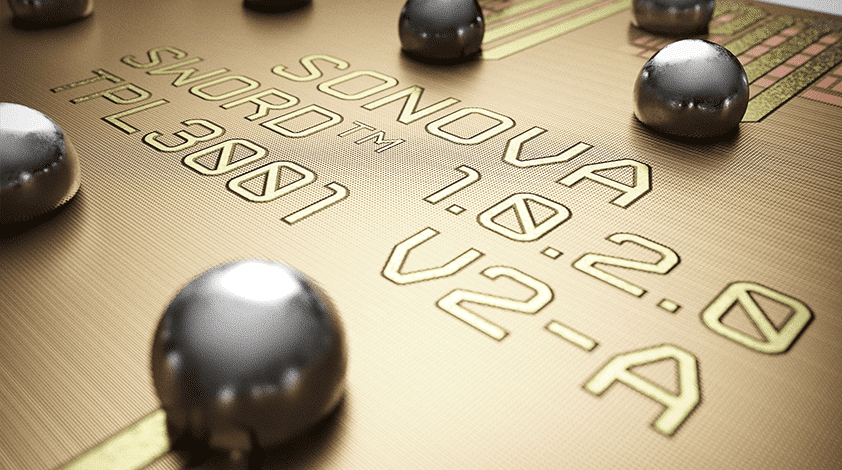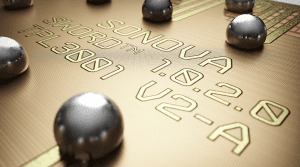 He postulated that, in the future, one could envision language translation functions, Siri or similar personal assistants, and other types of connectivity features being incorporated into hearing aids. "So, what we're doing today is really only the first step in this very versatile and very unique SWORD chip," he added.
SWORD also works seamlessly with Sonova's proprietary 2.4 GHz wireless protocols, including AirStream™ technology, enabling a new plug-and-play solution for high-quality TV streaming. Based on the Belong
™
 platform, the Audéo B-Direct simplifies the life of consumers by offering them the freedom of direct connectivity, truly hands-free calling, and
excellent TV sound quality
, says the company.
"We can now stream sound with stereo sound quality from the TV straight into the hearing aid," says Metzdorff. "We are using the proprietary AirStream technology, but it's really the combination of the stereo sound, the ease of use, and plug-and-play that makes this so unique—and what we believe is by far the most superior hearing aid technology in that application."
Phonak is also announcing an extension of its Belong platform to a new generation of Phonak Virto
™
 B customized products, which are said to be the world's first hearing aids with biometric calibration, which measures points in the concha and adjusts hearing aid parameters accordingly.
It did take Phonak some time to implement 2.4 GHz technology into the company's hearing aids—although Metzdorff is quick to point out that Phonak's Roger devices (which use 2.4 GHz technology) have been available for many years. "You're right [about direct streaming to the hearing aid using 2.4 GHz], but our vision has always been to provide the best possible hearing solutions. Everybody else went down this relatively narrow road called "Made for iPhone," and we decided back in 2012 that we wouldn't go that way, but instead go for the broader [applications]. So, yes, because we chose that path and the broader solutions didn't exist then [with 2.4 GHz], it meant we had to develop them ourselves. But it also means that we now have a very unique solution for this industry—and we can look forward to a lot more unique benefits with SWORD technology."
Sonova says the new products will be available in the United States at the end of August, and available in Europe and other countries from September 2017 onwards.
Phonak is also celebrating its 70
th
anniversary in 2017. "For 70 years, Phonak has continued to develop life-changing solutions that break down barriers," said Phonak Senior VP of Marketing Thomas Lang in a press statement. "With the Audéo B-Direct, we're now breaking barriers to accessibility and connectivity. Audéo B-Direct also works similar to a wireless headset. We're giving more hearing aid wearers access to proven Belong technology without limiting them to a single cell phone, manufacturer, or operating system. This is a true game-changer for our industry."
More from the Sonova press release:
True hands-free calling.
The 
Audéo B-Direct
 is designed to simplify life thanks to real hands-free voice calling. Hearing aid wearers can answer or reject a phone call by simply pressing the push button on their hearing aid. The ringing of the phone is heard through the hearing aids and once the call is accepted, the conversation is instantly streamed. The wearer's voice is picked up by the hearing aid's intelligent microphone network and transmitted to the other caller similar to a wireless headset. All this is done without the hearing aid wearer ever having to physically touch the phone.
Hearing aids double as a wireless TV headphones.
The new  
TV Connector
, using proprietary AirStream
™
 technology, is a state-of-the-art compact multimedia hub that seamlessly connects wearers to their favorite TV programming for an immersive audio experience. It's a true plug and play solution that automatically turns a pair of Audéo B-Direct hearing aids into wireless TV headphones. The TV Connector is also capable of connecting to multiple Audéo B-Direct hearing aids simultaneously, ideal for watching TV together.
Phonak Virto B with Biometric Calibration.
At the same time Phonak introduces 
Phonak Virto B
, reportedly the world's first hearing aids with Biometric Calibration. Each ear is unique and each ear hears differently. Identifying over 1,600 data points on the concha, the Phonak proprietary 3D modeling software calculates the unique calibration settings for each Virto B hearing aid. The result is
reported
to be a 2 dB improvement in directionality leading to better hearing performance. Virto B comes in a full product family launch. The new CROS B Custom for single sided deafness is also introduced to be compatible with Virto B.
* Bluetooth is a registered trademark owned by Bluetooth SIG, Inc.; Android™ is a trademark owned by Google, Inc.; iPhone® is a registered trademark of Apple, Inc.