Products | February 2014 Hearing Review
ITE Product Line 
HANSATON USA, Minneapolis, has introduced its newest in-the-ear (ITE) hearing aid designed for excellent sound quality and the comfort of HANSATON's new XearA technology. The ITE is said to provide substantially improved communication, including enhanced speech intelligibility, superior environment adaptability, and the reduction of disruptive noise. The company has also built a new, state-of-the-art custom shell lab, where its advanced digital shell printing process provides extremely well-fitting shells with thinner walls for different venting variations, leading to improvement in occlusion. The ITE is available in the full shell, canal, CIC, and CIC power models. The AQ rechargeables are available in full shell and canal. (888) 984-7432; www.hansaton.com.
Canadian Online Publication

The first issue of Canadian Audiologist, the official publication of the Canadian Academy of Audiology (CAA), is now available. It is the initial issue of the online-only magazine which replaces the Canadian Hearing Report as CAA's official publication. Canadian Audiologist contains articles and regular columns written by experts on every aspect of audiology, technology, hearing aid dispensing, aural (re)habilitation, vestibular function, and more. As an online publication, the articles are searchable, downloadable, and printable, and immediate updates are available. It will be sent via e-mail subscription six times a year for free. Subscriptions are available at: canadianaudiologist.ca/current.
Impression Material 
Westone, Colorado Springs, Colo, has added a new impression material to its cartridge line. SiliClone® X-act combines the accuracy and dimensional stability of Westone's S-50 cartridge material with clean and easy flow characteristics similar to those seen in a higher viscosity syringe material, like Westone's Pink Silicast® or Silicone Singles. Requiring only nominal hand strength, X-act is easily expressed from a manual impression gun or it can be used with an electric impression gun. With its faster curing time of 3-4 minutes and better flexibility, the material greatly improves patient comfort. (800) 525-5071; www.westone.com.
Audina Offers New Hearing Aids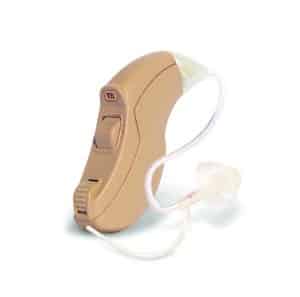 Audina Hearing Instruments Inc, Longwood, Fla, has introduced the expanded flx® family of 312 open fit hearing aids. The products offer three technology levels 4, 6, and 12 channel circuitry, as well as a 312 battery for up to 175 hours of battery life. They feature a patented ergonomic design case, a multi-memory pushbutton switch, and iScroll® digital volume control. There are over the ear (OTE) and behind the ear (BTE) styles with an open-fit ear bud or with a custom ear mold. The ergonomically designed case allows for greater ease of operation. (800) 223-7700; www.audina.net.
Magnify It 
Vision USA a Dentrex company, Cherry Hill, NJ, has introduced the Task-Vision Fresnel Lens Page Magnifier and Stand. The company says it is the "best, brightest, clearest, Fresnel lens ever." Made of ophthalmic acrylic with excellent optics, the lens measures 10 x 12" and provides power of 2x or greater. The lens can be turned vertically or horizontally, and is held firmly with Vision USA's exclusive coated clips, which swivel 180 degrees. The neck is fully adjustable and the base is weighted. (800) 257-5782; www.visionusasupplies.com.
Console for Children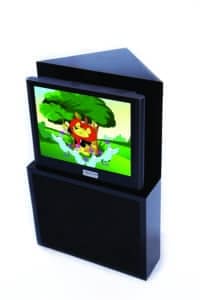 Pehratek Products, Chaska, Minn, has developed a new low profile speaker cabinet to assist with pediatric testing. Its new VIDEO VRA Console/Speaker system is designed for use with the Wireless VIDEO VRA pediatric testing system. It mounts flush in the corners of the sound booth to save space and can be tilted side to side or up and down to better attract the child's attention. The integrated design assures proper alignment between the visual reinforcement and the sound field speaker for improved testing performance. Cords are concealed, making it childproof. It meets ANSI standards for audiometric testing. (866) 470-3532; www.pehratek.com.
Original citation for this article: Products. Hearing Review. 2014; 21(2): 47.