Briefs | March 2014 Hearing Review
Families of Children with Hearing Loss Face Barriers to Care According to New Study
Every day, 33 babies are born with hearing loss in the United States. These children and their families face significant barriers to receiving the services and care they need, according to a new study, Family Needs Assessment: Successes and Challenges, Listening to Their Voices, released by the Alexander Graham Bell Association for the Deaf and Hard of Hearing (AG Bell), Washington, DC.
"The study's findings underscore our country's need for affordable, accessible hearing health care, including access to hearing technology and habilitative services for children who are deaf and hard of hearing and their families. This care is critical for these children to be able to develop listening and spoken language right from the start and to reach their full potential," says AG Bell president Donald M. Goldberg, PhD, CCC-SLP/A, FAAA, LSLS Cert AVT.
The 1,000 parents responding to the AG Bell survey said that public school options, the cost of listening and spoken language services, and the quality of these services available locally were barriers or significant barriers to obtaining the proper care for their children with hearing loss.
When asked when they experienced the most financially trying times, the survey respondents said all periods of the child's life included some financial challenges. Between 4 and 6 years old, followed closely by the elementary school years, were most challenging.
With an overwhelming amount of information about diagnosis and treatment, parents raising a child with hearing loss were asked what information sources they trust and turn to most often. Those surveyed said Internet sources are becoming the standard for information gathering—particularly sites with static, informational content. The parents surveyed also viewed blogs and personal or community-based online sources more positively than sites with pure facts and static content.
Although social media rated the lowest as a source of information, its use is increasing. Parents with children under 5 rate the use of social media significantly higher than parents of children 6 and older.
When asked who provided the most guidance for parents of children with hearing loss, the respondents indicated speech-language pathologists, followed closely by certified Listening and Spoken Language Specialists (LSLS®) and audiologists.
When it comes to emotional and support services, respondents noted a wide range, including school-based groups, general support groups, connections with local parents, AG Bell and other similar organizations, online groups, therapists, and hearing loss-oriented centers. The biggest benefit of using these resources was meeting other parents and individuals on a similar journey, which was noted by 26% of respondents.
The most positive experience on the survey was the Individualized Family Service Plan (IFSP) process. The IFSP includes services that are focused on the entire family while the child is under 3 years old, and is provided under Part C of the Individuals with Disabilities Education Act (IDEA), a major federal education law. Of the families surveyed, 80% said the IFSP was fulfilled. Parents felt included and heard in the process of developing the IFSP.
While many families were satisfied with their IFSP, 53% of survey respondents said they acquired services outside the IFSP, including public services and additional or supplemental services from private providers.
Parents were less satisfied with their Individualized Education Program (IEP) than their IFSP. The IEP plan serves as the foundation for a child's access to the general curriculum under special education and is provided under Part B of IDEA. The main challenges identified by survey respondents included a rigid position from the school district; no appropriate support from IEP team experts; and the need to justify an IEP when a child is performing at grade level and higher in their mainstream classes.
For more information about the Family Needs Assessment survey or AG Bell, visit: www.ListeningandSpokenLanguage.org/FamilyNeedsAssessment
New Brain-Measuring Technique Could ID At-Risk Infants
A new study published in the Journal of Visualized Experiments (JoVE) highlights a procedure that uses tactile stimuli and event-related potentials (ERPs) to identify newborns and children at risk for developmental problems, especially those born prematurely. The technique is designed to be an infant-friendly way of measuring brain activity using nontraditional methods, and reportedly will aid in the invention of treatment strategies leveraging neural plasticity present in the first 3 years of life.
"This new methodology has recently been used to investigate cortical processing of touch and speech sounds in a large group of full-term and preterm neonates," says Dr Nathalie Maitre, one of the two researchers behind the experiment. "It has also been used to characterize the effect of neuro-rehabilitation in the brains of young children with cerebral palsy." Dr Maitre also said that its application could lead to wider adaptations in treating infants and adolescents with brain injuries, for example, or in addressing abnormal sensory experiences in the neonatal period during intensive care hospitalization.
Can Cord Blood Stem Cells Treat Acquired Hearing Loss?
Hearing loss is the most common birth defect found in newborns; approximately 15% of school-aged children in the United States suffer from low or high frequency hearing loss. The inner ear contains tiny hair cells that send electric signals up the auditory nerve to the brain. Damage to these hair cells can result in sensorineural hearing loss.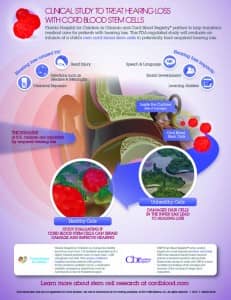 In the last 25 years, cord blood stem cells have been used in the treatment of more than 80 conditions, including various cancers, blood disorders, immune deficiencies, and metabolic diseases. Researchers believe these pristine stem cells may have the potential to repair some of the damage to inner ear function that leads to acquired hearing loss.
With this in mind, Florida Hospital for Children in Orlando is conducting a new FDA-approved study on the use of cord blood stem cells in the treatment of acquired SNHL sponsored by Cord Blood Registry® (CBR®)—reportedly the world's largest private newborn stem cell bank. Phase 1 study has a primary objective of determining the safety of using cord blood stem cells in a select pediatric patient population while also assessing whether this approach to treatment improves inner ear function, speech, and language development. For more information on the study, visit: www.cordblood.com/stem-cell-research/cord-blood-research/hearing-loss.
Aspirin Intake May Halt Growth of Acoustic Neuromas
Researchers from Massachusetts Eye and Ear, Harvard Medical School, Massachusetts Institute of Technology, and Massachusetts General Hospital in Boston have demonstrated for the first time that aspirin intake correlates with halted growth of vestibular schwannomas (also known as acoustic neuromas). Acoustic neuromas are sometimes lethal intracranial tumors that typically cause hearing loss and tinnitus.
Motivated by experiments in the Molecular Neurotology Laboratory at Mass Eye and Ear involving human tumor specimens, the researchers performed a retrospective analysis of more than 600 people diagnosed with vestibular schwannoma at Mass Eye and Ear. Their research suggests the potential therapeutic role of aspirin in inhibiting tumor growth and motivated a clinical prospective study to assess efficacy of this well-tolerated anti-inflammatory medication in preventing growth of these intracranial tumors.
"Currently, there are no FDA-approved drug therapies to treat these tumors, which are the most common tumors of the cerebellopontine angle and the fourth most common intracranial tumors," explains Konstantina Stankovic, MD, PhD, who led the study. "Current options for management of growing vestibular schwannomas include surgery (via craniotomy) or radiation therapy, both of which are associated with potentially serious complications."
The findings, which are described in the February issue of the journal Otology & Neurotology, were based on a retrospective series of 689 people, 347 of whom were followed with multiple magnetic resonance imaging (MRI) scans (50.3%). The main outcome measures were patient use of aspirin and rate of vestibular schwannoma growth measured by changes in the largest tumor dimension as noted on serial MRIs. A significant inverse association was found among aspirin users and vestibular schwannoma growth (odds ratio: 0.50, 95% confidence interval: 0.29-0.85), which was not confounded by age or gender.
"Our results suggest a potential therapeutic role of aspirin in inhibiting vestibular schwannoma growth," says Dr Stankovic, who is an otologic surgeon and researcher at Mass Eye and Ear, Assistant Professor of Otology and Laryngology, Harvard Medical School, and member of the faculty of Harvard's Program in Speech and Hearing Bioscience and Technology.
The work was funded by National Institute on Deafness and Other Communication Disorders grants T32 DC00038, K08DC010419, and by the Bertarelli Foundation.
Original citation for this article: Research roundup. Hearing Review. 2014;21(3): 52-54.