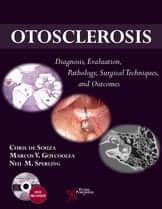 In the treatment of otosclerosis, it is crucial that surgeons be in full command of the many nuances involved in this extraordinarily challenging surgery. Authors Chris de Souza, Marcos V. Goycoolea, and Neil M. Sperling have written a comprehensive text, Otosclerosis: Diagnosis, Evaluation, Pathology, Surgical Techniques, and Outcomes, Plural Publishing, San Diego, Calif., for otologic surgeons seeking to provide treatment with the most current surgical techniques.
As a guide to performing stapedectomies, the publisher says the book is a concise and practical aid paired with an invaluable atlas developed by internationally acknowledged experts. The full-color photos and illustrations are effective learning tools for ensuring the best surgical results. Furthermore, the experience and techniques offered by these experts have been gleaned through years of success performing this demanding procedure.
The accompanying DVD includes videos that demonstrate a step-by-step approach to performing stapedectomy procedures. The young surgeon studying stapes surgeries will find the videos applicable to challenges specific to this surgery, and seasoned surgeons will find these videos to be a convenient resource, saya Plural.
With both theoretical and practical aspects addressed succinctly, yet thoroughly, through contributions from the following acclaimed international experts, Otosclerosis: Diagnosis, Evaluation, Pathology, Surgical Techniques, and Outcomes, will be an authoritative text for years to come:
• Audrey P. Calzada, MD, Los Angeles, CA
• John C. Goddard, MD, Los Angeles, CA
• Robert K. Jackler, MD, Stanford, CA
• Thomas Linder, MD, Lucerne, Switzerland
• G. Pusalkar, MD, Mumbai, India
• Christoph Schlegel-Wagner, MD, Lucerne, Switzerland
• Robert Vincent, MD, Béziers, France
• Richard J. Wiet, MD, Chicago, IL
Chris de Souza MS, DORL, DNB, FACS, trained at the University of Minnesota and completed his externship in otology and neurotology at Baptist Hospital in Nashville, Tennessee. He furthered his training in India and was given the gold medal in the DORL exam from the College of Physicians and Surgeons in Mumbai, India.
In 1995, Dr. de Souza was the second person in the world to be awarded the Orbit Silver Medal for his work on the nose, paranasal sinuses, and skull base. He was appointed visiting assistant professor of Otorhinolaryngology-Head and Neck Surgery at the State University of New York, Brooklyn and also at the Louisiana State University Health Science Center, Shreveport, where he has conducted temporal bone surgery workshops. He has held these appointments for the past 16 years.
Dr. de Souza has published extensively in internationally peer-reviewed journals and several of his publications are considered landmark papers. He has published 18 postgraduate ENT medical textbooks in the United States, Germany, and India. Currently, he is editor-in-chief of the International Journal of Head and Neck Surgery. Dr. de Souza's current clinical appointments include senior ENT consultant at Lilavati Hospital, Tata Memorial Hospital, Holy Family Hospital, and the Holy Spirit Hospital in Mumbai, India, and he is also the coordinator for implantable hearing devices in children and adults at Holy Family Hospital.
Marcos V. Goycoolea, MD, MS, PhD, completed medical school at the University of Chile and obtained his master's and doctoral degrees in basic sciences—as a Phi Beta Kappa graduate student—at the University of Minnesota. He also completed his Ear, Nose and Throat (ENT) residency at the University of Minnesota. Dr. Goycoolea joined the University of Minnesota faculty as an associate professor in the Minnesota Ear, Head & Neck Clinic (currently the Paparella Clinic). He is a member of the American Academy of Otolaryngology, the American Otological Society, the Collegium Otolaryngologicum (where he was a board member for12 years), the Chilean Society of Otolaryngology, and is an honorary member of numerous societies, including the Otolaryngological Society of Spain.
He has published more than 180 refereed peer-reviewed papers and numerous chapters, edited textbooks and surgical atlases, and been principal investigator of various research grants. Dr. Goycoolea has developed original surgical techniques, and has described new cell groups in the ear as well as a syndrome of musical memory. He is currently working at Clínica Las Condes in Santiago, Chile where he is an otologist and he is also a member of both the Academic Board and Board of Directors at this institution.
Neil M. Sperling, MD, FACS, is in full-time otologic practice at the New York Otolaryngology Group in New York City. He is associate professor in the Department of Otolaryngology at State University of New York (SUNY) Downstate College of Medicine in Brooklyn, New York, where he served as the director of otology from 1991–2010. He also serves on the teaching faculty at the Causse Ear Hospital in France, one of the most innovative and experienced centers in the world for ear surgery and stapedectomy surgery.
Dr. Sperling graduated with honors from New York Medical College. He completed his postgraduate residency in Otolaryngology-Head and Neck Surgery at the New York Eye and Ear Infirmary, and a fellowship in otologic surgery and research at the Minnesota Ear Clinic and the University of Minnesota in Minneapolis under Dr. Michael Paparella. He is a member of Alpha Omega Alpha Honor Medical Society, the American Neurotology Society, the American Academy of Otolaryngology-Head and Neck Surgery, the American College of Surgeons, and the New York Otologic Society.
Plural Publishing produces academic, scientific and clinical publications in the fields of speech-language pathology, audiology, and otolaryngology.
Source: Plural Publishing