EAR Inc has released "Acoustical Confusion: Talking Hearing Loss Blues," an entertaining and educational music video designed to promote hearing protection.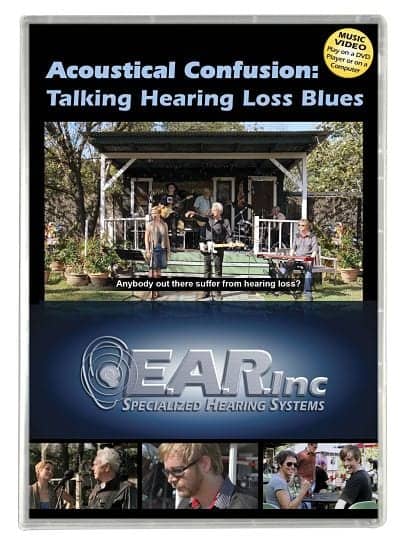 Garry Gordon, CEO of EAR Inc, said he always wanted to have a song about hearing protection, so he wrote one and enlisted the services of Carol Gunn of Gunn Graphics to make the video and coordinate with the band Crystal Flavola to write and perform the music to Gordon's lyrics.
The music video was recorded on a sunny day in an Austin, Texas beer garden. The goal was to entertain viewers and make educating safety officers about hearing protection more appealing.
Gunn said, "Safety officers in manufacturing settings and others responsible for protecting the hearing of their employees have a difficult task. You can call them into the conference room for another boring lecture about why they should wear their ear plugs, or you can show them this video."
Another advantage over a lecture is a that a video can also be subtitled, an advantage for those who may watch the video and already have some degree of hearing loss.
The music video tells a story from the viewpoint of a baby-boomer aged man giving advice to younger people. As a consequence?of noisy working environments as well as leisure activities like shooting guns, riding motorcycles, etc, he is now suffering from "Acoustical Confusion". As he says, "I can hear OK, but I can't un- derstand!" This causes him difficulty and embarrassment in trying to communicate with his fellow band members, at his job, even misunderstanding a flirty come-on by the female vocalist!
"We are also addressing a common misconception that hearing loss is only caused by aging", explains Gordon. "Hearing health care professionals are seeing people at increasingly younger ages suffering from hearing loss caused by loud music, noisy hobbies, even wearing earbuds. It is our mission to help prevent this type of loss and we hope this video will be a useful tool for us and for others who share this goal."
The music video will be distributed to hearing health care professionals and safety officers in industrial, military, and law enforcement settings. It will be available to view at EAR Inc's website. DVDs will be available for purchase for a minimal fee from E.A.R. for use in training and educational programs. The audio portion will be available on CDs and in MP3 format.
SOURCE: EAR Inc