Otometrics has launched the new Madsen AccuScreen two-step (OAE/ABR) hand-held newborn hearing screening system.
The updated AccuScreen, which recently received FDA clearance, features a redesigned interface for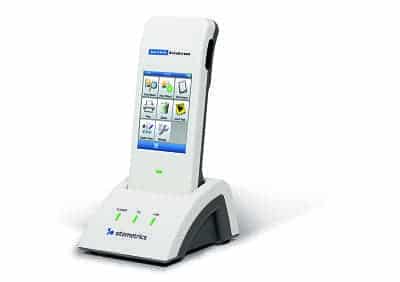 improving workflow efficiency and is entirely hand-held, so no cart is required.
The combined all-in-one, two-step OAE/ABR device meets all program requirements and interfaces with both the HiTrack and OZ-Systems. It includes multiple OAE protocols and allows for ABR screening at 30, 35, 40, and 45dB. The user login option for data security remains in place from the previous version, and the same low maintenance costs apply to the new system.
The unit's completely redesigned housing is significantly smaller and lighter than its predecessor and includes a large, color touch-screen display with intuitive, vibrant icons that guide the user through the screening process. As a result, users are able to focus on the infant and less on the technology. The housing also features detailed test and results screens, as well as an on-screen help menu. Because of its intuitive design, minimal training on the device is required to start the screening process.
Users simply carry the lightweight hand-held unit to screen patients. At the end of the day, users place the AccuScreen in the Madsen docking station, and test data is then uploaded to the Acculink database software with one click.
SOURCE: GN Otometrics North America