AmpliVox Sound Systems recently celebrated its move to an expanded headquarters with a ribbon cutting and open house that featured special guest appearances by Rep Bob Dold (R-Ill) and a number of other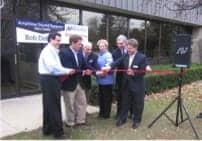 community leaders.
Approximately 200 visitors toured the new office and warehouse facility on Anthony Trail in Northbrook, Ill, where the sound electronics and presentation furniture company now enjoys 60% more space for manufacturing, shipping, and customer service functions.
The event opened with a ribbon cutting ceremony, in which AmpliVox CEO Don Roth was joined by Congressman Dold, State Rep Elaine Nekritz, Village Trustee Jim Karagianis, and North Suburban YMCA Executive Director/CEO Howard Schultz.
The move to a larger space was in response to the swift growth of AmpliVox's business in the last two years, including the addition of a dozen new products in 2012.
In comments to the group, Dold commended Roth for his company's success and entrepreneurial spirit. "We're here to celebrate all that Don and AmpliVox have been able to accomplish, expanding by 60%," said Dold. "We don't hear those stories very often these days. We see a lot of companies tightening their belts and downsizing because they aren't sure what tomorrow will bring. So when we find a company that's expanding, I really want to recognize you for all you're doing."
The event also featured comments by Nekritz, Schultz, Karagianis, and Northbrook Chamber of Commerce President Tensley Garris. In a special surprise, Karagianis presented Roth with an official Village declaration making October 30 "AmpliVox Sound Systems Day."
Roth expressed his appreciation to his guests, noting that he and his wife Nancy were "very fortunate to be surrounded by so many friends and supporters, in a community that has meant so much to us over the years."
SOURCE: AmpliVox Sound Systems