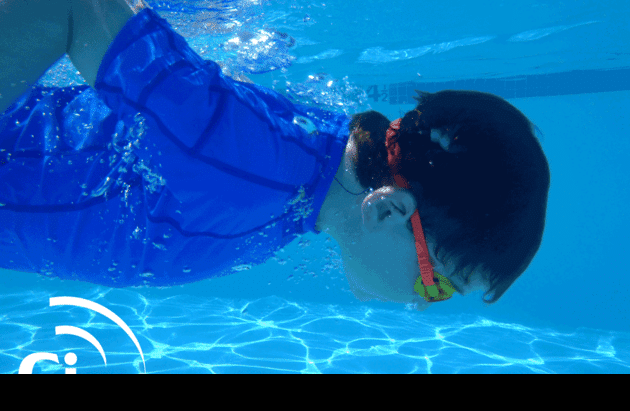 New Los Angeles-based apparel manufacturer, Ci Wear, has launched its new compression fit shirt especially made for cochlear implant (CI) wearers. Invented by the parent of a deaf child, the clothing was designed to hold and conceal CI processors, sound cords, and can also used for other digital devices, says the company.
CI users often find it a challenge to wear their cochlear implants while participating in activities, such as swimming, team sports, or even visiting an amusement park or the beach. Their comfort engaging in these activities, coupled with the potential for losing or damaging the equipment, is always taken into consideration by the user or his/her parents when deciding whether to participate in these activities, especially swimming.
"The idea for Ci Wear came from watching our son swim with his waterproof CI processors," explains inventor Eric Sherman. "We noticed our son spent a lot of time attending to his processors and headpieces, instead of playing. We wanted to find something that our son could wear that improved his experience in the water and not be a hindrance. By integrating the CI processors into the shirt, CI users just need to slide their processor into the sleeve pockets, thread the cords through the shirt, put it on, and play.
Ci Wear's patent pending design shirt has pockets on each sleeve. Inside the pocket is a retaining band to clip the CI processor and hold it in place. There is a small opening on the back of the pocket to thread the sound cord through to the inside of the shirt, concealing most of the cords and minimizing the risk of snags. At the neckline, there are two small loops to guide the cord out the collar to the attachment point on the head. These loops help keep the sound cords to the back of the head, reducing tangles and allowing for rapid location of the headpiece if dislodged.  Once inserted in the pocket, all of the external components of the cochlear implant, except for the portion of the wire and headpiece that come out the collar, are completely concealed inside the shirt.
"Cochlear implants are a life changing technology and users should be focused on their activity and not their equipment," says Sherman. "By limiting the exposure of the CI processor and sound cord, we have reduced the possibilities of loss or damage to these expensive hearing devices." Sherman's son has bilateral cochlear implants.
Ci Wear is a compression fit shirt that can be used as a rash guard in the water or an active wear shirt on land. Made of KoreDry™ fabric, Ci Wear shirts are water-repellent, breathable, quick drying, and offer UV sun protection, according to the company.
Source: Ci Wear