Hearing Aids: An HR Mid-Year 2021 Review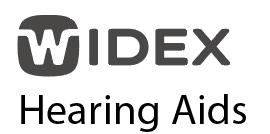 At Widex we believe in a world where there are no barriers to communication; a world where people interact freely, effortlessly, and confidently. With 60 years' experience developing state-of-the-art technology, we provide hearing solutions that are easy to use, seamlessly integrated in daily life, and that enable people to hear naturally. As one of the world's leading hearing aid producers, our products are sold in more than 100 countries, and we employ 4,000 people worldwide.
Widex MOMENT
(800) 221-0188
Widex MOMENT hearing aids address one of the great unsolved challenges in the industry: no matter how good the sound, they still sound like hearing aids. Featuring two ultra-fast signal pathways, Widex eliminates the "out-of-sync" sound for patients, while offering the industry's fastest processing time. Widex's sound quality is also tailor-made to the patients individual hearing needs. Powered by artificial intelligence, SoundSense Learn effortlessly guides wearers toward a better, more customized experience, and exactly the sound they want. My Sound combines the capacity of artificial intelligence with the relevance of real-world experience to deliver a new level of automated customization.
Oticon More
(800) 526-3921
Oticon More is the world's first hearing aid with an on-board deep neural network (DNN) trained on 12 million real‑life sounds to give the brain more of the information it needs to decipher the intricate details of relevant sounds. Oticon More builds on Oticon's proven BrainHearing approach to deliver a full and precisely balanced sound scene that makes it easier for the brain to perform optimally. The innovative solution represents a fundamentally new approach to signal processing. By expanding the sound scene, the life-changing technology in Oticon More makes it easier for patients to enjoy, follow, and engage in conversations.
Signia Augmented Xperience and Pure Charge&Go AX
(800) 766-4500
With the new Augmented Xperience (AX) platform, Signia transforms the way patients hear. Rather than simply amplifying all sounds, AX intelligently understands which sounds should be pulled to the foreground and prioritized, and which should remain in the background. The net result of this world's first split-processing technology is a fully immersive and intelligent hearing experience, in which sounds shift into the foreground and background naturally and seamlessly. Signia's all-new Pure Charge&Go AX hearing aids—the first to feature the AX platform—deliver up to 36 hours of run time per charge and are compatible with Android and iOS devices.
Starkey Livio Edge AI Custom Hearing Aids
(800) 328-8602
From the industry leader in custom hearing aids, Starkey continues to work around the clock to provide the world's first 2.4 GHz custom rechargeable hearing aids personalized with your patient in mind. Our Livio Edge AI custom devices put the power of artificial intelligence at the user's fingertips, delivering next-generation sound performance in the most challenging listening environments. With just a double-tap, Edge Mode automatically optimizes for social distancing, background noise, and face mask challenges. Now available in ITC R and ITE R product styles.
Phonak Roger On
(800) 777-7333
http://phonakpro-us.com/RogerOn
Roger On is a microphone dedicated for all conversations that occur in background noise and over distance. With its ability to distinguish the direction of incoming speech with MultiBeam 2.0, in addition to Pointing mode 2.0, users have the flexibility to focus on the conversations that truly matter at work, in lectures, and during social activities. The newly introduced myRogerMic app extends the Roger On versatility – allowing patients to personalize their settings according to the environment. Roger On allows access to the conversation, no matter the environment, yielding freedom to simply enjoy the moment.
Whisper Hearing System
(855) 594-4773
The Whisper Hearing System is a learning hearing aid that gets better over time. With Whisper, rather than owning technology that quickly becomes outdated, consumers receive regular software upgrades with new features and improved sound processing every few months. The Whisper Hearing System is powered by its AI-based Sound Separation Engine that uses artificial intelligence to optimize sound in real time. Unlike other hearing aids, Whisper is sold via a monthly plan that includes a lease of the hearing system, software upgrades, care from a hearing care professional, and a 3-year warranty that covers the system and loss and damage.
Unitron Moxi B-R
(800) 888-8882
Go with confidence, wherever each day leads you, with great sound performance and ease of use in a stylish package with Moxi B-R, our smallest lithium-ion rechargeable with direct connectivity. It automatically adjusts to the ever-changing soundscape, to optimize performance for both complex noisy settings and quieter situations too. Enjoy seamless integration with your digital world with two simultaneous Bluetooth device connections. You can make hands-free phone calls—from any phone*—and stream media to both ears, and control it all with convenient tap control. And, the lithium-ion rechargeable battery means you can go all day without missing a beat. *Smartphones and traditional mobile phones with a compatible Bluetooth Hands-Free Profile.
Starkey Livio Edge AI CROS
(800) 328-8602
Made to aid unilateral loss, patients with single-sided hearing loss will be able to hear the world around them — in full, pristine Starkey sound. Our Livio Edge AI CROS System brings audibility and speech understanding to those who only struggle with hearing from one ear. Now available in RIC rechargeable, RIC 312, and BTE 13 product styles. Also available in BiCROS for individuals who have hearing loss in both ears.
Rexton MotionCore (M-Core)
(866) 739-8661
Rexton recently released the all-new lineup of MotionCore (M-Core) rechargeable behind-the-ear (BTE) hearing aids, backed by the proven technology and durable construction wearers can rely on. The new M-Core devices improve hearing in any situation, and include the M-Core B-Li-P, the M-Core B-Li M, and the M-Core B-Li HP – the company's first high-power rechargeable BTE hearing aid delivering up to 61 hours of usage on a single charge.
Earlens Hearing Solution
(844)-234-5367 (LENS)
The Earlens® Hearing Solution, a TIME Top 100 Invention of 2020, is the only solution to directly activate the hearing system using a custom lens placed non-surgically on the eardrum. Earlens delivers a bandwidth more than 2.5 times broader than that of acoustic devices and superior sound quality with a 35% improvement in speech understanding. It has received FDA clearance for the treatment of mild-to-severe sensorineural hearing loss.
NewSound Technology Primo RA
+86 592 3921173
Primo RA is the ideal hearing aid with a high standard of wearability and connectivity. It automatically classifies and manages various listening situations using our new TIAN platform and support from the fast, efficient, highly intuitive fit service from the remote care app. Direct audio streaming for iOS system devices. Patented EZcharge® technology for 1.5 hours quick full charge and 20 hours of listening.
Miracle-EarEnergy GO
(877) 649-0382
Charge. Connect. Go. Introducing the all-new Miracle-EarENERGY™ GO, combining the sleek design of wireless earbuds with innovative, audio-enhancing technology. Miracle-EarENERGY™ GO is a tech-forward, modern hearing device that is unrecognizable when compared to traditional hearing aids. Adults of all ages now have a new hearing solution that fits their active lifestyle, featuring fast-charging capabilities and convenient pocket-sized portability.
Index
Cochlear Implants and Bone-Anchored Devices: An HR Mid-Year 2021 Review
Assistive Devices and Captioned Telephones: An HR Mid-Year 2021 Review
Hearing Aid Fitting and Diagnostic Equipment: An HR Mid-Year 2021 Review
Hearing Aid Accessory Products and Patient Financing & Warranties: An HR Mid-Year 2021 Review
Business & Marketing Software/Services: An HR Mid-Year 2021 Review