By Karl Strom
Phonak's new Quest platform offers a wide range of signal-in-noise and connectivity features. It also employs several important new marketing elements for the company.
At the October 2012 European Union of Hearing Aid Acousticians (EUHA) Congress held in Frankfurt, Germany, Phonak introduced a new hearing instrument platform, Quest, which was reportedly developed in close collaboration with hearing care professionals throughout the world. Among many new features, Quest uses Binaural VoiceStream Technology designed to provide optimal speech intelligibility in almost any soundscape, including speech-in-noise and in wind.
According to Phonak, Quest's StereoZoom is the only technology capable of narrowing the directional pattern sufficiently to yield a 3 dB SNR improvement over other technologies—equating to about 45% improvement in speech intelligibility. Likewise, Quest's Speech in Wind feature is designed to detect the level of wind-noise in both hearing aids, identify which aid has the strongest speech signal, and then stream that signal to the wind-affected hearing aid while attenuating the wind noise. The resulting speech intelligibility improvement has been reported to be as high as 40%. (An article scheduled for next month's HR by Matthias Latzel, PhD, will cover these binaural beamforming and wind-noise features.) Also launched at EUHA was the new Phonak RemoteMic, which, in combination with the company's ComPilot, allows the streaming of voices from as far as 20 meters (about 21 yards) into the hearing aids.
Introducing these new products to media and market analysts in Frankfurt, Sonova CEO Lukas Braunschweiler described the Quest platform, along with a new marketing initiative designed to provide long-term, consistent communication about Phonak products and features. Many of these messages will be conveyed using "Phonak Soundscapes" that emphasize the company's "Life is on" message and point to how Phonak's innovations help people hear, understand, and experience more of life's rich sound environments.
Traditionally, when companies launch new platforms, they introduce the premium product first, and then introduce the other product performance levels (ie, middle and economy lines) much later. However, Phonak launched Bolero Q BTE and Virto Q custom product lines in three performance levels—all at once, with immediate availability in the United States. Additionally, these models sport a new plasma coating technology and color palette that improves the cosmetics of the devices.
During the EUHA Congress in Germany, HR caught up with Maarten Barmentlo, Group Vice President Marketing for Sonova, to get some of his perspectives.
HR: Phonak has a long record of being a leader in directional technology. But, maybe as much as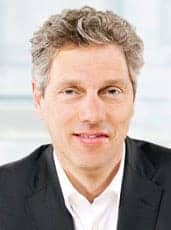 Maarten Barmentlo, Group Vice President of Marketing for Sonova
any other hearing aid product feature, directional processing can be a confusing concept to explain to dispensers—let alone consumers. So, from a marketing perspective, how have you been doing this?
Barmentlo: Most people can relate to the idea that, as we live our lives, we encounter numerous soundscapes. In our latest marketing, Phonak has been emphasizing this concept by, for example, showing groupings of people at a dinner table, on the phone, watching TV, or walking together in a park. So each of these groupings are visualized as soundscapes, and each soundscape represents a feature, or combination of features, that facilitates communication—whether it's StereoZoom, DuoPhone, Wind in Noise, and/or RemoteMic.
When you back up and look at the total picture, with all the soundscapes included, you have a comprehensive view of our product branding; Phonak technology provides different hearing solutions that can help people live their lives without limits, communicate confidently, and interact freely.
But while the technology is wonderful, the real work comes in spending literally years of research analyzing how these algorithms actually leverage our knowledge and bring real-world benefit to the end user. It has taken several years of working on these [innovations] to realize the unique benefits that can only come from streaming the voice from one ear to the other. So that's why we selected the name "Binaural VoiceStream Technology" very carefully to ensure that it's still using words that are familiar, like "binaural," but also being very specific that this is "voice streaming."
This is a completely unique technology that Phonak offers. We can show that the technology brings exceptional user benefits. We're spending a lot of time and energy to make sure that we provide evidence about the benefits for end users. If you visit Phonak's website, there is a section where we list the available evidence behind the Quest platform. And, of course, we intend to publish these findings in HR and peer-reviewed publications, as well.
I think this is a very important part of what Phonak does; we are an innovation-driven company. But you can only be successful with this approach if the innovations are meaningful and you provide people with the information about why it's successful. So, we need to prove that users get a benefit, and we need to generate convincing evidence for those professionals involved in the selection process.
HR: Our field is often obsessed with things like speech in noise and sound quality, so it was interesting to also hear about the emphasis on the physical feel and look of the products in order to make a better first impression on the consumer.
Barmentlo: Of course, it's true that we spend a lot of time addressing the hearing instrument platform from an audiological point of view, and that's how it should be. We've had excellent feedback from the market about our latest product technology, but less encouraging feedback about the housings of the products. One of the discouraging things we had heard was that the look and feel of our products were no longer congruent with a premium image.
So, from a marketing perspective, we realized that we also needed to take steps to bring the design of our products—the finish, the colors, etc—in line with our brand. These are normal considerations in other consumer health care categories; you have a brand statement, you have a color palette that fits the brand, a type of finish, and you apply these elements consistently. And, yes, they are important to consumers who are confronted with a hearing aid—often for the first time in their lives.
HR: There was quite a lot of buzz from the financial analysts about launching Quest as a complete product line that includes not only the premium performance level but also a full vertical offering, extending all the way to the economy level. What's your take on this?
Barmentlo: From a financial standpoint, they [market analysts] are extremely interested in how this approach will influence ASPs [average sales prices], both in Phonak and in the overall industry. With the launch of the Quest, in one swoop, we're bringing to market much more product than we ever have, and introducing these products at a more competitive level. I tend to believe that, if we have products that are clearly more competitive, then that's just plainly good for our business.
It's also important to understand that we launched Quest in this manner because of the feedback we received from the market—specifically, from hearing care professionals. This is part of our strategy of "engaging voices" and listening more closely to our business partners. Effectively, we're saying, "Look, this is what we heard from you, this is what you asked for, and here is the full product line." So, the vertical aspect is clearly based on market feedback.
HR: Can you tell us about Phonak's eventual move to 2.4 GHz, which reportedly may be as early as 2013?
Barmentlo: Phonak has always been recognized as the market leader in the FM and wireless communication domain. We have been a consistent innovator in this area.
If you look at wireless product development, there are always two key aspects: the carrier frequency and the protocol. And these depend on the specific application: what types of information are needed to stream from the signal source to the hearing aid so that SNR is improved optimally.
The aspect of a carrier frequency, like 2.4 GHz, has a lot of implications in terms of potential interference or disturbance, noise in the signal, etc. And it's important to recognize that Phonak is always working on both the carrier and protocol aspects. For example, the move from traditional FM to dynamic FM involved a lot of work on the protocol and less work on the carrier frequency.
There is a lot of confusion between these terms by both consumers and hearing care professionals. Many people equate the 2.4 GHz carrier frequency with Bluetooth. However, Bluetooth is just one of the many protocols you can choose to use with a 2.4 GHz carrier frequency.
As a protocol, Bluetooth certainly has a lot of advantages, not the least of which is that it is a standard—and this is not to be underestimated. Yet, from a power-use viewpoint, Bluetooth is nearly useless when you consider the signal processing within a hearing aid. Bluetooth can be a particularly good choice when you are transmitting signals long distances, but it's not an efficient choice when, for example, you're [moving information from one ear to the other ear].
The bottom line is that the 2.4 GHz carrier frequency is efficient and widely used by connectivity devices, and there is lot of know-how about its application and performance. As a carrier frequency, it has become a logical choice.
HR: There has also been a lot of buzz about Apple-compatible hearing aids. What's your view of this?
Barmentlo: There are at least two key elements to keep in mind about this issue. First, it should be recognized that the average hearing aid buyer is about 72 years old. I think that all the stories you read about this age group being increasingly active, online, and using cellphones are true, but the fact is that the market penetration of iPhones in our target group is not very high. So, even if you do have a brilliant solution with the iPhone, from a connectivity point of view—in other words, use-case multiplied by market penetration—this will not be providing a solution for a large population of hearing aid users.
The issue of connectivity is a very interesting one, and that's why we have the ComPilot, why we've introduced the RemoteMic, and also why we're the market leader in FM technology. I think there is now a recognition that consumers don't view a hearing aid system as complete until it provides superior speech intelligibility and ease of connecting to other devices.
As I mentioned, the beauty of Bluetooth is that it is a standard. In our solutions, like ComPilot, we use the Bluetooth protocol such that it can actually stream everything, whether it's an Android, a TV, or a computer; it really doesn't matter what the devices are as long as they're using this standard. So, for us, I think the marketing avenue is that we can connect using our ComPilot, and the ComPilot streaming into the hearing aid is solving almost all of these connectivity needs for the vast majority of people. And that's not just those people who have an Apple product, but indeed everyone.
Second, you certainly do have to acknowledge that there is a lot of hype and excitement that revolves around the Apple brand. And what Apple is proposing is an elegant solution. However, if it doesn't become a standard, then it is an elegant solution for a rather defined niche.
That doesn't mean we're not going to offer it, of course. But our ultimate goal is to offer a lot more and progress to the next level in hearing aid connectivity [compared to what is available today]. And, as we've discussed, this has a lot to do with the standards used by these devices. —KES
For more information, visit:
http://www.phonakpro.com