Events | February 2014 Hearing Review
Starkey Hearing Innovations Expo Brings 3400 Practice Owners to Las Vegas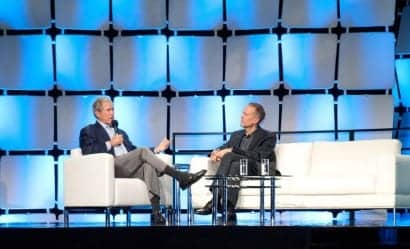 President George W. Bush recounted his experience with the Starkey Hearing Foundation to Starkey Vice-president of Audiology David Fabry: "I've had a lot of great experiences in my life but seeing a mother's reaction to her daughter hearing for the first time was priceless."
In what has become perhaps the world's largest meeting of hearing care practice owners, more than 3400 dispensing professionals gathered at the Cosmopolitan Hotel in Las Vegas on January 15-18 for the second biennial Starkey Hearing Innovation Expo. The 3-day conference included a sneak peek at the company's upcoming made-for-iPhone (MFi) hearing aid and future hearing aid lines, many idea-generating general sessions and breakout seminars, and keynotes from Presidents Bill Clinton and George W. Bush, as well as erstwhile presidential aspirant Donald Trump. Other attractions included a "Concept Office" of the future and mini-trade show area for partnering companies offering business solutions.
While retaining many of the same elements from the 2012 Starkey Hearing Innovation Expo, this year's event had more of a "where the rubber meets the road" feeling: its emphasis was more practical than philosophical—stressing what you can do on Monday morning to change your practice, your career, and your patients' experiences for the better.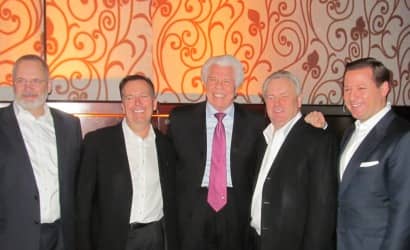 Among this year's presenters were (l to r) Starkey Hearing Technologies director of platform integration Karsten Johnson, chief technical officer Tim Trine, founder and CEO Bill Austin, president Jerry Ruzicka, and senior vice-president Brandon Sawalich.
As Starkey Hearing Technologies Senior Vice President Brandon Sawalich explained at the opening of the event, Day 1 would be dedicated to new technology and hearing research; Day 2 to patient engagement and new Baby Boomer consumers; and Day 3 to best practices for entrepreneurial success. About a dozen different breakout sessions were offered in three 1-hour blocks—all relating to the theme of the day—and sandwiched between morning and evening keynote and featured addresses.
"[Two years ago, the 2012 Expo] was about inspiring and thinking, pushing the boundaries, and expanding concepts beyond some of the meetings we find ourselves going to," said Sawalich. "2014 is about inspiring ourselves to take action. It's time we do something. We need to be do-ers. The overall purpose—whether it's 2012, 2014, or beyond—is to bring a group of like-minded people together that are here for the greater good of better hearing…It's not about what name is on [a hearing aid]; it's about you, your patient, and the name that's above your door."
Presidential Accolades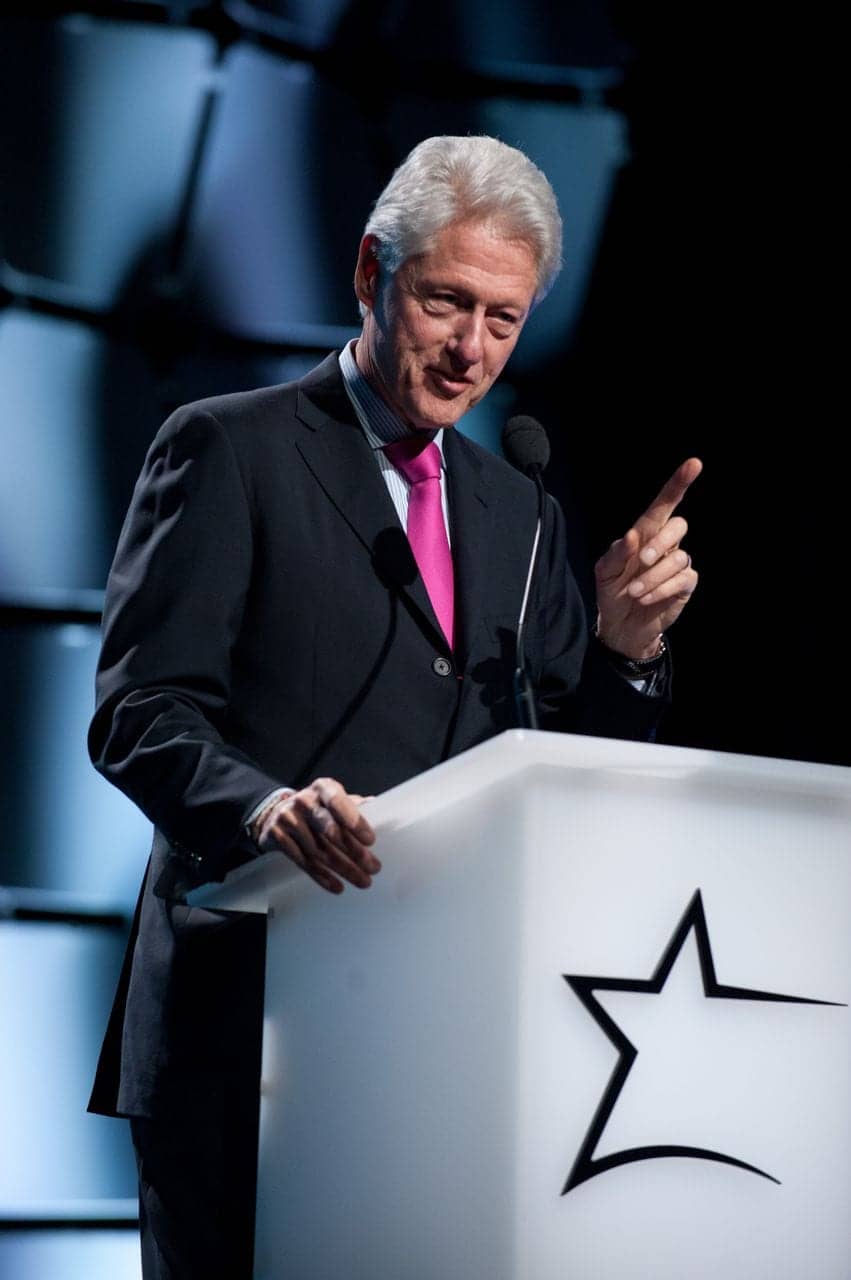 President Bill Clinton says he challenged Bill Austin and the Starkey Hearing Foundation to fit 1 million hearing aids over 10 years. So far, the Foundation is well ahead of this pace.
The nation's two most recent ex-presidents delivering keynote speeches on the same program definitely turned some heads. In large part, the participation of Presidents Bill Clinton and George W. Bush was a testament to the growing reach and impact of the Starkey Hearing Foundation—a juggernaut organization that in 2013 provided more than 165,000 hearing aids to economically disadvantaged people—and its principal evangelists, Starkey founder and CEO William (Bill) Austin and wife Tani. Both presidents spoke at length in glowing terms about their personal experiences with the Foundation and provided candid glimpses into their post-presidential lives.
A Secret Among 3400 Friends
It's no secret that Starkey Hearing Technologies has been working on some highly anticipated MFi technology. Characterizing the Starkey technology team's opening presentation as a "secret among us 3,400 friends," Starkey President Jerry Ruzicka swore the trade press to secrecy regarding the company's newest products, particularly its upcoming MFi hearing aid which is slated for release early this year. Nevertheless, what can be said is that Ruzicka and his team showed off an MFi hearing aid that offers all of what might be expected in terms of interactivity with and incorporation of iPhone capabilities and apps.
Beyond the iPhone capabilities, Tom Burns, PhD, Starkey's director of applied technology and research, briefly previewed a unique noise reduction technology that is completely new to the industry, as well as mentioning a recently developed neural network algorithm developed at Ohio State that The Hearing Review previously reported (January 2013 HR, page 50). Chris Howes, the company's senior software product manager for mobile devices, also shared several innovations, including a patient-driven application for personalizing sound settings in multiple environments that goes considerably beyond the capabilities of the company's previously released SoundPoint technology detailed by Abrams et al and Valentine et al in the March and April 2011 editions of The Hearing Review.
Beyond these previously reported points, HR can only say there is more to come and that, on several occasions during the presentation, the crowd broke into applause for the rapid-fire string of innovations that were revealed.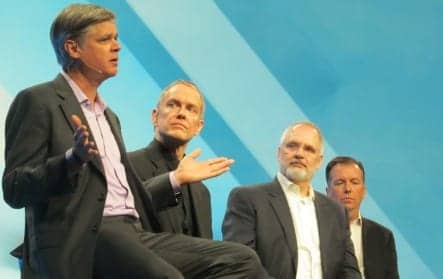 Vice president of research Brent Edwards, Fabry, Johnson, and Trine participated in a panel discussion moderated by Ruzicka with questions from the audience.
Brent Edwards, PhD, vice president of research and director of the Starkey Hearing Research Center in Berkeley, Calif, placed the MFi and other new innovations in perspective and in the broader context of wearable computer technology, which he says can be generally defined by three areas: augmented, diminished, and mediated reality. As with the initial implementation of the transistor, which was used first in hearing aids in 1952, the hearing aid industry also has been among the first to use the concepts of augmented reality (eg, WDRC), diminished reality (eg, noise reduction algorithms), and mediated reality (eg, voice alerts and low-battery warnings) in its earliest forms. Edwards says MFi hearing aid technology will evolve in the same way that many prognosticators believe Google Glass will develop—but, importantly, with applications for both hearing-impaired and normal-hearing users. He says that, as 50-something consumers come to recognize their hearing losses, they will demand different Internet-friendly devices and fitting approaches. The bigger question, says Edwards, is how fast the hearing industry and dispensing professionals will embrace this opportunity and start considering both groups as viable candidates for the hearing aids of the future.
More Ideas and Inspiration
Other keynote highlights included: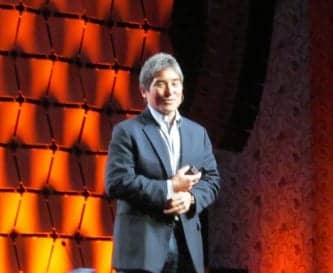 Guy Kawasaki provided a humorous and informative look at how to create a company and product with "enduring enchantment."
• Guy Kawasaki, author of Rules for Revolutionaries and the former "chief evangelist" for Apple Computer, gave a captivating address about the need for "enduring enchantment" in business. Weaving together humorous stories and personal observations, Kawasaki outlined strategies for developing great products and services, while achieving likability and trustworthiness.
• Dan Ariely, a professor at Duke University and author of Predictably Irrational, provided information that puts into question how much we are actually in charge of our own decisions, and how this information can be leveraged when creating pricing strategies and forms. Gyl Kasewurm and Phil Lyons presented a very interesting follow-up seminar using Ariely's data.
• Simon Sinek of TED Talk fame and author of Start with Why: How Great Leaders Inspire Everyone to Take Action, spoke about the importance of knowing the "why" to lead and inspire.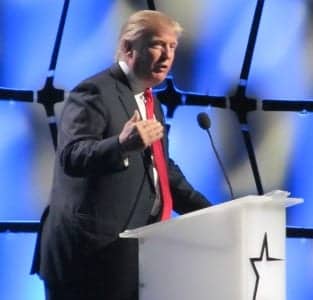 Donald Trump talked about his approach to business success, which includes loving what you do, focus, working hard, maintaining momentum, taking chances, and never quitting.
• Starkey founder Bill Austin addressed the need for living a purpose-driven life and being deeply committed to helping people. His mantra about making the world "better today than yesterday, and even better tomorrow than today" is echoed by virtually everyone at his company. —KES
MORE DETAILS about the Expo can be obtained by visiting the excellent blog by Starkey's Ryan Mathre at: http://www.starkey.com/blog/category/innovation-expo
February 2014 HR | Online first January 28, 2014