The International Hearing Society's (IHS) 51th Annual Convention will be held in Reno, Nev, on September 11-15. Whether or not you'll be attending the convention, The Hearing Review invites you to take the following SNEAK PREVIEW of the latest technology being introduced by companies during the event. To learn more about the products and services featured below, visit the exhibits and/or use the enclosed Action Card (found in the front and back of this magazine). Descriptions of products and services listed below were provided by the companies upon request of The Hearing Review.

Audina Hearing Instruments is an independently owned US hearing aid manufacturer located near Orlando, Fla. For over 12 years Audina has produced quality hearing instruments and provided excellent customer service. Audina is also committed to the advancement of the profession by offering national continuing education seminars throughout the year. Its product line includes: Paragon 4 DSP; Nueve Digital; DynamEQ3, and DynamEQII. All programming is achieved through ezFIT software. Visit us for the ezFIT software and a demonstration of the latest in Digital Technology—Paragon 4. Booth #216; (800) 223-7700.
---

Audioscan® invites you to booth #710 at IHS 2002 for a demo of its new Verifit® VF-1 Real-Ear hearing aid analyzer. The VF-1 is a desktop system with a wide-angle color display designed to meet your digital and directional hearing instrument fitting needs. Features include real speech and live speech tests, and dual source test box speakers for evaluation of directional instruments. The Verifit VF-1 joins the Audioscan RM500® system in providing state-of-the-art tests in an affordable and easy-to-use package. Booth #710; (800) 265-2093.
---

Beltone will be exhibiting its new Oria series of digital hearing instruments. Oria features include the advanced 12-channel DSP circuitry, Satisfy™, Beltone's automatic adaptation feature, Gain Explorer™, the feedback management system and 12-channel Speech Pattern Detection™ noise reduction circuitry. Visit us to learn more about the Oria and Beltone's SelectaFit and AVE. multimedia fitting system. Booth #413-415; (800) 621-1275.
---

Discovery Hearing Aid Warranties, a one-source service warranty provider, offers service warranty protection for loss, damage and component failure on all makes and models of hearing instruments. The company will feature a compensation plan for dispensing professionals, who are paid on every warranty sold. Discovery Hearing Aid Repair is a full service, all-make repair lab with competitive pricing, according to the company. Booth #511; (800) 525-7936.
---

Duracell Activair with EasyTab is designed as the easy-to-replace hearing aid battery. EasyTabÝ features three innovations. The pillbox package is designed to make it easy for patients to store, transport, and remove batteries. The patented longer tab design makes EasyTab batteries easy to see, hold, and insert in hearing aids. And the new battery cell construction delivers up to 30% longer life than the company's previous Activair batteries. Booth #218; (866) 285-6264.
---

Ear Technology Corp is pleased to introduce its newest version of the Dry & Store hearing aid conditioning system—Dry & Store Global. Dry & Store is a consumer appliance that is designed to eliminate moisture from hearing aids and sanitize and deodorize the aids. Designed for portability and versatility, the Global is suitable for travel and for small living spaces, and fits any budget. It accommodates all types of hearing aids and cochlear implant hardware, including body-worn processors. The company invites you to keep patients happy with fewer repairs and better sound quality by dispensing Dry & Store. Consult your IHS program for booth number; (423) 928-9060.
---

Visit the company's booth and take a closer look at Electone. The company reports that you'll experience superior product quality, quick turnaround, low return-for-repair rate, outstanding customer service, and you'll also want to learn more about the Sierra™ manually adjustable 100% digital instrument. It may be the affordable answer for your patients who are ready to move to digital technology. Electone states that its care taken in crafting hearing instruments and the commitment to customers is unsurpassed. Booth #610-612; (800) 432-7483.
---

Energizer® reports that it is your source for solutions. Just as your patients rely on you as their single source for hearing health care, Energizer reports that you can rely on the company as your single source for: 1) Technology: batteries now last up to 15% longer; 2) Innovation: the world's first and only dispenser, EZ Change; and 3) Expertise: for you and your patients. Come by and learn about the fastest growing battery brand. Booth #909; (314) 985-1637.
---

Esco invites attendees to see how after-market hearing instrument insurance is a win-win business decision for you and your patients. The patient's investment in today's hearing instruments is protected for long-term value. Your reputation as a patient advocate will be rewarded, creating loyal customers and increased revenues, reports the company. See our new, clear concise patient application. The company also offers the Super Bill resource implementation, from template to final forms, designed to increase practice revenue and make collection of fees easier. Booth #715; (800) 992-3726.
---

Frye Electronics will show all of its hearing aid/real ear analyzers and its audiometers. The FONIX 6500-CX hearing aid test system has a new sound chamber, the 6050. The ability of the 6500-CX to test "group delay and phase" of digital hearing aids is receiving attention, and Frye will demonstrate what is involved in the testing. The company plans to introduce the NAL-NL1 fitting software for the FP35 hearing aid analyzer for the first time. Booth #411; (800) 547-8209.
---

GN Otometrics and Madsen will be featuring their full line of advanced audiometric instrumentation. The company will be introducing a new video otoscope and software called OtoCam™—a pen-style single-cable system that has a unique built-in light source. In addition, the company will be introducing its new visible speech-mapping tool, using live speech as a fitting target module for fitting digital and advanced programmable hearing aids. Madsen will feature the modular PC-based Aurical™ testing and fitting system, and the new radically designed Madsen ITERA 2-channel diagnostic audiometer with master hearing aid. Booth# 213-215; (800) 362-3736.
---

Canta is reportedly the only complete, single platform digital family. Every model of the Canta family of digital hearing instruments—from top-of-the-line 3-D digital Canta7, to the Canta2— reportedly shares a powerful legacy: a host of innovations from decades of technology leadership in the hearing health care industry. Canta is available in a complete product line ranging from a Power BTE to the CIC. Booth #209-211; (800) 248-4327.
---

This year Hagemeyer Tech Care Products (formerly Warner Technologies) will be introducing its new silicone impression material. Pro-Shot II and Accu-Shot II silicone materials and Tech Care clean wipes are their most recent tech care products, which already include Eargel, Dri Aid Kits, Ear-Fresh, and Earmold cleaner. Visit and receive a sample of Pro-Shot II or Accushot II impression materials. Also featuring products for UV modifications and repairs. Booth #903; (800) 328-4757.
---

Celebrating its 56th year, HAL-HEN features over 4,000 items for hearing health care professionals. New for 2002 is the Conversor®, a unique FM wireless assistive listening device. The affordable Conversor® provides exceptional audio clarity, versatility, and hearing aid compatibility. Also offered are assistive devices, impression materials, batteries, diagnostic equipment, otoscopes, earlites, earmold/fitting supplies, educational materials, tools, cerumen management, and over-the-counter pharmaceutical products. Booth #313; (800) 242-5436.
---

Finally, you can fit severe and profound loss clients quicker and with better results than you thought possible, according to Hearing Components. Stop by the booth to see the newest Comply™ Snap Tips and find out how you can increase your business and profits. Booth #904; (800) 872-8986.
---

Interton/AHS offers two new high-power digital BTEs, designed for moderate-to-profound hearing losses, with state-of-the-art 100% DSP. The Mega Power EVO is a 3-channel instrument with 14 frequency bands (7 adjustable). The Mega Power Staris is a 2-channel instrument with 9 frequency bands (2 adjustable). Both feature WDRC, wide-range AGCo, and have peak output of 136 dB with 83 dB of gain. Also notable is a battery drain of less than 0.8 mA. Both models feature a speech management system that is said to instantly analyze the time structure of the signal and reduce gain in the non-speech channels. Booth #315; (800) 247-4741.
---

The Magnatone booth will be demonstrating the TruVoice® 100% digital hearing instrument. This versatile instrument offers 1, 2, or 4 channel programming, microphone noise reduction, dynamic notch filters, adjustable crossovers, as well as options for directional microphones and rechargeable cells. The company will also offer its line of BTEs, the EQ3 and AGC-o circuits, and the Liberty™ rechargeable system. The programmable line will be demonstrated using the feature-rich and intuitive Digi-Pro® software. PocketPro™ software, which runs on PocketPC handheld computers, allows portable, real-world programming of hearing instruments. You can even take a spin on the slot machine and win a prize. Visit the company at Island F; (800) 327-5159.
---

Marcon Hearing Associates is an exclusive nationwide group of dispensers and audiologists that has reportedly operated for over 25 years. According to the company, members benefit from exclusive marketing territory and access to private label or manufacturer labeled products with marketing support and preferred pricing from 12 manufacturers. Members own and direct the company, sharing in decisions, profits and year-end rebates. Booth #513; (888) 962-7266.
---

Micro-Tech introduces the all-new digital Alpine, available in a full range of models from CIC to BTE, designed to fit any of your patient's needs. It is a high-fidelity digital circuit featuring 4 WDRC channels, plus 8-band level controls that offer precise and flexible frequency shaping. It also contains channel-specific expansion along with digital feedback reduction and dynamic noise control algorithms, and includes a Memory-Pro that allows activation of up to 3 programmable memories. Alpine also improves the SNR with different types of directional response shaping. Booth #314-316; (800) 745-4327.
---

Stop by to learn what's new in the world of hearing health care, as well as share your own perspectives on the world of dispensing. Also get the latest issue of the publication Hearing Products Report. Renew your free subscription to the magazines, check out the editorial schedules for the remainder of the year, and chat with your friends at HR and HPR. Booth #711.
---

Midwest Hearing Industries will introduce a loss and damage program that will pay a refitting fee for all makes and models of hearing aids on every claim processed. Booth #907; (800) 821-5471.
---

Visit Mid-States Laboratories to learn about Yellow Stuff and exclusive NASA-based Audtex-85 and Apollo-95 for severe losses. The company will demonstrate how to make a perfect impression with user-friendly injection material Yellow Stuff II that does not droop. Recommended by many manufacturers as their choice for earmold impressions. Mid-States will also be showing its Invisible Mold…come see if you can "see" it. Snack on a fortune cookie and see what you could win. Bring a business card and register to win free products and free earmolds. Booth #913; (800) 847-3669.
---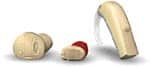 Oticon introduces Atlas, a new family of affordable digital hearing aids. Atlas includes a full range of dependable product styles from CIC to BTE, uses multi-channel NAL-NL1 and DSL[i/o] fitting rationales, and offers options for volume control, programmable telecoil, and directional microphones. Atlas also features 4 fitting bands, adaptation manager, and automatic feedback manager programmed with Genie 2.0 software for greater fitting flexibility. Booth #414-416; (800) 526-3921.
---

Visit Phonak to see a glimpse of the digital future. The company will introduce a complete line of digital hearing instruments to meet the needs of any listener—from Claro, the state-of-the-art in signal processing and adaptive AudioZoom; to Aero, a line of digital instruments to fit any loss from mild to severe; to Supero, the latest digital system designed specifically for those with severe-to-profound hearing loss. Visit Island B; (800) 777-7333.
---

Products to be exhibited at Precision Laboratories' booth will include JB-1000 Plus™, Catamaran™ swim plugs, Challenger™ earphones and ER-15 musician's earplugs. Bright neon colors are available, as are swirl and sparkle. In addition, its all-make repair/recase service features Vinyl Seal™ for comfort and feedback control. The company will also be demonstrating two of its newest products, the Precision Ear starter hearing aid, and its hands-free cell phone. Attendees who stop by the company's booth can enter to win a Heine mini 2000 otoscope. Booth #509; (800) 327-4792.
---

Qualitone's DSP product group features directionality, 3 memories, WDRC or OCL, and low-battery indication. Leading the group is Marquise, incorporating 4 independent processing channels, 8 adjustment bands, and an advanced signal-processing algorithm that differentiates background noise from speech. Marquise offers variable multichannel expansion that eliminates over-amplification in quiet environments, active feedback cancellation, and programmable directionality. Qualitone's fitting software offers in-situ audiometry for accurate establishment of individualized fitting targets, and paired comparisons for differentiating among fitting rules to find what works best for an individual patient. It also features the Expert Assistant, designed to allow dispensers to solve fitting problems and access the expertise many other clinicians. Booth #813-814; (800) 328-3897.
---

Rayovac, reportedly the world's largest manufacturer of hearing aid batteries, features Proline, available only from hearing care professionals, and the Extra Brand, available from select distributors. The company also manufactures a full line of alkaline, heavy duty, rechargeable alkaline, and rechargeable nickel metal hydride batteries, plus a complete line of battery chargers, flashlights and lanterns. Stop by and see how the new Spin & Lock Dial with Larger Tabs can help grow your business. Booth #410-412; (800) 356-7422.
---

Quality. Service. Technology. Value. Rexton says its philosophy is simple, yet an extremely effective means by which it conducts business on a daily basis. Offering a variety of fully digital technologies including Rexton 3D Ultra, Emotion, Sensation, and Reflection, Rexton reportedly continues to provide clients with hearing solutions of quality, versatility, and technological sophistication. Stop by to learn more about the full range of services that Rexton can provide you and your business. Booth #515; (800) 876-1141.
---

Siemens Hearing Solutions, Piscataway, NJ, presents TRIANO™, designed for intuitive digital science that provides all-day comfort. Easy to fit, TRIANO is the newest advanced digital family of hearing instruments offered by Siemens, with 16 channels and up to 4 hearing programs. Available in all shell types, the intuitive TRIANO hearing instruments can anticipate every listening situation with the Speech Comfort System, according to the company. Siemens also introduces the Phoenix Pro, an entry-level digital hearing instrument offering affordable sound quality. Other products include Practice Navigator™ office management software, [email protected]™ e-business Web site, Click [email protected]™ Web marketing program, the new Siemens DirectEar™ infrared system, MiniTech personal communicator, and Silhouette™ Plus. Booth #801-805; (800) 766-4500.
---

Sonic innovations products offer unique benefits to match individual patient needs. The company's full-featured digital hearing aid, Natura™ 2 SE, utilizes a clinically-proven technology along with Personalized Noise Reduction™. Altair™, a high performance digital hearing aid, combines core signal processing with advanced features. Tribute™, a digital hearing aid, is making analog aids a thing of the past, according to the company. And Adesso™, Sonic innovations' digital instant-fit hearing aid, is designed for unmatched dispensing options through its use as a demonstration, loner, or a full-time hearing device. Booth #614-616; (888) 423-7834.
---

Sonus Network Membership has its benefits, that reportedly include: 1) National consumer advertising that generates leads; 2) Regional and local marketing that creates community awareness; 3) Quality discounted products that increase margins; 4) Managed care contracts that bring people in your door; 5) Tested business strategies that create office efficiencies, and 6) No membership or annual fee. The network includes over 1,400 locations nationwide and is growing daily, according to the company. Ask about Sonus' February 2003 cruise on Royal Caribbean's Explorer of the Seas. Booth #906; (888) 333-9152.
---

Starkey Labs invites you to discover the Genesis family of WDRC-based digital instruments with the sophistication and versatility to complement today's hearing and lifestyle needs. Axent™ features adaptive noise management, expansion, feedback elimination and directionality. Sequel DSP™ offers multichannel programmability with an adjustable crossover and RPC. And Endeavour™ provides economical yet versatile digital signal processing. Stop by to learn more about one of the industry's most comprehensive digital product lines. Visit Island C; (800) 328-8602.
---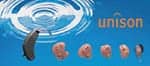 Unison is reportedly the smart new choice in digital hearing aids. The latest member of Unitron Hearing's complete digital line-up, this accessible series offers a choice of digital features in two models to fit mild to profound hearing losses. The series takes full advantage of digital sound with a choice of processing schemes, providing greater comfort in the widest range of listening environments. Using simple fitting software, the Unison series is reportedly the smartest and simplest way to put more people in digital. Drop by and find out why more and more hearing healthcare professionals are reportedly making Unison their first choice in digital. Booth #905; (877) 492-6244.
---

It has been over 40 years since Westone was started in a little cabin in the Colorado Rockies, and the company's commitment to earmold excellence and customer service remains unchanged. Visit Westone at IHS to learn about its full line of professional quality products like the Westone Music Products, including the UM1 in-ear monitor priced for musicians on a budget. Try out the ImpressEar cordless impression system and learn more about the upcoming change in cartridge styles. Sample Siliclone Firm, which combines the viscosity of hand-mixed impression materials with the convenience of a gun. And if you haven't looked into hands-free mobile phone products yet, don't let this opportunity get away. Stop by and pick up a few new ideas. Booth #409; (800) 525-5071.
---

Widex presents the Senso Diva line of 100% digital hearing instruments. The Diva is available in a nearly-invisible CIC size as well as in-the-ear and behind-the-ear models. Features include: Enhanced speech intensification system, 15-channel sound processing, Diva noise reduction, Diva locator, and feedback cancellation. The Bravo series of 100% digital hearing aids offers value with digital performance. Bravo models feature digital signal processing and clear sound quality. They include the CIC, mini-canal, canal, half concha, full custom, and BTE models. Booth #311; (800) 221-0188.