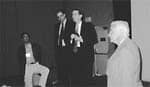 ICS Medical
ICS Medical, Shaumburg, Ill, offers the CHARTR OAE, the company's newest diagnostic system. This system features NOAH/Pax-based software running on the windows platform. It features a lightweight baby probe that is available for TEOAE screenings with infants; module selection for transient evoked OAE, distortion product OAE, or spontaneous OAE; a new feature allowing quick analysis of middle ear function; and integration of screening, follow-up, and diagnostic services. (800) 289-2150; www.icsmedical.com.
---

Intelligent Hearing Systems
Intelligent Hearing Systems (IHS), Miami, manufactures auditory evoked potential, otoacoustic emissions, and visual reinforcement audiometry systems. The SmartScreener offers the following features for newborn screening: alternating stimulus for auditory neuropathy detection; multi-intensity chain-stimuli for fast threshold detection; and frequency-specific test stimuli. The SmartEP is a full-featured diagnostic system with ECochG, ABR, eABR, notched-noise masking, P300 capabilities and more. For quick testing, you can customize parameter settings files and program automated protocols. The SmartOAE allows you to define your own pass/refer criteria, normative data and test protocols. Finally, the IVRA provides automated, four-frequency, behavioral infant audiograms requiring a single examiner. All IHS systems are available in a single USB platform. (800) 447-9783; www.ihsys.com.
---

Interacoustics
Interacoustics, Eden Prairie, Minn, offers a combination ABR/video oculography called the EP15/25. This ABR unit is a modern, stand-alone 2-channel ABR system integrated into a medical PC using a Windows® 98 operating format. It can be purchased as a combination instrument or stand-alone product. Additional flexibility and cost savings are reportedly possible by adding the new otoacoustic emissions device. (800) 947-6334; www.interacoustics-us.com.
---

Maico Diagnostics
The ERO-SCAN OAE testing system can be used as both a screening tool, as well as part of a comprehensive audiologic evaluation by using the advanced programmable features (CPT Code 92588). This OAE unit reportedly produces immediate pass/refer results allowing for results in 10-30 seconds. The ERO-SCAN is suitable for use in the head-start and school screening markets, as well as the pediatric market, otolaryngology and audiology, and newborn screening markets. The ERO-SCAN DPOAE, TEOAE, and combination handheld units are also offered by Maico Diagnostics, Eden Prairie, Minn. (888)941-4201, www.maico-diagnostics.com.
---

Otodynamics
Otodynamics Ltd, Hatfield Herts, UK, features the ECHOPORTplus, designed to offer stand-alone automatic screening with integral graphics display. The product features full ILO data compatibility, which means raw data is always saved internally for later inspection. Other features of the OAE product are animated display, a full audit trail, and central screening program management,which means internal patient and results database can be accessed and maintained remotely via modem. (011-44) 1-707-267540; www.otodynamics.com.
---

Vivosonic
Vivosonic Inc, Toronto, Ontario, presents the Vivo 200 DPS VivoScan™, a new portable, professional OAE Audiometer for screening, diagnostics, and monitoring—made accurate and fast by the patented Vivography™. An automatic calibration check and system self-test prior to patient testing ensures consistent results. Touch-screen computer, flexible protocols, and printed reports are desogmed to provide easy and professional workflow. Data management, on-screen comparison of results, and statistics provide enhanced monitoring and analysis. Password-protected database, read-only files, data storage (millions of results), floppy-disk back up, and a lockable pelican case assist in HIPAA compliance. The product comes with a 3-year warranty, from probe to computer, and is also upgradeable. (416) 231-9997; www.vivosonic.com.