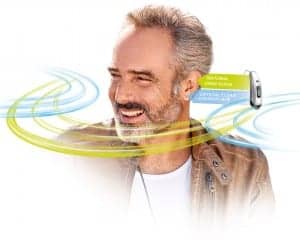 Sivantos, Piscataway, NJ, is unveiling today its new Signia Nx platform which includes own voice processing (OVP™) technology—a unique technology reported to provide acceptance of the own voice by 75% of dissatisfied hearing aid wearers (2017 "First Fit Study" conducted at Hörzentrum Oldenburg examining the effect of own voice processing on spontaneous acceptance after first fit of hearing aids). The study is the subject of an upcoming technical report in the November edition of The Hearing Review, and the Signia Nx platform is being unveiled today at the opening of the 62nd Annual EUHA Congress & Exposition held in Nuremberg, Germany.

The own-voice issue has been a traditional problem in hearing aid fitting. All hearing aid users experience a change in the sound of their own voice. Many of them—especially first time wearers—are dissatisfied with its loud unnatural sound. This negative perception reduces initial acceptance, forcing hearing care professionals to compromise on audibility to improve the sound of the own voice.
"Own voice processing actually has a dual-processing capability," said Eric Branda, AuD, senior manager of product management at Signia, in a phone interview with The Hearing Review. "We can now train the hearing aid to identify when the wearer is speaking, and adjust the gain and other parameters to accommodate the sound of their voice…When they talk, the hearing aid adjusts to their own voice; when they don't talk, the hearing aid does what the hearing care professional would normally expect it to do."
Putting audiology first to deliver the most natural own voice. With OVP technology, Signia developers focused on the important own voice issue to deliver an improved hearing experience for all hearing aid wearers. Putting audiology first to provide superior hearing with uncompromised sound quality, all new Signia hearing aids' unique and state-of-the-art features are built on this strong foundation of industry-leading technology, says the company.
The soundscape processing of Signia Nx—the way in which all other sounds, including other people's voices are processed—addresses another major issue in the industry: speech understanding in noise. Building on its proven predecessor platform, primax™, Signia Nx delivers "better than normal hearing" in challenging acoustic environments. This complements the natural own voice achieved by OVP.
Unique combination of Ultra HD e2e binaural with direct Bluetooth streaming. Signia Nx offers further advantages. According to Signia, no other manufacturer is able to combine direct streaming via 2.4 GHz Bluetooth®3 from iOS® devices and TV with Ultra HD e2e—the binaural link that enables OVP. This sophisticated wireless system is designed to continuously process audio information and exchanges data between the left and right hearing aids for optimal hearing and spatial awareness.
Branda says that this takes binaural processing to a more advanced level, scanning and locating sound sources with the greatest spatial accuracy. "It's not just [transmitting] audio from one side to the other with a copy, cut, and paste [strategy], but it's actually processing the signals in both instruments," he says. "Nothing else in our market is doing this sophisticated level of wireless processing. Then, add into it the 2.4 GHz Bluetooth streaming from iPhone, and this combination is unique to have the combinations at the levels which we're doing the ear-to-ear and then have the Bluetooth low-energy with the quality of streaming."
With Signia TeleLink™, the hearing aids offer remote control even when Bluetooth is not available, for example when in Airplane mode.
The new Nx platform includes a motion sensor function that can access information from an individual's smart phone to determine if they're stationary or in a more dynamic setting, such as talking while walking down a sidewalk, says Branda. It also offers an extended dynamic range with a 113 dB maximum input for crystal clear sound in loud environments or for music listening. Additionally, Signia engineers have found a unique way to build the antenna inside the frame of the hearing aid to save even more space.
Remote programming with Telecare 3.0. The third unique advantage, in addition to own voice processing and advanced connectivity, is the  Signia TeleCare™ solution. The latest version, TeleCare 3.0, reportedly enables full live remote tuning of Signia hearing aids with Connexx® fitting software. Hearing care professionals can now conduct online appointments via video call after the personal first fitting at the practice. They can simultaneously use Connexx to adjust the hearing aids in real time and in the real-life situations that the wearer experiences.
"We can now do virtual housecalls because the fitting software is now fully remote, so I can do full live tuning from the programming software to the device," says Branda, while emphasizing the importance of the initial fitting session. "We still want to build and maintain that [patient-provider] relationship, but now if they need to do some follow up appointments that can be done online via video call and full access with the software using iOS or Android."
The updated settings are relayed to the hearing aids via the patient's myHearing™ App on their smartphone. This technology provides a powerful new tool to keep hearing aid trials on track and convert patients with hearing loss into satisfied hearing aid wearers.
"In particular, we've heard a lot of positive feedback from our customers in more remote areas…who may have customers who have to drive 2-3 hours for a fine-tuning appointment," noted Debra Ludgate, director of marketing and public relations at Sivantos. "Now they can do that remotely, and they're pretty excited about it."
Wide range of styles and models. All the benefits of Signia Nx— a natural own voice, best hearing performance, direct streaming, and full live remote support—are available with the new range of elegant, high-performance Signia hearing aids:
The RIC Pure® 312 Nx is the smallest hearing aid with OVP and direct streaming thanks to its laser edge Bluetooth antenna for complete discretion.
The RIC Pure® 13 Nx delivers the longest streaming time for continuous connectivity.
The BTE Motion® 13 Nx offers the most versatile fitting options, as well as an optional T-coil integrated into the battery door so that more people with hearing loss can enjoy the natural experience of Signia Nx.
Branda says the expected battery life of the Size 312 devices is estimated at about 4 to 5 days, and about 10 days for the Size 13 hearing aids.
*The Bluetooth® word mark and logos are owned by the Bluetooth SIC, Inc, and any use of such marks by Sivantos GmbH is under licenses. Other trademarks and trade names are those of their respective owners.