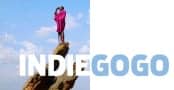 The editorial team at The Hearing Review sometimes receives information from individuals or small-sized companies in the hearing care space who are developing independently-funded devices, products, or business ventures. These independently-funded campaigns are sometimes launched online via Indiegogo.com, a crowdfunding site that "empowers people to activate the global community to make ideas happen." Here, HR lists five of these hearing-related products or ventures that ran independent funding campaigns through Indiegogo.com or similar platforms in 2014.
1) Nanoplug Hearing Aid
The Nanoplug hearing aid reached its 2014 funding goal of $80,000 via Indiegogo in December 2014. The Nanoplug is reportedly half the size of even the smallest hearing aids currently available. It fits completely within the ear canal, and is virtually invisible when worn. The Nanoplug hearing aid is powered by an equally tiny "nanobattery" that can be recharged instantly, says  Germany-based founder, Nevena Zivic. She says the device was designed as a user-programmable hearing aid that could be marketed to a younger population of people with hearing loss as a "cool" health and lifestyle product that won't be noticeable to others.
For more information about the Nanoplug, which is slated to ship in March 2015, visit its campaign page on the Indiegogo website.
2) Oto-Tip
The Oto-Tip, created by Clear Ear, Inc, had exceeded its $30,000 funding goal via Indiegogo by December 2014. According to its campaign page on Indiegogo.com, the Oto-tip is an eco-friendly answer to the cotton swab, and has several advantages. For one thing, it reportedly won't push earwax deeper into the ear as a cotton swab might. The Oto-Tip has a specially rotating design that is said to push earwax outward for more effective removal. The Oto-Tip makers report that, because of its safer method of wax removal and eardrum-friendly soft blue cap (which is easy to clean and reusable),  the device can help cut down on ear drum punctures and scratches. They also say that the flexible, non-abrasive Oto-Tip helps eliminate the dryness and itchiness that can occur with over-use of cotton swabs. The Oto-Tip is powered by a AA battery.
For more information on the Oto-Tip, visit its campaign page on the Indiegogo website.
3) Smart Hearing and Balance Store
Jennifer Gryska, AuD, launched a fundraising campaign via the Indiegogo site as part of the overall effort to raise the $50,000 needed to open a high-tech hearing health store, called Smart Hearing and Balance. The proposed store will go a step beyond dispensing hearing aids by also offering a wide range of high-tech hearing devices. The proposed store would provide consultations with trained audiology professionals, helping customers choose the right type of high-tech device for their lifestyle needs. Audiologist-business owner Gryska reports via her campaign page that her store showroom will feature accessories such as amplified telephones and headphones, custom earphones for iPods, mp3s and cell phones, technology for tablets and PCs, technology for restaurants, hearing protection, wireless TV amplifiers, and more.
For more information on the Smart Hearing and Balance Store, visit its campaign page on the Indiegogo website. 
4)  iHear HD
According to its campaign page on Indiegogo, the iHear HD from iHear Medical is an invisible hearing aid that you can customize and fine-tune at home.  iHear's indiegogo campaign, which closed in April 2014, far exceeded the company's initial funding goal of $65,000—reportedly raising more than $240,000 from nearly 1,000 backers who pre-ordered the device. According to the company, its goal is to improve access to hearing aids, and to bring the cost of advanced hearing aids in line with the cost of prescription eyeglasses. The iHEAR HD is reportedly a 100% digital hearing aid about the size of a kidney bean, which can be worn discretely inside the ear. Included in the purchase of an iHEAR HD is the iHearTest, a USB device to program the device and self-administer a hearing test online at home from a PC or Mac. Adnan Shennib, iHear Medical's founder and CEO and the inventor of the Phonak Lyric hearing aid, reports that obstacles to hearing aid acquisition by potential consumers include high cost, limited access, and the stigma associated with wearing a visible hearing aid. He hopes the iHear offers an online business model that removes those barriers to hearing aid use. Hearing Review has reported extensively on iHear and Shennib, including the company's 2013 presentation at the China Medtech Partnering (CMP-2013) Conference held in Suzhou, China. Although the device is available in other countries, it is currently not for sale (ie, an investigational device) in the United States.
For more information about iHear HD, visit its campaign page on the Indiegogo website.
5) Cynaps Enhance Hearing Caps
Max Virtual, a Delaware-based company specializing in wearable technology, is addressing the problem of hearing loss with a device that transmits amplified audio from the environment directly to the inner ear using bone conduction. The Cynaps Enhance hearing device comes in a variety of headgear, including a baseball cap. The company exceeded its $50,000 fundraising goal via the Indiegogo site in January 2014. According to its campaign page, the Cynaps Enhance can help people with conductive, unilateral, and even moderate cases of mixed hearing loss. In addition to its selection of baseball caps, Cynaps Enhance comes in other wearable solutions, such as a neck pouch with mountable parts for eyeglasses. The company reported in a recent announcement that several people with cochlear implants who tried Cynaps Enhance noticed an increase in clarity when using it in combination with their implants. The vibrotactile feedback generated from the device is also said to aid in lip-reading, situational awareness, and safety.
For more information about Cynaps Enhance, visit its campaign page on the Indiegogo website.
Did we miss any? If so, please let the editors know. E-mail HR Associate Editor Christa Nuber at [email protected] or Editor-in-Chief Karl Strom at [email protected]
Source: Indiegogo.com