Truth in product advertising has been instrumental in the success of Ear Technology Corporation's Dry and Store.

General Manager and Vice President Rick Gilbert (seated) and President and Founder Daniel R. Schumaier, PhD, of Ear Technology Corporation, Johnson City, Tenn.
For years, when he attended trade shows, Rick Gilbert, vice president and general manager of Ear Technology Corporation, used a fishbowl—replete with goldfish—to make a point. Submerging and thoroughly soaking a perfectly good hearing aid in the fishbowl, Gilbert would then take the waterlogged device and put it in the company's Dry and Store Professional device. The results were as astounding as they were predictable. When the device was removed from the unit, it not only was dry, but worked perfectly. "It's the ultimate risk, if you think about it," says Gilbert. "You can't put your product at risk any more than that, because fellow exhibitors knew what we were doing, so we weren't substituting a good hearing aid for a bad hearing aid. Never in 7 years have we ever had a single hearing aid that did not come back on squealing with perfectly great feedback after spending an entire day at the bottom of the fishbowl."
The gimmick underlies Ear Technology's commitment to exceeding and changing expectations in the hearing industry, which, according to Gilbert, the company has been doing since it was founded in 1997 by audiologist Daniel Schumaier, PhD.
The cornerstone of this change is the Johnson City, Tenn-based company's Dry and Store Professional and Dry and Store Global conditioning systems, which have evolved from a perceived novelty product into an indispensable part of many hearing aid users' lives.
The product was developed by Schumaier out of practical necessity, says Gilbert. "He's very much a thinker, very much an innovator, and much of what he has done has been a result of problems he couldn't solve in his very successful dispensing practice," he says. "So the Dry and Store device was an outgrowth of not being able to provide anything to help his patients take care of the hearing instruments they were buying from him."
And the timing could not have been better for a conditioning system. "It was right in the early stages of programmable hearing aids, so the timing of the product was almost perfect because there was this paradigm jump in the technology of the hearing instruments, and, of course, there was a corresponding price increase to them," says Gilbert. "So it became more important than it ever had been to keep these pretty sophisticated instruments operating well." Schumaier turned to friends and acquaintances in the engineering field for practical assistance, and began studying different methods of drying.
During the development process, Schumaier learned that the quality of drying was dependent on four things: heat, air movement, moisture absorption, and the amount of drying surface area. "He developed a technology that was the insides of the Dry and Store device, but then he added to that another solution to a problem his patients were having—itchy ears," says Gilbert. "He added a germicidal lamp to this excellent drying product, and we ended up with a very nice appliance called Dry and Store."
The toughest part of the development process was not the technology or the packaging, but categorizing the product. "It's not really a dryer," says Gilbert. "There are lots of dryers. If you want a dryer, you don't have to look very far. There have been heated boxes around for 30 years or so. So we coined the term conditioning system, and that's what we call Dry and Store. We think it conditions hearing aids by drying them exceptionally well on a daily basis, but also the UV light kills the really nasty microorganisms that can grow on the hearing aid and cause irritation. We are also in the process of developing a novel new desiccant that not only absorbs the moisture that's released from the hearing aid, but absorbs odors as well."
The resulting success of the product had nothing to do with clever marketing or gimmicks with goldfish, but with something more fundamental—Dry and Store delivered on its promises.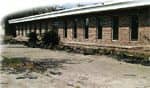 Both models of Dry & Store are produced at ISO-certified manufacturing facilities.
Delivering the Goods
The success of the Dry and Store is a result of one factor—it does exactly what Gilbert and his staff claim it does. "The product itself [made it successful]," he says. "We made claims about the product that we knew were true. In the early days, there were folks whose eyebrows went up and said, 'Aw, come on, here comes more snake oil in the industry.' But everything that we've claimed for the product and more has occurred. And that really has been the fun part about it."
As an example of how the product has exceeded expectations, Gilbert points to the fact that not only has Dry and Store delivered on its promise to dry hearing instruments and kill the microorganisms that collect on them, but it actually allows the hearing aid users to hear better. "That brought us into the whole science of moisture and condensation and issues of relative humidity. Because it stands to reason if you have got a little bit of moisture condensing on the microphone and/or the receiver of a hearing instrument, then you're simply not going to have very good sound. You're going to have a damp frequency response."
Gilbert says that, from the moment the Dry and Store device was ready for market, it was clear that this was better than anything else available. The only problem was not how to convince potential customers—audiologists, dispensers, and instrument manufacturers—that this was the case, but where this fit into the market. "It's not really an accessory—we tend to think of it as a necessity," he says. "What we effectively did was create a niche. We didn't realize that we were going to have to do that, because we thought we were just improving on the existing technology. But the quantum leap from Dry and Store to the highest-level other product was enormous. And that's where we effectively had to create a new niche for products like Dry and Store, which we think are really important for daily care of people who wear hearing aids or cochlear implants."
Gilbert describes Ear Technology Corporation as the company of the future now, which gives the company several advantages. "We're a very highly leveraged company," he says. "We do a lot of things electronically. We think we're very good at finding folks to manufacture, for example, better than we might do it. We don't try to fool ourselves into thinking that we ought to be a big manufacturing facility. There's no need for that. We have a small organization, and wonderful, wonderful people. We basically just don't have any turnover. So when our customers call in, they're talking to the same customer service representative that they talked to 7 years ago, and that's really important in this kind of industry." The Dry and Store Professional is manufactured by a company in Johnson City, and the Global model is manufactured in Thailand.
The devices are sold through audiologist's and dispenser's offices. Gilbert credits the reason why audiologists carry the product as their interest in taking care of their patients. "It's not necessarily money, it's not greed, it's true altruistic reasons, because they know if people use the product every day their hearing will be better," he says. "And that's what it really comes down to. We think that daily care makes for better hearing." Ear Technology sells the Dry and Store all over the world.
The first device, the Dry and Store Professional, was large and not portable, and this presented a problem for hearing instrument users who wanted a unit that could be taken on the road. "The Global unit evolved from our customers," says Gilbert. "Part of the issue of good customer service is that you listen and learn."
The smaller Global unit came out of the request from the company's customers, but offered the challenge of delivering a smaller unit that was just as effective as its larger sibling. "It took us 2 or 3 years to do the electronics and the airflow—we didn't just stick a fan in a box and put in a couple of ceramic heaters," he says. "There was actually a science."
Though the Dry and Store delivers what it promises, Ear Technology actively stands behind that promise.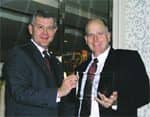 A Dry and Store product is assembled at an employee's workstation.
Servicing the Goods
Ear Technology is committed to supporting the Dry and Store product line. Unlike manufacturing, all repairs are done by a customer service representative who has been with the company almost from the start. There was a very specific reason why repairs were kept in house, according to Gilbert. "If somebody else is doing your repair work, they might send you a spreadsheet on demand from time to time, but you don't learn from it," he says. "We've learned from [doing the repairs]. It's not learning what's wrong with the product. Sometimes you learn what's right with it." He adds that the company prides itself on its quick repair turnaround times.
Customers have the option of contacting the company via telephone or through its Web site to resolve questions or problems.
Product refinement does not only mean creating new products or adding new features. It may be as simple as updating the instruction manual. "We're in our seventh or eighth iteration of operating instructions," says Gilbert. "The operations haven't changed, but what has changed is our understanding of how the user uses the product. So [that means] we will refine the operating instructions."
But this does not mean that the company is standing still. Ear Technology is in the process of developing a new iteration of the Dry and Store and several other products as well.
Back to the Drawing Board
Gilbert says that the innovative mind of Dry and Store creator Schumaier is constantly at work, looking at new product ideas, which include both a new version of Dry and Store and a new desiccant that will include odor absorption.
Schumaier, who has at least eight patents to his credit, is in the process of developing a new device that Gilbert is quite excited about. "We're working right now to develop a new type of bone conduction transducer that will allow people who have a dead ear, for example, to hear very well without the need for a cross or a bi-cross instrument," he says. Like the Dry and Store, the new device is an outgrowth of the audiologist's practice. Once it is developed, Ear Technology will turn over the manufacturing and marketing to another company.
The company recently tested the first prototype with very promising results. "We put the prototype instrument in [the test subject's] ear and the change was absolutely dramatic," says Gilbert. "She can't wait for the next iteration. We know it works and we just need to complete the develop process."
And while the company is planning to hand off its bone conduction transducer to another company, Ear Technology will begin marketing a product—the Earigator—that it did not create. "It is probably the best ear lavage system that we have ever seen," says Gilbert. "Dr Schumaier has been using it [in his practice]. It is a product that was developed by an ENT doctor. It was one of those need-based products. It's not our product. It's not our innovation. But it's a product we're much attracted to because it's one of those niches that needs some work." Ear Technology will begin marketing the Earigator in April at the American Academy of Audiology meeting in Salt Lake City.
This does not mean that the company will be abandoning the Dry and Store any time soon, and for good reason.
More than a Niche
What started out as a niche product is becoming a regular part of hearing care. The Dry and Store Global is included in the hearing instrument package Interton provides with its IQ instrument. A Dry and Store is also included with all the cochlear implants that are provided by Cochlear Corporation. Gilbert says that the company will continue to develop new iterations of the Dry and Store to meet the changing needs of the market.
The inclusion of the Dry and Store in the various hearing instrument packages is just a matter of good business on behalf of the instrument companies. "They're not doing this because Ear Technology folks are nice people…they're doing it because they see a benefit to themselves and a benefit to the people that are wearing the instruments that they manufacture," says Gilbert. "None of us can have a view into all the hearing aid manufacturers' [books]—we're not going to see the real numbers. But it doesn't take a lot of imagination to know that every single hearing instrument manufacturer all over the world invests a significant amount of money in warranty repairs, after market repairs, and then there are those hidden costs related to the negative customer satisfaction if something happens. Mother Nature is out there. If you live in a humid place, if you play tennis or golf, if you work in the garden, if you come out of an air-conditioned environment into the warm air and vice versa, there are going to be moisture problems in hearing aids. It's going to affect the quality of the sound, and it's also going to affect the reliability of the hearing instrument itself. I think it's a natural extension of the hearing aid manufacturer to start coupling [with something like Dry and Store]."
And this is a natural extension of Ear Technology's carefully crafted position as a market innovator and agent of change. "We see ourselves as a company that tries to find innovative technologies to solve problems that exist in the marketplace that have not been solved before, or haven't been solved as effectively," says Gilbert. "We are tightly aligned with the hearing instrument manufacturers, and we always see ourselves in partnership with people in the industry. I don't think that's going to change at all. What's going to change is the depth of our relationship. It's something we're working really, really hard to develop with hearing instrument manufacturers all over the world. They know us, and we know them. We're no longer a novelty. They know we have something that works, and we hope to connect the dots more strongly than in the past."
Chris Wolski is associate editor of Hearing Products Report.