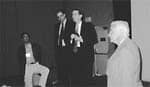 Sound Advice For Your Patients
Introducing your patients to new and improved Amplifier® EZ Change® will help make it easier for them to live with hearing aids.
Energizer
533 Maryville University
St Louis, MO 63141
(800) 426-8268
www.energizer.com
Why? Because they will know these long-lasting hearing aid batteries are backed by Energizer® quality and a satisfaction guarantee.
But Amplifier EZ Change is more than just a battery… it is a dispenser that is changing the way we change hearing aid batteries.
EZ Change Is Touchless
Ever wonder why they are called "zinc air" batteries? It is because air must enter the battery and interact with the zinc inside it in order to produce power. To let the air in, the batteries have tiny holes in them. Skin oils on the fingers can get into these miniscule holes, impairing battery performance. With EZ Change, nobody has to touch a battery.
No Tabs
As a battery is dispensed, the tab is automatically removed. Your patients should not have to bother with messy tabs or take the chance of clogging air holes while removing tabs.
The Dispenser Inserts the Battery
EZ Change uses a magnet to securely hold the battery for placement into the hearing aid. Now you can help alleviate patient anxiety about changing and dropping batteries in public. (The magnet also makes removing batteries easy.)
The Dispenser Doubles as a Carrying Case
EZ Change keeps batteries safe from coins or keys that can short out batteries. It is strong, but small enough to fit into a change purse.
Trust Energizer for cutting-edge technology and long-lasting batteries to keep your patients going. We offer innovative solutions for traditional spin pack products, Amplifier EZ Change battery dispensers, office merchandising, and patient education. For more information, or a free Amplifier EZ Change sample, call (888) 525-5077.