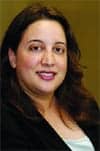 A new year brings with it thoughts of the many "new" possibilities that can come with it. Various technological advances burst onto the hearing health care scene in 2005, and 2006 appears poised to usher in even more.
One of the biggest trends in 2005 was the use of open-fit technology—a simple concept, perhaps, but an important one for hearing aid wearers who have struggled with the occlusion effect for years. While in recent months open-fit devices have exploded in availability and are driving BTE sales, it is still an emerging technology; more and more manufacturers are expected to offer the technology, while refining it even further.
The utilization of wireless technology was another big trend—one that is expected to continue growing. 2005 brought the ability of a hearing aid to communicate with a cell phone—two devices that usually do not play nicely together. Within the next year or so, that capability is expected to expand even further to such devices as iPods, mp3 players, computers, and other consumer electronics. While wireless technology is available for such accessory products as an add-on to BTEs or custom aids, the technology has not actually been implemented into the aid itself—something experts in the field expect to see within the next year or so.
Also on the horizon is the next generation of so-called "intelligent" technology, which will use more sophisticated algorithms to make even more decisions automatically for the hearing aid user, including extricating a particular sound in an otherwise acoustically cluttered environment. The devices will even be able to "learn" from the environment the user is in and adapt to it in order to help a person hear better.
Binaural processing of algorithms is another advancement expected on the scene. Instead of working independently of each other, the signals from hearing aids worn on both sides will be incorporated into the same processing algorithm, allowing hearing aids to take into account what someone hears on both sides of the head.
Besides hearing aid technology, the new year is also expected to bring a range of new and more sophisticated technologies on the fitting side, as well as in the assistive listening device arena.
One of the oldest known disabilities, hearing loss continues to be an ongoing health concern. This expanding area of health care constantly presents a host of new challenges to the hearing health care industry, which must devise the technologies needed to address those challenges. In doing so, the industry must also take into consideration balancing advancements in the science with the aesthetic qualities demanded by today's hard-of-hearing population.
With all of that said, the possibilities for manufacturers and providers in the hearing health care field are endless. As the new editor of Hearing Products Report, I look forward to bringing you the latest technological advancements that are to come in the hearing health care industry, and eventually meeting those of you in this extraordinary field. N

Danielle Cohen
[email protected]