Starkey Laboratories' continued commitment to innovation has resulted in a new on-the-ear hearing instrument.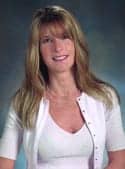 Starkey Laboratories' latest industry first was conceived with Starkey President Jerry Ruzicka's desire to capitalize on the expanding "open-fitting" market. But Ruzicka wanted something different, a new product to stimulate flat sales in an industry relying too heavily on repeat customers.
"I thought we needed to develop a product that a younger patient would wear, not a traditional hearing aid," says Ruzicka, who selected 30-year Starkey veteran, Mark Gilbertson, as lead engineer for the project.
The eventual result would create Starkey's new Aspect OTE, the world's first "on-the-ear" instrument.

Starkey founder and CEO William F. Austin (far right) with President and Mrs Ronald Reagan, in 1985. President Reagan was fitted with Starkey hearing instruments.
Gilbertson is no stranger to innovation. In 1993, he was instrumental in the design and development of the Tympanette, the industry's first CIC hearing aid. "The look in Jerry's eyes was eerily similar to early 90s CIC brainstorming meetings. We knew he [Ruzicka] wasn't going to settle for a repackaged mini-BTE," Gilbertson says.
Starkey's fast-track product development team was assembled and initial concepts were created. Gilbertson's design requirements included extreme product miniaturization, utilizing the pinna's most prominent hiding space between the head and top of the ear.
Identifying the need
Many new patients cite that accepting help for a hearing problem is an issue of visibility—they'll wear something if no one can see it. But the higher cost of invisibility alone can be hard to justify without having experienced the full benefits of amplification.
Figures 1 and 2. Addressing another concern, the Aspect's miniaturization makes it barely visible as it sits tucked between a patient's head and the top of the pinna.
According to the Better Hearing Institute (BHI), the stigma associated with hearing aid cosmetics is the second most prevalent reason many people delay or choose not to seek treatment for hearing loss.
But CIC instruments provide an invisible solution for many types of impairment, according to Sergei Kochin, PhD, of BHI. "Research shows that 90% of consumers perceive these CICs to be completely invisible."
"It's been more than 10 years since the industry introduced a new style of hearing aid," says Aspect project manager Rick Stromberg. "When Starkey developed the CIC, we thought cosmetics would no longer be an issue, but statistics have shown the overall number of people using hearing aids has risen very slowly over the past decade."
Figures 3 and 4. Aspect OTE includes the exclusive new omni-fin Earbud, which eliminates a common complaint by hearing instrument users of feeling "plugged-up."
And the numbers don't lie. Hearing Industry Association (HIA) research shows an average industry growth rate of less than 2% annually—an alarming trend, considering hearing loss is the third most common affliction among elderly people in the United States.
Ruzicka, HIA president in 2004, attributes the lack of sales growth to the industry not addressing the needs of the fastest-growing market segment.
BHI MarkeTrak research shows more than 6 million people between the ages of 45 and 54 suffer from hearing loss, and that number is expected to grow substantially over the next 10 years.
"For years, the industry as a whole has been developing products for older, more experienced patients," Ruzicka says. "The average age of the first-time hearing aid user is 65 years old. To stimulate growth, we needed to develop a product that addresses the needs of a younger generation."
Although many rival companies have released "open-ear" devices in the past 12 months, they failed to elicit significant market growth from the desirable "Baby Boomer" segment, says Ruzicka.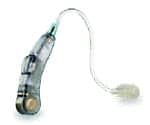 Starkey Laboratories' Aspect OTE
Starkey's market research pointed to a cosmetically appealing product that digitally combats high-frequency hearing loss and eliminates occlusion. Stromberg also listed "instant-fit capability," ease of use and entry-level pricing as design requirements.
For most mild-loss, first-time wearers, a key step in successfully adapting to amplification is overcoming occlusion, says Starkey research audiologist Laurel Olson.
The primary advantage of an "open" fitting is its ability to provide the ideal combination of comfort with natural and realistic sound quality, thus eliminating the common complaint of feeling "plugged-up."
It's those needs that Starkey's product development team took into consideration when designing Aspect.
Gilbertson's work was cut out for him. His fast-track development team worked long hours for 6 months to develop "Contour," Aspect's internal code name derived from Gilbertson's goal to design a product to comfortably match the unique structure of the top of the ear.
"We were excited," says Gilbertson, whose enthusiasm was reminiscent of a newborn's parent. "We invented an entirely new product from scratch in record time, and now it was time to let our hearing research group test it."
Showing Product Efficacy
Starkey's Hearing Research and Technology department clinically tests and evaluates new products. The process includes identifying a group test of beta testers to validate the new technology's features and benefits.
The Aspect test group consisted of 14 subjects, six males and eight females, ranging from 44 to 82 years old. To validate product efficacy, all beta testers wore Aspect an average of 4 to 8 hours a day and participated in multiple evaluation sessions with Starkey's research team.
The instrument's unique design combats high-frequency hearing loss and eliminates occlusion.
Evaluation sessions included initial fittings, review of experiences, subjective and objective measurements and focus-group meetings
Initially, Aspect beta testers struggled with handling, inserting and removing the tiny OTE, which is fairly common with first-time hearing aid users, says Olson.
But after using the product, the beta group successfully mastered battery replacement. Data showed ease of battery replacement with a mean rating of 4.5 on a scale of 1 to 5, with 1 being "very difficult" and 5 "very easy."
Research also showed very high levels of overall product satisfaction. The test group's mean rating was 4 on a scale of 1 to 5, with 1 being "poor" and 5 "excellent."
In general, all test subjects say they could "hear better" in a variety of situations, including conversations in groups, watching TV, and attending church and other public places. And thanks to Aspect's exclusive earbud, subjects reported not feeling "plugged-up."
"Aspect's open fitting is provided by a new omni-fin earbud. The earbud is made from soft, pliable material and its fins firmly hold to the wall of the ear canal to provide maximum structural integrity," Olson says.
In fact, Starkey's research has shown that a fully-inserted Aspect Earbud maintains as much as 70% of the canal's open volume.
Aspect's Earbud was created in three sizes; no earmolds or impressions are required, allowing hearing professionals first-visit fitting opportunities.
Another unique attribute of the Earbud is its lack of electronic components. Olson says the Earbud design allows easy removal for cleaning and eliminates the likelihood of wax blockage and accumulation.
Beta testers also gave Aspect very high cosmetic and comfort ratings. Subjects cited Aspect as "small and inconspicuous, easy to use, lightweight and very comfortable." Aspect's overall cosmetic rating yielded a mean score of 4.2.
Olson says Aspect has already been very successful in the field, even though it was just released in March of 2005. "We're all really excited about the product. There was a tremendous amount of hard work done to get Aspect to market so fast."
Stromberg expects Aspect to help hearing professionals reach younger patients. "The bottom line is that Aspect introduces amplification to an entirely new market segment with features that should attract them. In doing so, it delivers exceptional performance and value."
A Commitment to creativity
Innovation is nothing new at Starkey. Since 1967, when founder and CEO William F. Austin started the company in his basement as an all-make repair service, Starkey has been a consumer-centered force of change in the industry.
In 1973, Starkey released the CE-1, a new custom, in-the-ear hearing aid with an industry-first 90-day trial period and 1-year "worry free" warranty. In the following years, Starkey grew from a small company into the world's leading producer of custom hearing instruments.
In 1985, Starkey developed the CE-5 INTRA series, the industry's first Canal hearing aids. Following the release, Austin fit then-US President Ronald Reagan with INTRA hearing aids. President Reagan's fitting encouraged a wider acceptance of hearing aids among the general public, resulting in increased sales throughout the industry.
Ruzicka says Starkey's history of cutting-edge products is fueled by an annual research and development investment of more than $37 million.
Besides the financial investment, Starkey operates two facilities that are solely devoted to the advancement of new products.
Starkey's Colorado Springs Integrated Circuit Development Center conducts research to design new circuits and software algorithms used in the company's products.
To further solidify Starkey's long-term commitment to product development, the company opened the new Starkey Hearing Research Center (SHRC) in Berkeley, Calif. in January of 2005. The SHRC researches future technologies based on wireless applications and enhanced directional technologies.
Long-time hearing researcher Brent Edwards, PhD, works as the SHRC's executive director. "We look forward to applying the science of hearing to solutions for the hearing impaired," says Edwards. "Today's technologies offer us unique opportunities to continue Starkey's history of innovation."
Jason Hombach works as a marketing communications specialist for Starkey Laboratories Inc, Eden Prairie, Minn. Hombach has more than 10 years of experience in the hearing care industry.