Oticon Pediatrics has introduced a new, child-friendly FM receiver designed to help audiologists in school settings simplify some of the complexity of everyday listening and learning for both students with listening and concentration difficulties and their teachers.
The Amigo Star FM receiver is intended to help children with listening difficulties get the most out of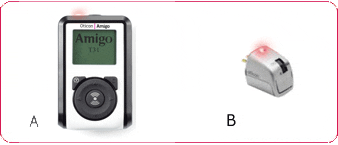 learning situations so they can achieve their full potential. The child-worn receiver features a built-in volume control with programmable lock, an LED visual status indicator, and a channel seek button for easy synchronization. A microphone and transmitter worn by the teacher ensure that classroom instructions come through clearly, no matter where the teacher moves in the classroom and despite challenging background noise.
Amigo Star is a plug-and-play FM solution that helps students overcome distracting background noise so they can concentrate their resources on listening and learning. Designed to be cooly stylish and discreet, Amigo Star provides an increased signal-to-noise level to improve speech intelligibility for language development and learning.
Amigo Star can be used with the Oticon Amigo T5 or T30/T31 FM transmitters. The receiver can also receive FM input from virtually any 216 MHz transmitter, allowing it to be used with schools that have an FM program already in place.
Amigo Star also features a customizable fit to suit each child's ear shape and canal size with Corda2 thin tubes and domes that are easy and inexpensive to replace. A push of the channel seek button allows easy channel synchronization with the transmitter. It also includes wax protection, lockable volume control wheel, tamper-proof battery door option, and simple cleaning.
SOURCE: Oticon