Oticon, Inc announced the launch of Oticon More, a new hearing aid that "builds on the company's proven BrainHearing approach to provide the brain optimum input for better speech understanding with less effort." Oticon's newest technology works more like the brain works, because it learned through experience, the company says. Oticon More is "the world's first hearing aid that uses an on-board Deep Neural Network (DNN) trained on more than 12 million real-life sounds." Every sound that passes through the hearing device is said to be compared to the results discovered in the learning phase. This helps allow Oticon More to "deliver a full and precisely balanced sound scene that makes it easier for the brain to perform optimally." According to Oticon, speech in noise is processed more like the human brain, based on extensive experiential learning, not on a limited set of man-made rules. The result is a more natural representation of all sounds and an additional 15 percent increase in speech understanding.*

"Oticon did more than customize the DNN to meet the space and power challenges of modern hearings aids," said Donald Schum, PhD, Vice President of Audiology for Oticon, Inc. "Oticon More with BrainHearing technology takes hearing healthcare to a new level. With more than 12 million sounds, we trained the DNN to differentiate speech from other sounds, including the way both speech and noise spread across frequency and over time. The resulting learnings are embedded in the DNN on-board each Oticon More hearing aid. Speech signals are protected and competition from noise is reduced. This allows Oticon More to process the full sound scene in a holistic and balanced way, giving the brain optimized input from all types of meaningful sounds, not just speech."
Related article: Oticon Shifts Brand Identity to 'Life-Changing Technology': An Interview with Gary Rosenblum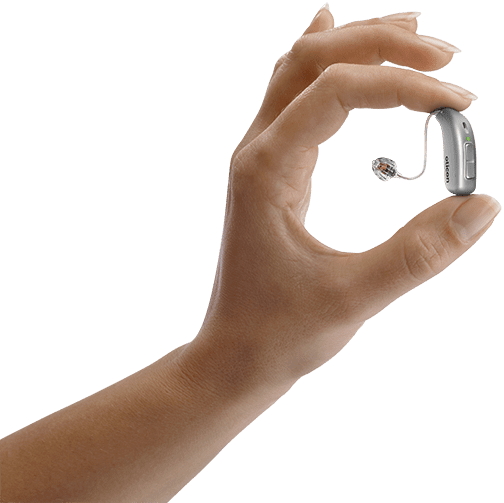 The Polaris platform is the backbone of Oticon More, purpose-built for hearing aids. This integrated intelligent microchip, Oticon's "most intelligent and powerful ever," supports Oticon More's technologies.
MoreSound Intelligence (MSI) technology "optimizes the way the hearing device makes sounds more distinct, working seamlessly across varying listening environments." According to Oticon, "all types of sounds are recognized, including their details, and how they should ideally sound to optimally support the brain." Said to "scan the soundscape 500 times per second, MSI captures the intricate details in the sound scene and processes them with better contrast, balance, and clarity than ever before." MSI is proven to make the full sound scene 60% clearer based on EEG testing.**
The rapid high-resolution amplification of MoreSound Amplifier works in both 24 and 4 frequency channels to follow changes in the sound scene, balancing and amplifying sound objects.
Next Generation Connectivity
Oticon More features Bluetooth Low Energy technology and offers a range of connectivity options to support high-quality listening in everyday situations. Oticon More is a Made for iPhone (MFi) hearing aid and compatible with the new Android protocol for Audio Streaming for Hearing Aids (ASHA), making it possible to stream directly from Apple and selected Android mobile devices.*** Oticon More can be combined with Oticon ConnectClip to stream from any other Bluetooth device.
The Oticon ON app lets users personalize their listening experience via the new streaming equalizer that allows them to fine-tune the sound when streaming. The ON app also lets users adjust the volume, change the program, check the battery level, and control other Oticon devices. It even comes with a "Find my hearing aids" feature.


The rechargeable Oticon More miniRITE R uses reliable lithium-ion batteries for a full day of battery life****, including streaming, after just three hours of charging. A quick charge takes just 30 minutes and provides an additional six hours of power.
Oticon More is available in eight colors and supports hearing loss from mild to severe. For more information on Oticon More and the entire family of Oticon hearing solutions with BrainHearing technology, visit: https://www.Oticon.com/More.
*Compared to Oticon Opn S™, Santurette, et al. 2020. Oticon More clinical evidence. Oticon Whitepaper.
**EEG testing with MoreSound Intelligence in on vs off setting, from Santurette, et al.
*** Android devices need to support ASHA to allow direct connectivity to Oticon More. Please visit Oticon.com/support/compatibility for more information.
****Lithium-ion performance varies depending on hearing loss, lifestyle, and streaming behavior.
iPhone is a trademark of Apple Inc, registered in the US and other countries. Android, Google Play, and the Google Play logo are trademarks of Google LLC.
Source: Oticon
Images: Oticon