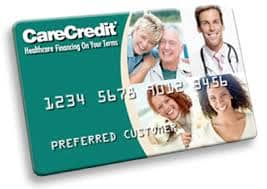 California-based CareCredit, a health and wellness credit card that can be used as a financing option for certain expenses not covered by insurance, has announced the launch of its new digital card technology, which enables mobile payment functionality for all CareCredit cardholders and providers. CareCredit, from Synchrony Financial, reports that it developed the digital credit card to address the rise in mobile engagement by CareCredit customers – unique visitors to the CareCredit mobile website are up 59% year-over-year – and provide secure mobile payment options for whichever digital wallet the company's 9 million active cardholders and 186,000 providers choose.
According to CareCredit, the digital card was successfully piloted in 2014 with a number of Synchrony Financial retail partners. It allows cardholders to access a digital version of their CareCredit healthcare credit card on their mobile device, eliminating the need to bring their card with them at the time of care. The company reports that this is particularly convenient for existing CareCredit cardholders who account for nearly half of all CareCredit purchase volume. The digital card is said to be seamlessly integrated into CareCredit's mobile servicing site, which allows cardholders to easily service their accounts on mobile devices.
The digital card is intended to be compatible with all mobile devices without requiring any new hardware or mobile application download, CareCredit says, providing flexibility and ease-of-payment through any accepted mobile wallet or existing point of sale method. The digital card reportedly establishes a secure customer enrollment and authentication process and offers a unique mobile device provisioning through the "add to home screen" feature. CareCredit explains that after the initial set-up, the digital card is accessible by simply entering a PIN chosen during the enrollment process.
"We are committed to offering cutting-edge digital capabilities to consumers and providers with the mobile account management and payment solutions they seek," said Dave Fasoli, CEO of CareCredit. "These ongoing enhancements represent the next phase in CareCredit's mobile strategy and are an important factor behind our impressive satisfaction ratings in the industry."
As described in the announcement, CareCredit and Synchrony Financial work with all third-party digital wallets, including Apple Pay, Samsung Pay, MCX (CurrentC), and others. Earlier this month, Synchrony Financial announced that all CareCredit cards will be capable of being provisioned for the Samsung Pay mobile wallet. Samsung Pay leverages both Magnetic Secure Transmission (MST) and Near Field Communication (NFC) technologies and will be accepted at 90% of retailers, merchants, and service providers. Synchrony reported that this preserves the benefits and features available on CareCredit cards in a secure mobile wallet environment. Mobile payment applications are locked by PIN and password, and all CareCredit card accounts in Samsung Pay will be device-specific and domain-restricted tokens, meaning they will only work in the provider's location, providing additional security.
 Source: CareCredit, Synchrony Financial