A new hearing aid adapter for landline phones has been introduced by Business Telecom Products (BTP). BoostEar, marketed toward office workers with hearing aids, connects Bluetooth enabled hearing aid streamers with a desktop phone via a personal computer.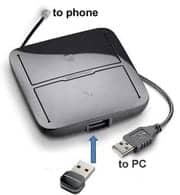 BoostEAR combines two Plantronics specialty products for BTP's custom solution that solves the problem for people with Bluetooth enabled hearing aids that connect to mobile devices, but not to landlines or other non-Bluetooth communications equipment.
BoostEAR consists of a wallet-sized desktop audio device that plugs into the receiver port of an analog or digital landline telephone. The user then plugs another cord into the USB port of a PC for two-way sound. Incoming and outgoing sound levels are adjustable, and users can switch between phone calls and PC audio (webinars, music, or voice) by simply tapping a button.
BTP's new device has tested successfully with Bluetooth hearing aids from Oticon, Phonak, Unitron, Rexton, and Siemens, and should work with any Bluetooth enabled hearing aid streamer system. It also works with software-based phone devices, including Microsoft® Lync™, Avaya®, Cisco®, IBM®, Skype® and others.
The BoostEAR (BTP model PL-MDABDL) is currently being sold exclusively through BTP's website.
SOURCE: Business Telecom Products