A new 23-minute webinar about implementing a layered approach to physician and patient marketing using disease state messaging is now available on-demand. In the webinar "A Front Office to Back Office Marketing Approach for Physician and Patient Referrals," Brad Dodson and Robert Tysoe explain how to effectively implement a "Disease State Marketing plan" at your practice that specifically targets physician offices with high co-morbidity correlations to hearing loss. By using a multi-layered approach that involves both your front office, as well as you and/or your professional staff, the presenters demonstrate how to increase the effectiveness of your physician marketing program. The webinar is brought to Hearing Review readers courtesy of CareCredit.
Following completion of this course, attendees will be able to:
Understand the importance of establishing the priorities of Disease State Marketing;
Recognize major co-morbidities that are associated with an increased risk, increased prevalence, and increased severity of hearing loss in the deaf and hard of hearing patient, and
Understand the importance of a layered marketing approach to generate more physician referrals.
Robert Tysoe is a 25-year veteran of the pharmaceutical and medical device industries, and for the past 10 years has worked on the physician marketing programs of hearing care companies in the United States. Brad Dodson is the VP of sales of Clear Digital Media, the creator of the Hearing News Network, a point-of-care educational video network that appears in the waiting rooms of hearing care professionals across North America.
Attend this Webinar: The webinar is now available on-demand. To register and attend this free webinar now, click here.
See the other short webinars in this series. This is the third in a series a three 20-minute webinars, courtesy of CareCredit, focusing on how to attract new users of hearing aids. In the first webinar, Hearing Review Editor Karl Strom looked at recent industry surveys, statistics, and new findings that relate to first-time users of hearing aids. In the second webinar, Kevin St Clergy explained how to diagnose the type of marketing that might work best for a practice, understand which three marketing strategies work at the local level, and put together a proven 12-month marketing plan that gets results.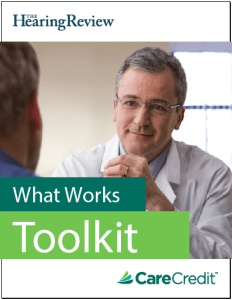 Get the What Works Toolkit. In conjunction with the webinar, CareCredit is offering a free What Works Toolkit at Booth #209 of the Academy of Doctors of Audiology (ADA) Convention in Washington, DC. This toolkit includes a new hearing aid pricing survey, 10-year state-by-state sales statistics, customer loyalty business tools, focused white papers, and webinar overviews—all in a special report designed to help you and your practice succeed in today's business environment. To reserve your copy, click here.