Hearing care practices and dental practices may not have much in common on the surface, but as I've thought about my dentist appointments over the last 10 years, I've realized that there are a few similar customer care opportunities that can help hearing practices retain patients and perhaps referrals.
I don't exactly recall how I chose my dentist 10 years ago. The small town I live in is served by four dentists. It might have had something to do with their Yellow Page ad—back when people actually used the phone book to find businesses and services in their area.
I may have chosen my dentist based on his convenient location. Hearing practices shouldn't discount the fact that a convenient location with easy parking can help patients to feel less intimidated about their appointments. My dentist's location has changed in the last 2 years, and is not the closest anymore. In fact, his practice has gone more upscale, which I like, but judging from the dental bills, I realize that my family is helping to pay for the new "spa" look and feel.
So, why not change? It isn't that my dentist offers the lowest cost dental care in town. I've realized that, more than anything, I go there because they know me. It's not that we're the best of friends, but they do remember me and the conversations we've had, intermittently mumbled through cleanings.
I'm convinced that somewhere near the top of my chart, it says something about my favorite football team. This was probably noted during my very first visit. There must be something written like: "Favorite team is the Green Bay Packers." My dentist always works in the football talk—usually about how bad his Vikings have done. Unfortunately, I am no help to his pain. With all the patients he sees, I am sure it is noted somewhere. The notes provide an effective way for him to connect with me while I'm in the chair, and I think that same small effort to relate to each patient can help build long-term relationships in hearing care, as well.
In the last few years, our talks about football have grown shorter as he's relied more on his assistants and added more chairs in his practice. His staff takes care of me for most of my appointment, but he always pokes his head in just long enough to oversee the details of the checkup and talk a little football.
Appointment Reminders
His office sends me reminders for my regular checkup. If I don't schedule an appointment, they eventually call me. They know that no one really wants to visit their office, and hearing patients can have the same resistance. So to help me remember, I get the reminder. If I don't call, eventually their office calls to follow up and mentions the reminder that they've sent. Although I may not look forward to checkups, they're meant to keep my teeth healthy. We must also keep the same thought in mind for contacting our hearing care customers. Checkup reminders benefit patients through optimizing fittings and protecting the patient's hearing.
Happy Birthday Wishes
Aside from remembering that I like football, my dentist remembers my birthday. Actually, it's their computer that remembers my birthday, and the card is poorly printed with clip art graphics that would have looked cutting-edge with the first color printers back in 1987. But it's the thought that counts, as they say. Personally, I forget things like Friday is trash day and the date of my wedding anniversary more often than I care to admit, but somehow I haven't forgotten that my dentist remembers my birthday.
It's a small gesture, and yet it did stay with me, and that's backed up by some market research from Hallmark. According to their survey, 47% of consumers indicated that receiving a birthday card makes them more likely to do business with the sender.1
I'm not sure that I feel like I do more business with my dentist because he sends me a birthday message, but the truth is that, even though he's probably the highest priced dentist in town, I have no plans to leave. This in itself translates into more business for his practice. For some reason, as insignificant as they are, the checkup reminders and birthday cards are little lines of communication that keep me connected to their practice.
For hearing care practices, these small touch points can mean even more, given the older demographics of hearing patients. It's possible that the birthday wish you send your patient may be the only one they receive. For offices that realize the significance of returning patients for their revenue, communications such as the birthday greetings make sense.
Patient Retention
If it's been more than 3 years since you've seen or had any contact with your patient, how much will loyalty play into their next purchase of a hearing aid? Consider this: An average of 63% of hearing aids dispensed are fit on patients new to the practice,2 and first-time hearing aid owners decreased in 2008 to 36.6%.3 This means that, on average, at least 26% of the patients you fit with hearing aids come to you from competitors' practices. If this is true, it is highly likely that a significant number of your patients will go somewhere else for their next hearing aid purchase.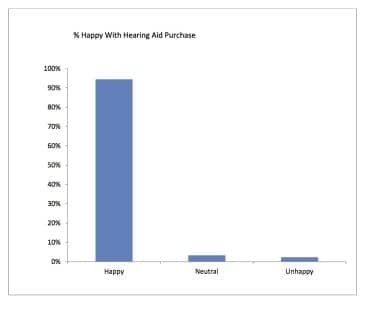 Figure 1. According to a patient survey of ESCO ConnectCare offices, 94.4% of patients say they're happy with the hearing aids.
This is a compelling reason to stay connected. Additionally, the MarkeTrak VIII study found that the satisfaction rate for patients with new hearing instruments is approximately 80%.4 In contrast, results from patient surveys from participating ESCO ConnectCare offices show that 94.4% of patients say they are happy with their hearing instrument purchase (Figure 1), and 93.2% of patients say it is likely that they will purchase a hearing instrument from the same practice again (Figure 2)—evidence that satisfaction with the hearing aid purchase relates to not only the product itself, but you—the way you run your practice, and the relationship you reinforce with your patient.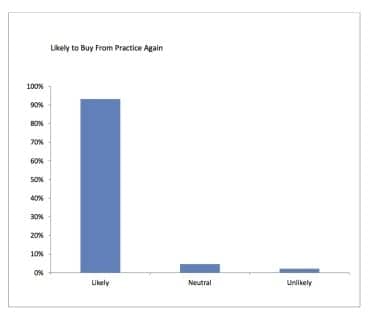 Figure 2. 93.2% of patients from the same survey said they were likely to purchase a hearing aid from that same practice again.
Today, staying in contact with patients is relatively easy. Patient contact forms are often integrated into practice management software programs. Unfortunately, these types of activities get lost in the day-to-day time requirements of running the practice. Programs such as ESCO's ConnectCare have also removed the time and cost barriers by providing patient communication services printed and mailed at no charge. Practices that participate in patient retention services realize an efficient use of marketing efforts and funds. It helps them make use of their most valuable asset: their patient database.
Location, surroundings, appointment reminders, and birthday wishes all add to the patient having a positive experience with your service. These details may appear to be small, but the effort conveys that on some level you know them—just enough—so that, when it's time to purchase the next hearing aid, they will return to someone who has already built a friendly, courteous, and thoughtful relationship.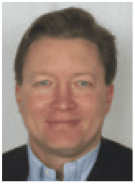 Todd Matejka is the director of finance at ESCO Agency, LLC, Plymouth, Minn.
References:
Hallmark Business Expressions' national survey shows birthday cards matter to customers. Business Wire. March 17, 2008.
Phonak Market Research. A survey of key metrics for benchmarking a hearing practice. Hearing Review. 2011;18(6):24-34.
Kochkin S. MarkeTrak VIII: 25-year trends in the hearing health market. Hearing Review. 2009;16(11).
Kochkin S. MarkeTrak VIII: Customer satisfaction with hearing aids is slowly increasing. Hear Jour. 2010;63(1):11-19.