On July 20, Signia's US headquarters in Piscataway, New Jersey welcomed 30 select audiology students from universities around the country for the company's annual 3-day Signia Student University. The select group of students was invited to participate based on recommendations from their universities as especially promising and driven audiologists-in-training who have shown exceptional aptitude and interest in working with hearing instruments.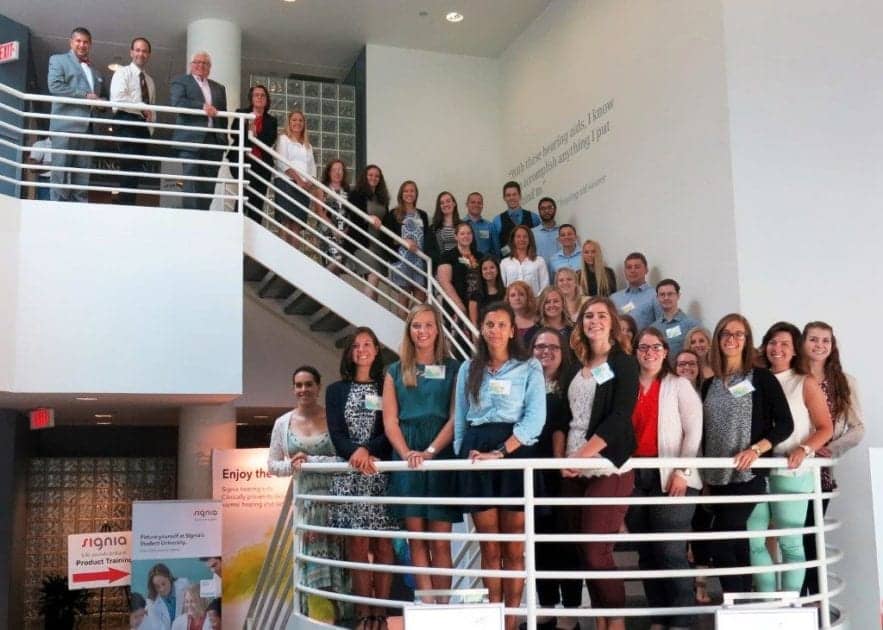 Before the official opening of the event, the students were treated to a Career Opportunities "Happy Hour" where they learned about the various career opportunities within Signia, such as customer care, government services, product management, and HearUSA. They also learned about such outside opportunities as working at a hospital, government agency, school, and owning a private practice.
The 3-day agenda included lectures by renowned researchers and opinion leaders in the field. Gus Mueller, PhD, Catherine Palmer, PhD, and Josh Alexander, PhD, talked about important topics in amplification like real-ear verification, evidence-based practice, and speech perception. Practical presentations by Signia experts complemented the academic lectures. These topics included upcoming disruptors in the industry, hearing aid technology and benefits, software training, and in-office ITE and earmold modifications and repair. Finally, a series of break-out sessions consisting of hands-on experiences, listening demos, and a factory tour led by representatives of the Signia training and product management teams showcased Signia products and innovations.
At the end of the event, the attendees' feedback forms were filled with positive comments about many aspects of their experiences at the Signia Student University. Some of the students' comments included, "Loved my experience! Very personal, informative, and fun!" and "The demos are great! I feel like I have a better grasp of what my patients are experiencing. Thank you!"
Details about this popular annual event have been covered previously in The Hearing Review, as in this August 2013 article.
Source: Signia