Phonak has launched its new Audéo Marvel receiver-in-the-canal (RIC) hearing aid which brings binaural sound to virtually any form of Bluetooth streaming—IOS, Android, or otherwise—with a unique sound classification technology yielding audio quality that impressed a group of industry experts and hearing aid users last week during a special media event and sneak-peek of the device at the company's US headquarters in Warrenville, Ill, near Chicago. Based on the third version of Phonak's Sonova Wireless One Radio Digital (SWORD) chip, the Audéo M is also designed to place the user at the center of the audiological process with an array of new Smartphone apps, remote fine-tuning, and sound processing capabilities, says Phonak US President Jan Metzdorff.
New levels of binaural sound quality and universality. One key feature that immediately jumps out in Audéo M is its sound quality. For real audiophiles and others accustomed to hi-fi systems, the sound quality in today's hearing aids is very good, but can still prompt them to ask why the devices can't sound like stereo headphones. Of course, the problem—which has been around even before made-for-iPhone (MFi) systems became available—stems primarily from the venting of the aid for real-life environmental speech and sounds. This provides the important natural sound benefits associated with open-fit aids, but has required a trade-off in streamed sound quality. With the Audéo M, Phonak has reinserted a clear richer sound into streamed music, TV, or other devices via hearing aids—and demonstrated fairly dramatic differences in a paired comparison test. The system features AutoSense OS 3.0 which reportedly classifies streamed media for optimized listening.
"We have the first classifier that also operates on the streamed signal," said Christine Jones, AuD, Phonak US vice-president of Audiology and director of the Phonak Audiology Research Center (PARC) in Warrenville during a presentation at the media event.  "Some of the early work we did highlighted that there was an opportunity with streaming—as with the unique listening environments that can also be encountered by patients—where someone's preferences may be very different than when listening to streamed speech, or dialog in media, movies, etc. Listening goals can be different, and sound quality preferences can be different. So, now we are not only classifying the environmental sounds, but we can also classify those streamed sounds to deliver the best possible experience under all listening conditions."
Although the advanced design of the previous Audéo B-Direct model is award-winning, it does not feature binaural streaming. With the new Audéo M, wearers can now binaurally stream audio content, including smartphone calls, music, eBooks, and more, to both ears from any Bluetooth device.
Phonak points out that iPhones account for only 13% of smartphone use worldwide compared to 86% for the Android OS, and wearers' choices have been limited primarily to hearing aids that utilize the MFi protocol. Additionally, even with IOS-compatible devices, some forms of MFi hearing aid streaming (eg, streaming from MacBooks and iMacs) were unavailable until now. SWORD 3.0 is capable of running Bluetooth Classic, Bluetooth LE, AirStream Technology (for TV), and Binaural VoiceStream Technology for high-speed data transmission between the two hearing aids in a binaural fitting. The new system even works with Siri and LiveListen. (Phonak's proprietary Roger 2.4 GHz signal will also have direct streaming capabilities to the hearing aid next fall.)
"This means we now have universal binaural wireless connectivity," said Dr Jones.  "In order to have the best access to speech on the phone, it's best to hear well with both ears. And, beyond that, we are the only product that now connects to not just Apple and Android, but any Bluetooth device. This opens up a new world of connectivity for people because of its universal nature…What this means is, that in those cases where something is not accessible through the Apple iPhone or device, it should be accessible through the hearing aid."
Jones explained that Phonak has also created a sophisticated system called "Environmental Balance" that controls how users hear the streaming in addition to how they hear the surrounding environment, both of which can still be adjusted via the basic volume control. All of this has the potential to open up even more of the popular streaming applications.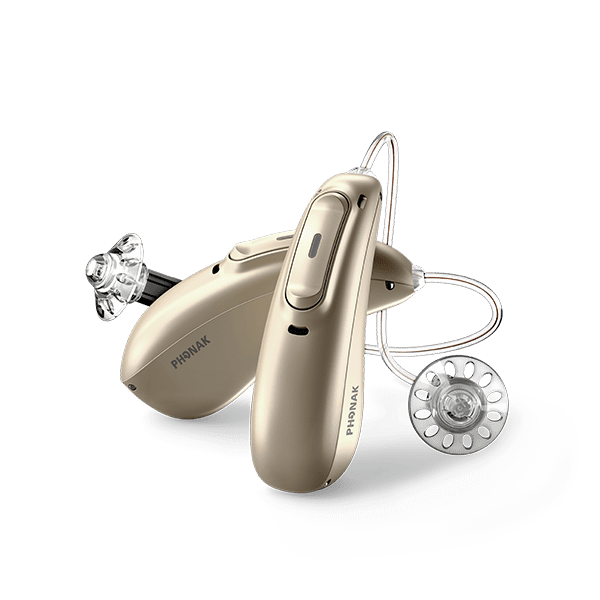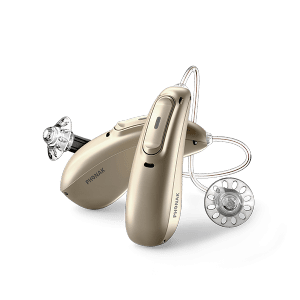 Audéo Marvel wearers also benefit from hands-free Smartphone operation. Previously, hearing aid wearers using the MFi (and future ASHA) protocol needed to hold the smartphone up to their mouths and talk into the phone's microphone to converse. The new hearing aids feature microphone inlets built directly into the housing, allowing wearers to have phone conversations by literally talking through their hearing aids.
Better processing and noise reduction, reducing cognitive load. Additionally, the enhanced SWORD OS incorporates Binaural VoiceStream Technology™ into Marvel hearing aids, a technology most recently employed in Advanced Bionics' Naida CI sound processor. This four-microphone technology is reportedly capable of improving speech understanding by up to 60% in noisy places like restaurants, while simultaneously reducing the amount of effort by 19% required to listen and understand.1,2
"Audiology is at the heart of everything we do at Phonak," said Sonova Group VP Martin Grieder in a press statement. "That's why Marvel is such a game-changer for our industry. Marvel technology empowers people and provides a true 'love at first sound' experience. We believe the sound quality is second to none, and it begins the moment the person puts the hearing aids on."
Lithium-ion rechargeable technology for "a full day of streaming." While no reliable statistics exist on the market penetration of rechargeable hearing aids, most experts estimate that about 17-20% of all hearing aids now feature rechargeability. Phonak has been a pioneer in rechargeable hearing aid technology, creating in 2016 the first lithium-ion hearing aids—a technology that appears to be gaining ground with hearing aid manufacturers.
According to Phonak, Marvel hearing aid wearers can enjoy a full day of hearing aid use—including streaming— on a single charge. The Audéo M rechargeable hearing aid also offers new features, automatically turning on or off when taken out or being placed into the charger. The system includes new LED lights and a new mini charger.
Remote fine-tuning and live voice-to-text transcription apps. With Marvel hearing aids comes the introduction of a suite of convenient smart apps. The myPhonak app allows wearers to have their hearing aids adjusted in real-time, in any situation, anywhere via videocall by the hearing care professional. It also gives consumers the ability to rate their hearing aid satisfaction in various environments and directly send this feedback to their hearing care professional.
The myCall-to-Text app reportedly provides live transcription of phone calls from the other party in more than 80 languages. This provides an extremely useful option for hearing aid users in noisy environments, or for people who prefer additional visual captions when using the phone.
New marketing campaign and rollout. A suite of marketing materials has been developed to promote the Marvel launch. Phonak US Vice-president of Marketing Barb VanSomeren explained that the marketing surrounding Marvel emphasizes its multifunctionality, providing consumers with access to the world of sound that we all want via enhanced sound quality, a constellation of devices and streaming options, and phone calls. The new marketing assets highlight Phonak technology, audiology leadership, and Marvel's diverse capabilities, and includes a video series that features two women exploring all the different ways Marvel can be used in a contemporary format (eg, the women's dialog resembles the TV show Grace and Frankie) .
The rechargeable Audéo M-R will be available in November along with the zinc air Audéo M-312, and Phonak will add the Audéo M-312T and Audéo M-13T in February 2019. A rechargeable version of Marvel with T-Coil (Audéo M-RT) and RogerDirect functionality will be available as a firmware upgrade in Fall 2019.
 References
 Field Study News about Phonak StereoZoom in preparation, available by end of 2018 at www.phonakpro.com/evidence.

Winneke A, Latzel M, Appleton-Huber J. Less listening- and memory effort in noisy situations with StereoZoom. Phonak Field Study News. Available at: www.phonakpro.com/evidence