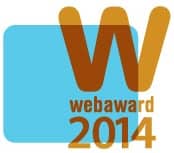 The Web Marketing Association has honored Ida Institute, Naerum, Denmark, with the 2014 WebAward for Outstanding Achievement in Web Development in the Nonprofit Category.  This is the fourth time the international WebAward competition has recognized idainstitute.com, the Institute's multimedia website designed to serve as a hub for knowledge dissemination, e-learning, and access to Ida tools, videos, interviews, reports, articles, and more.
Entries for the WebAwards are evaluated on a range of criteria including design, innovation, content, and interactivity. While the WebAwards focus on all elements of a website, the competition places particular emphasis on the creativity and functionality of the overall interactive experience.
"This is an honor we share with all members of the My Ida community," said Ida Institute Managing Director Lise Lotte Bundesen. "Their contributions, commentary, and willingness to share knowledge and drive discussion inspire us to continue to find new ways to reach out and collaborate virtually with the goal of creating a better understanding of the human dynamics of hearing loss."
The Ida website is Ida Institute's virtual connection to a global audience.  It has been successful in engaging professionals from across the globe in discussion on topics related to Ida tools, patient-centered care and current research. Ida Forums are reportedly a valuable resource for hearing care professionals who want to acquire expert advice and share experiences with professionals from around the world.
More information about the Ida Institute, My Ida community, and a variety of freely shared resources is available at http://www.idainstitute.com
Source: Ida Institute