Record-breaking attendance highlighted the 2013 Annual Business Summit of the Elite Hearing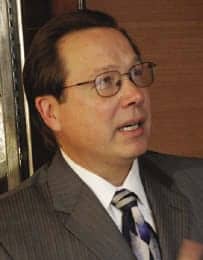 Sergei Kochkin, PhD, spoke at Elite Hearing Network's annual summit.Network. Held in February in Punta Cana, Dominican Republic, the summit attracted nearly 1,000 individuals, including Elite members, guests, vendor partners, and corporate staff.
This year's event also featured a lineup of educational sessions, covering such diverse topics as hearing loss and healthy aging, meeting the needs of hearing-impaired consumers, effective patient counseling, leadership development, financial management ,and building relationships with physicians. Elite members could receive up to 9.75 continuing education units by attending these sessions.
Among the prominent industry leaders who made presentations were Frank R. Lin, MD, PhD, of Johns Hopkins School of Medicine and Sergei Kochkin, PhD, past executive director of the Better Hearing Institute and past director of market development & research at Knowles Electronics—both of whom are Hearing Review contributors.
In addition, executives from the Elite Hearing Network's manufacturing partners made presentations, as well as Amplifon USA president and CEO Heinz Ruch, who provided a look at the industry's future. (Amplifon USA is the parent company of the Elite Hearing Network.)
The summit also included a philanthropic element. More than 200 people participated in the E-Games, a 10-event, Olympics-style beach competition, benefiting Food for the Poor Inc, and its Hoyo de Perez Water Project in the Dominican Republic. The games generated $5,000 in donations, which were matched by Summit sponsor Starkey Hearing Technologies.
In addition, keynote speaker and artist Erik Wahl, who spoke about leveraging creativity in business, donated two of his paintings to a silent auction, generating an additional $6,200 and bringing the fundraising total to more than $16,200.
"Our Annual Business Summit is the one time of the year when our entire network of hearing care professionals comes together, making it the ideal opportunity to pool our resources and help individuals and communities in need," stated Ruch in the press release.
SOURCE: Elite Hearing Network