The Widex team has been demonstrating the capabilities of the company's UNIQUE hearing aids for attendees of the AudiologyNOW! 2016 conference in Phoenix, Arizona this week (April 13-16). As described in an October 2015 article in The Hearing Review, the UNIQUE is designed to provide effortless hearing by addressing the nuances hearing aids need to capture and process for patients' unique, individualized listening needs.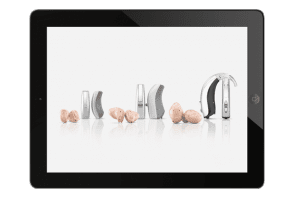 According to Widex, the UNIQUE offers a wider sound picture, so users can hear both soft and loud sounds in comfort. The UNIQUE is also designed to be well-suited to users who enjoy the outdoors, as it has an excellent wind noise reduction system, so even in windy environments you can still hear speech. It detects your listening situation automatically and makes sure you hear the right sound at the right time in the right place.
Because many users desire a very discreet hearing solution, Widex created the CIC MICRO, one of the smallest CIC's available. On display at the Widex booth in the exhibit hall was one of the world's smallest behind-ear hearing aids, the UNIQUE PASSION, which is virtually invisible.
Also being exhibited at the Widex booth at the AudiologyNOW! event was the company's COM-DEX, a hands-free communication device that streams high-quality sound from a user's smartphone to the UNIQUE hearing aids. COM-DEX, which is stylishly designed and easy to use, can also be combined with the COM-DEX app for convenient control. According to information at the Widex exhibit booth, COM-DEX doesn't just stream calls, but music and more, effortlessly and instantly. It comes in a range of three on-trend colors that complement smartphones or mobile phones: Champagne White, Anthracite Grey, and Emerald Green.
Source: Widex