Lawrence Brethower, ScD, BC-HIS, director of Ozarks Technical Community College's Hearing Instrument Science program, is putting his classroom on wheels.
Brethower has created a version of his hearing science classroom program that will be offered inside a specialized, state-of-the-art mobile transport that resembles a recreational vehicle. The program offers hands-on laboratory training in a wide variety of skills, as well as clinical internships with area specialists.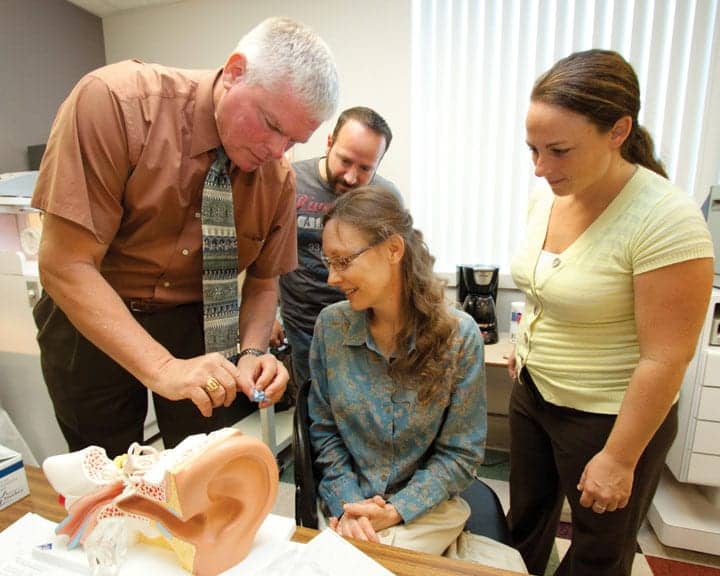 Lawrence Brethower, ScD, BC-HIS, will take his hearing science class on the road in Missouri.
Equipped with desks, instruments, and other special equipment, Brethower will take his mobile classroom to community colleges around the state to train students in hearing instrument sciences.
In 2013, Missouri will begin requiring a 2-year associate's degree for anyone who fits customers with a hearing aid. Previously, the only training available for this career was on-the-job training, frequently on just one specific brand of hearing aid.
"The population is aging, and there is a growing demand for trained and licensed specialists in dealing with the instruments involved," Brethower said.
The mobile classroom was developed with funds from Gov Jay Nixon's Training for Tomorrow program and is now funded by a US Department of Labor grant. Both grants were designed to educate Missourians in high-tech fields and get them working in growing industries.
Thus far, the program has been very successful for attracting students. The first group of students in the program that began in 2010 graduate in December, 2012. The majority of the class has already received job offers.
This past fall semester, 48 people applied for the program, and 30 were accepted. Thanks to the 2012 grant award, the college has chosen to take applications for two cohorts per year. As a result, more faculty have been added, and 77 applications were received for the spring 2013 cohort, of which 50 have been accepted.
"A graduate can go to work for a company or be self-employed. Specialists can work their way up to a good living wage," Brethower said, adding that self-employed specialists can make upwards of $80,000 a year.
Brethower said the program is designed for someone looking for a career change or looking to learn new skills.
"We want to produce craftspeople who will meet the challenges of the hearing impaired," Brethower said. "Taking this statewide, with more people out of work, folks can retool themselves and learn a special skill set."