Tech Topic | October 2020 Hearing Review
By Elizabeth Stewart, AuD, PhD; Stacey Rich, MClAud; Kevin Seitz-Paquette, AuD; Michael Blackburn, AuD, and Angela Pelosi, MAuDA
The Phonak Blended Real-time Interactions and Digital-Guided Experiences (BRIDGE) model provides a flexible method for delivering critical components in hearing healthcare via eAudiology. While the BRIDGE is exceptionally useful for traversing the pandemic, its true value lies in future patient care models.
Telemedicine has seen strong growth for years, and the COVID-19 global pandemic has substantially accelerated this trend. Clinics and practices that recognize this opportunity will be the ones to benefit as consumers also demand the convenience and safety of remote services from their hearing healthcare providers.
The digital transformation is a global trend that started several years ago and triggered the development of a range of digital care options across healthcare disciplines. This prompted the World Health Organization (WHO) in 2016 to define eHealth as "the use of electronic means to deliver information, resources and services related to health."1 The WHO cited the benefits of eHealth as putting information in "the right place at the right time," and providing services to a wider population in a highly personalized manner.
As of 2017, approximately 76% of US hospitals reported connecting with clients remotely through the use of telehealth—a percentage that has been rising steadily from 35% in 2010.2 Estimations reported in April 2020 suggest that uptake of telehealth will increase by 64% across the United States this year.3 The authors of this report also forecast an annual compounded growth rate of 38%, yielding a sevenfold increase in telehealth utilization over the next 5 years.
Today's clients themselves are more active, health conscious and inquisitive, and they express greater autonomy in making decisions in regards to their own healthcare.4-6 Increased access to web-based services, apps, and cloud storage technologies, and the demand for automation and simplification also contribute to the digital health transformation. In fact, in 2019, 30% of adults over the age of 50 reported using smartphones to manage and receive medical care, and 53% said they would prefer technology play a role in the management of their healthcare needs.7
In the hearing healthcare domain, in particular, teleaudiology seems to be appealing to providers for its potential benefits for remote hearing aid programming and adjustments, as well as answering clients' questions and providing counseling.8 Hearing care professionals (HCPs) have identified additional benefits of implementing teleaudiology, including greater client satisfaction due to the convenience of remote follow-up care and the opportunity to differentiate their practices from their competitors.9
Until recently though, many HCPs chose to implement teleaudiology services somewhat sparingly in their daily practice, while others refrained from adopting them altogether. The COVID-19 crisis has been a catalyst to push teleaudiology to the forefront of our industry in recent months, and at least three key points have become clear:
1) Digital solutions are in demand by today's consumers. Hearing healthcare was deemed essential during the lockdowns, and consumers were looking for a way to have their communication needs met.
2) The onset of the pandemic revealed that the industry as a whole was truly not prepared, at least in comparison to other health disciplines. Following an expansion of telehealth capabilities in early March 2020, one large healthcare system in New York City saw a 683% increase in virtual urgent care (ie, medical) visits in the span of 15 days, while non-urgent virtual care visits increased from pre-COVID totals of fewer than 50 per day to over 7,000 daily visits by early April.10 The increase in remote audiological care, while substantial, has not been on the same scale as the surge in medical virtual visits. For example, Phonak saw a drastic rise in the number of daily remote sessions completed in April relative to March averages, though the magnitude of this growth was more limited than in other fields of healthcare. However, this may be due in part to regulatory issues regarding the means by which audiologic services may be provided. Legislation needs to be updated and expanded to include the provision and reimbursement of audiological services via telepractice.
3) Best practice recommendations, guidelines, and resources are needed to empower hearing care professionals to maintain high-level quality care and to meet the needs of individuals with hearing loss while protecting their overall safety.
Over the last several years, Phonak has worked to lead the digital hearing health discussion. The term eAudiology was coined by a panel of hearing healthcare experts (see Acknowledgements section) convened by Phonak in 2016. It encompasses information, technologies, and services that facilitate remote provision of hearing healthcare across the client journey, from screening and assessment to treatment and rehabilitation follow-up.11 In collaboration with experts, Phonak developed best practice guidelines and resources called "ABCs of eAudiology" (see Hearing Review website12 or https://bit.ly/3067Yh4). This is a 10-step educational series to support successful implementation and use of eAudiology (Figure 1).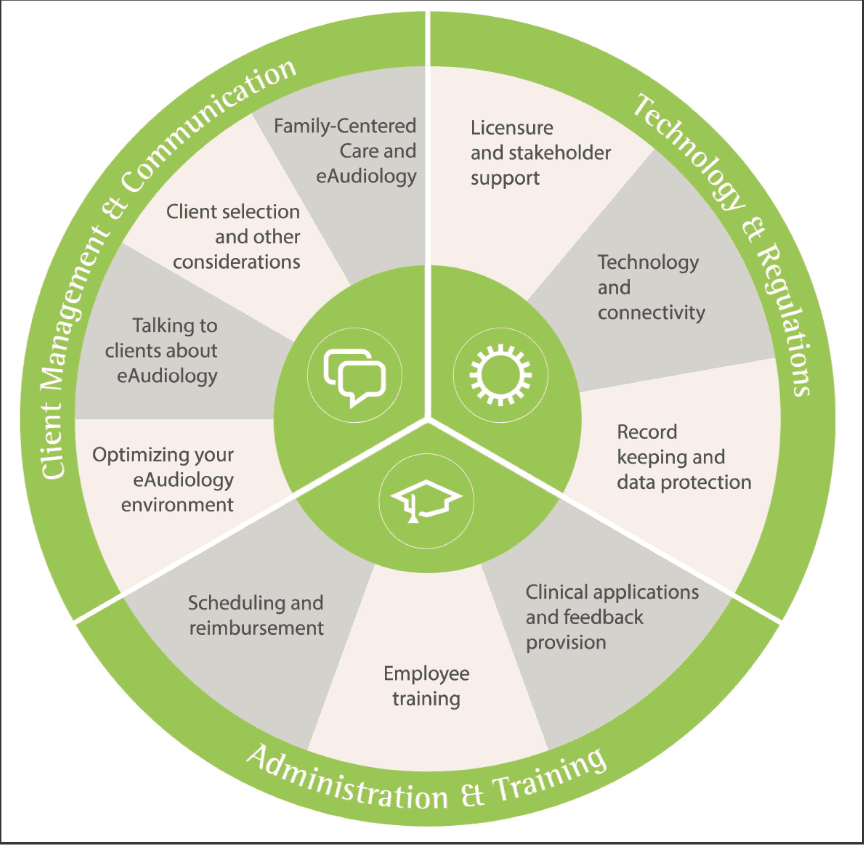 During the COVID-19 lockdowns, global restrictions on movement called for agility and an alternative service delivery model. It was also the spark that re-ignited a digital transformation in our industry. In response to this urgent need, Phonak expanded the suite of app- and web-based audiology services—known collectively as eSolutions—to deliver quality hearing care during stay-at-home orders and social distancing.
Now, as clinics and practices have reopened, there is a new need for change to ensure the continued safety of both clients and providers. The nature and timeline of the resolution to the COVID-19 pandemic is not yet known. What has become clear, however, is the value of remote audiological care, even after COVID-19 has abated. eAudiology will continue to allow HCPs to provide personalized solutions to meet the needs of clients while offering increased flexibility and access to quality care. Ultimately, it will be those clinics and practices that adopt eAudiology that will have the advantage to grow and succeed into the future.
Modifications to Traditional In-clinic Service Delivery
The traditional model of audiological services is a high-touch approach that requires a level of face-to-face interaction difficult to achieve in the midst of a global pandemic. For new clients, this approach involves a minimum of two in-person appointments: one for the initial assessment and consultation, and one for the hearing aid fitting. Additionally, most providers have clients return to the office for follow-up fine tuning and counseling. Out of necessity, many elements of the traditional pathway have been modified to take advantage of limited face-to-face, in-clinic contact using digital resources and other services.
The increased reliance on eAudiology has driven expansion of Phonak Remote Support capabilities beyond real-time hearing aid adjustments. Remote Support allows an HCP to use Phonak Target software to connect remotely with clients through their mobile device via the myPhonak 4.0 app. Specifically, now HCPs have the ability to complete initial hearing aid fittings and even threshold measurements remotely using in-situ audiometry, called AudiogramDirect, in the Phonak Target fitting software.
In recent months, many HCPs have begun to offer a new type of service delivery called "curbside" care. This approach allows clients who may not be suitable candidates for eAudiology to have access to services (eg, hearing aid fitting and fine tuning, drop-off/pick-up of accessories, batteries, and devices needing or returning from repair) while still maintaining appropriate distancing. Curbside services are not available everywhere, as practices must have an appropriate location and/or an adaptable clinic set-up in order to be able to meet clients curbside and have programming access.
For clients who have mobility concerns or remain in a high-risk category for COVID-19 transmission, in-home care may be a suitable option. This is an alternative service delivery that allows a client to receive hearing healthcare while minimizing exposure to people outside of the home. Many practices already offer some degree of home-based care; protocols may vary depending on feasibility and clinic resources.
Digital Model of Service Delivery
In order to support providers needing service delivery options during the pandemic, Phonak outlined the Phonak Digital Service Delivery model (DSDM). This approach describes strategies that may be used to support clients at any point on the hearing care journey during mandatory clinic closures or to meet a heightened desire to minimize social contact. To support high quality care, the Phonak DSDM guidelines provide step-by-step recommendations, along with links to numerous resources, for incorporating Phonak eSolutions into hearing healthcare for clients at any stage in their hearing care journey when face-to-face visits are not possible.
The Phonak DSDM guidelines rely on the digital modality for the provision of audiological care. The guidelines may be applied with established clients requiring ongoing care, as well as new clients, with or without previous audiometric data. HCPs may feel uncertain about accepting new clients with no recent audiogram when in-person appointments are not possible, since neither the equipment nor the environment used during in-clinic audiometric testing is available when working remotely with a client who is at home.
In-situ audiometry offers one way for an HCP to obtain an audiogram via the hearing aids and fitting software, as the basis for a hearing aid fitting or a cross-check of previously obtained thresholds. This feature is known within Phonak Target fitting software as AudiogramDirect. Since its introduction in 2011, its validity and reliability have been demonstrated for both in-clinic and Remote Support use. A retrospective analysis of over 100,000 AudiogramDirect sessions revealed that in-situ thresholds obtained with AudiogramDirect were largely in agreement with conventional audiometric thresholds when used in the HCP's office.13 In a follow-up study at the Phonak Audiology Research Center (PARC) in suburban Chicago, AudiogramDirect was used to perform remote audiograms while the participants were in their homes. Thresholds obtained via AudiogramDirect showed good agreement with conventional audiometry, with statistically significant deviations observed only at 250 and 500 Hz. Further, participants reported no differences in sound quality, perceived speech intelligibility, or overall satisfaction for devices fit to the AudiogramDirect test results compared to devices fit to a conventional audiogram.14
These results suggest that remote, in-situ audiometry is a viable basis for a new hearing aid fitting when conventional audiometry is not feasible. That is, remote fittings give new clients a way to access high-quality hearing care from a local HCP immediately, with the opportunity to follow-up for in-person testing when appropriate.
While the reliability of AudiogramDirect suggests that it is a viable option for completing air-conduction threshold measures when in-person visits are not possible, it is not a replacement for a complete in-person diagnostic audiologic evaluation. Furthermore, it must be considered whether regional requirements and applicable laws and regulations allow for the digital hearing healthcare journey, entirely or partially.
Blended Model of Service Delivery
The Phonak DSDM was conceptualized during a time of strict isolation and was designed for use in such circumstances to facilitate the ongoing ability to meet patient needs. As regions began their respective re-openings, with varied success, it became evident that flexibility would be critical for service delivery going forward. To this end, Phonak has developed new clinical recommendations that include Blended Real-Time Interactions and Digital-Guided Experiences—that is, a BRIDGE to clinical care (Figure 2).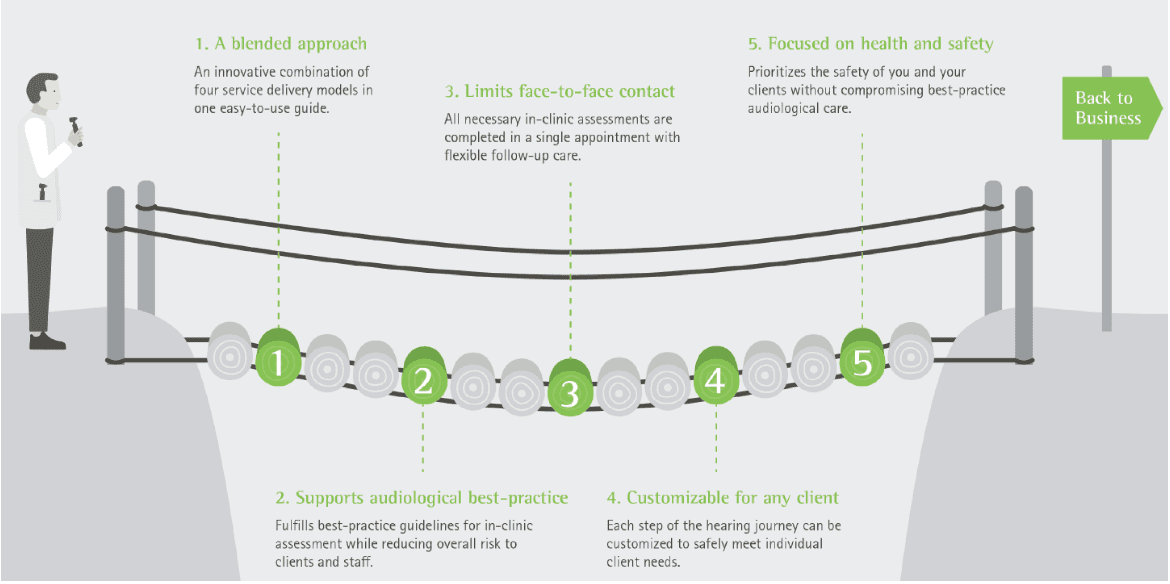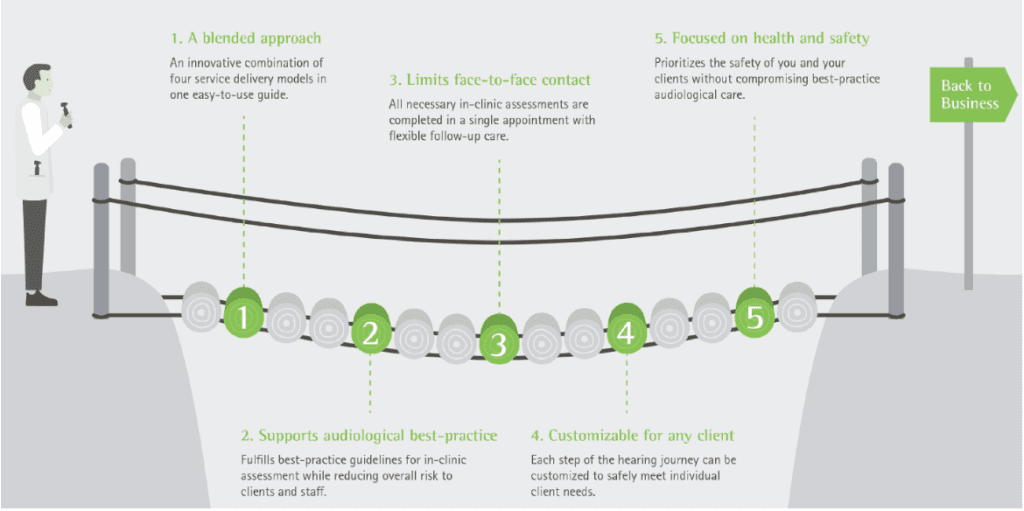 The Phonak BRIDGE recommendations outline the implementation of a blended care approach that can be tailored to individual clients based on their risk level and need for support with technology. This blended clinical approach offers security for sustainable practice amidst various levels of social restriction. For instance, by implementing a virtual or telephone pre-appointment, face-to-face time in the clinic can be reduced.
Intake materials—including questionnaires, a case history, and COVID-19 screening forms—can be provided to new clients via email or postal service. This allows time for paperwork to be completed thoroughly and thoughtfully, potentially with input from a family member or friend. Completed intake materials can be reviewed in the virtual pre-appointment prior to the initial clinic visit.
This model also provides guidelines for a single—albeit extended—office visit, which includes a full diagnostic assessment, as well as hearing aid fitting and verification using hearing aids from clinic inventory or Phonak Trial hearing aids. Follow-up care may then be provided via digital service delivery (eg, Remote Support) or modified traditional clinic services (eg, curbside care).
Solutions for Individualized Hearing Care
In summary, using eAudiology means that HCPs can be more proactive in finding the right solutions for the individual needs of clients by re-evaluating their traditional models of service delivery and integrating the latest technologies. Clients benefit from increased flexibility and improved access to quality care. Additionally, eAudiology allows businesses to differentiate themselves in a market that is growing to include direct-to-consumer and hearable devices, while elevating the value of audiology services through high quality customized care, increased efficiencies, workflow, convenience, and client satisfaction.
While traditional in-clinic appointments offer a high level of control over assessment and fitting procedures, they do not allow for flexibility when in-person contact must be limited or avoided entirely. The Phonak BRIDGE to clinical care offers audiological best practice in a blended mix of real-time appointments and digitally-guided interactions to provide individualized hearing healthcare. It allows clinics and practices to get back to business with limited face-to-face services while keeping safety a priority for both clients and professionals. Finally, in circumstances requiring extreme isolation/distancing, DSDM (including remote audiometry) allows hearing care providers to reach clients at any stage in the patient journey.
It has become evident that further changes, such as updates to the regulations governing the practice of hearing care, need to occur in order to fully realize telepractice in Audiology. At the same time, it is clear that in order to meet consumer needs, continuous improvement and optimization of solutions and resources are required to provide the most seamless journey and professional experience for both HCPs and consumers. The spread of the novel coronavirus produced a worldwide health climate that has necessitated ingenuity. The utilization of currently available technologies, tools, and applications in new ways has provided a path through the COVID-19 pandemic and has illuminated the way forward for the field.
Acknowledgements
The expert panel in eAudiology convened by Phonak included Gina Angley, William Campbell, Evelyn Davies-Venn, Melanie Ferguson, Danielle Glista, Rachel Higginbotham, Christine Jones, Francois Julita, Joseph Montano, Karen Munoz, Jean Anne Schnittker, Gurjit Singh, De Wet Swanepoel, and Barbara Timmer.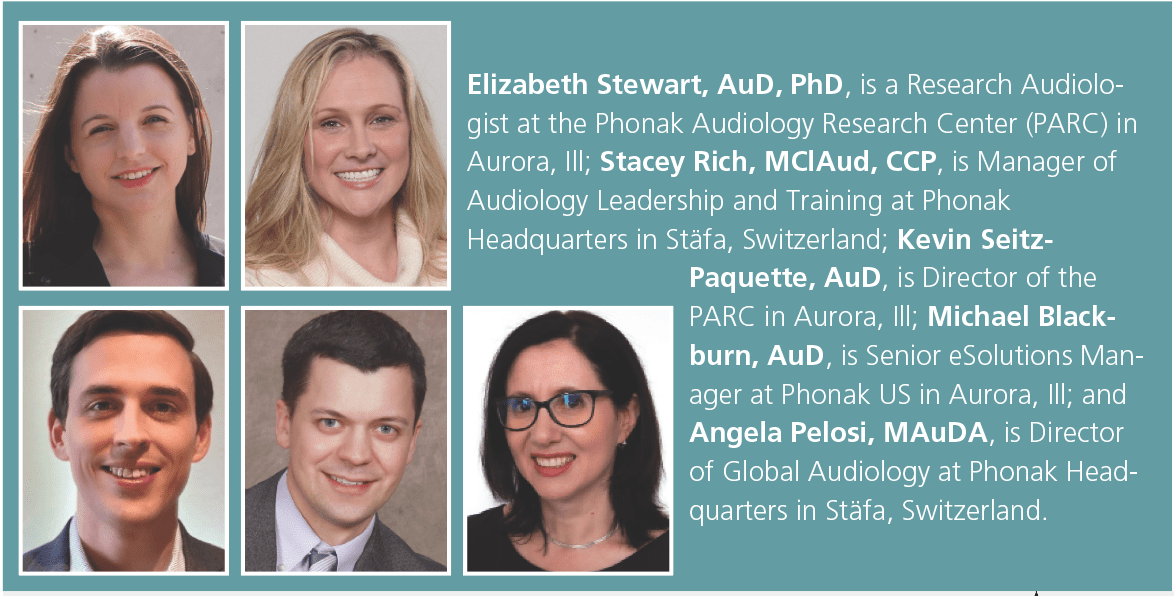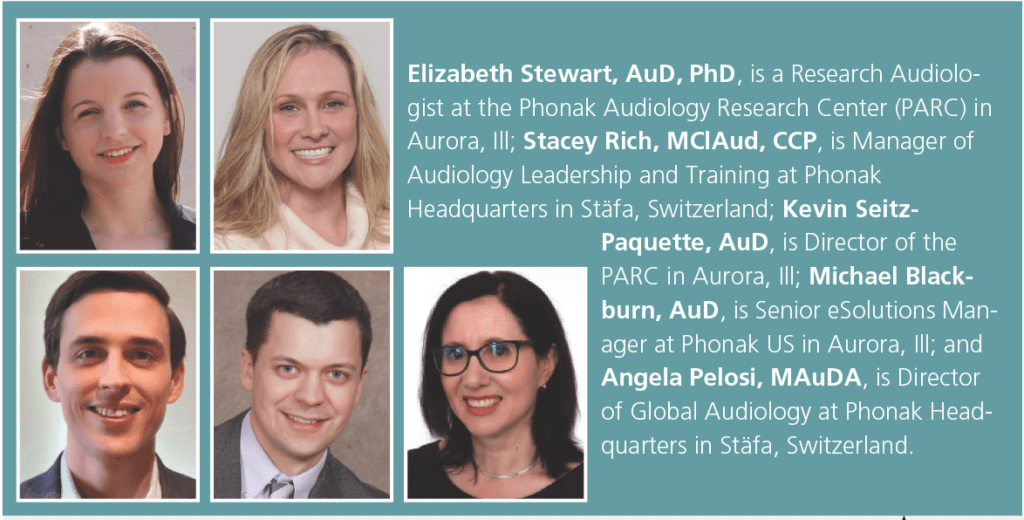 Correspondence can be addressed to Dr Stewart at: [email protected].

Citation for this article: Stewart E, Rich S, Seitz-Pacquette K, Blackburn M, Pelosi A. Integration of eAudiology: The way through and the way forward. Hearing Review. 2020;27(10):18-21.
References
World Health Organization (WHO). Global diffusion of eHealth: Making universal health coverage achievable: Report of the third global survey on eHealth. https://www.who.int/goe/publications/global_diffusion/en/. Published December 2016.
American Hospital Association. Fact Sheet: Telehealth. https://www.aha.org/system/files/2019-02/fact-sheet-telehealth-2-4-19.pdf. Published February 2019.
Miliard M. Telehealth set for 'tsunami of growth,' says Frost & Sullivan. Healthcare IT News. https://www.healthcareitnews.com/news/telehealth-set-tsunami-growth-says-frost-sullivan. Published May 15, 2020.
Topol E. The patient will see you now: The future of medicine is in your hands. Basic Books;2016.
Maslansky M. The language of trust: Selling ideas in a world of skeptics. Prentice Hall Press;2011.
Kahana E, Kahana B. Baby boomers' expectations of health and medicine. Virtual Mentor. 2014;16(5):380-384.
Kakulla BN. Older adults keep pace on tech usage. AARP Research.https://www.aarp.org/research/topics/technology/info-2019/2020-technology-trends-older-americans.html. Published January 2020.
Singh G, Pichora-Fuller MK, Malkowski M, Boretzki M, Launer S. A survey of the attitudes of practitioners toward teleaudiology. Int J Audiol. 2014;53(12):850-860.
Drexler J. Phonak Insight. Taking theory to practice: Integrating Phonak eAudiology into clinical practice. https://www.phonakpro.com/content/dam/phonakpro/gc_hq/en/products_solutions/esolutions/documents/phonak_insight_btb_integrating_eaudiology_into_clinical_practice.pdf. Published December 2019.
Mann DM, Chen J, Chunara R, Testa PA, Nov O. COVID-19 transforms health care through telemedicine: Evidence from the field. J Am Med Informatics Assn. 2020:27(7):1132-1135.
Montano J, Angley G, Ryan-Bane C, et al. EAudiology: Shifting from theory to practice. Hearing Review. 2018;25(9):20-24.
New Series: Phonak ABCs of eAudiology. Hearing Review. https://hearingreview.com/practice-building/office-services/telehealth/new-series-phonak-abcs-of-eaudiology. Published August 26, 2019.
Vercammen C. Audiogram and AudiogramDirect: Comparison of in-clinic assessments. Phonak Field Study News. https://www.phonakpro.com/content/dam/phonakpro/gc_hq/en/resources/evidence/field_studies/documents/PH_FSN_Audiogram_and_Audiogram_Direct_comparison_of_in-clinic_assessments_297x210_EN_V1.00.pdf. Published June 2020.
Miller A, Standaert L, Stewart E, Seitz-Paquette K. Digital service delivery with AudiogramDirect: Being there for your clients when you can't be with them. Phonak Field Study News. https://www.phonakpro.com/content/dam/phonakpro/gc_hq/en/resources/evidence/field_studies/documents/PH_FSN_Digital_Service_Delivery_with_Audiogram_Direct_297x210_EN_V1.00.pdf. Published June 2020.