Staff Standpoint | May 2022 Hearing Review
Fueled in part by accelerated dispensing at the US Department of Veterans Affairs (VA), US net unit hearing aid sales have continued their upward swing from the pandemic, according to statistics generated by the Hearing Industries Association, Washington, DC. In the first quarter of this year (Q1 2022), unit sales increased by 18.4% at the VA and by 5.7% for the private-practice and commercial market which includes big box and mass merchandisers. In total, hearing aid sales increased by 7.8% compared to the same period last year when the market first started posting positive unit numbers following the Covid-19 pandemic.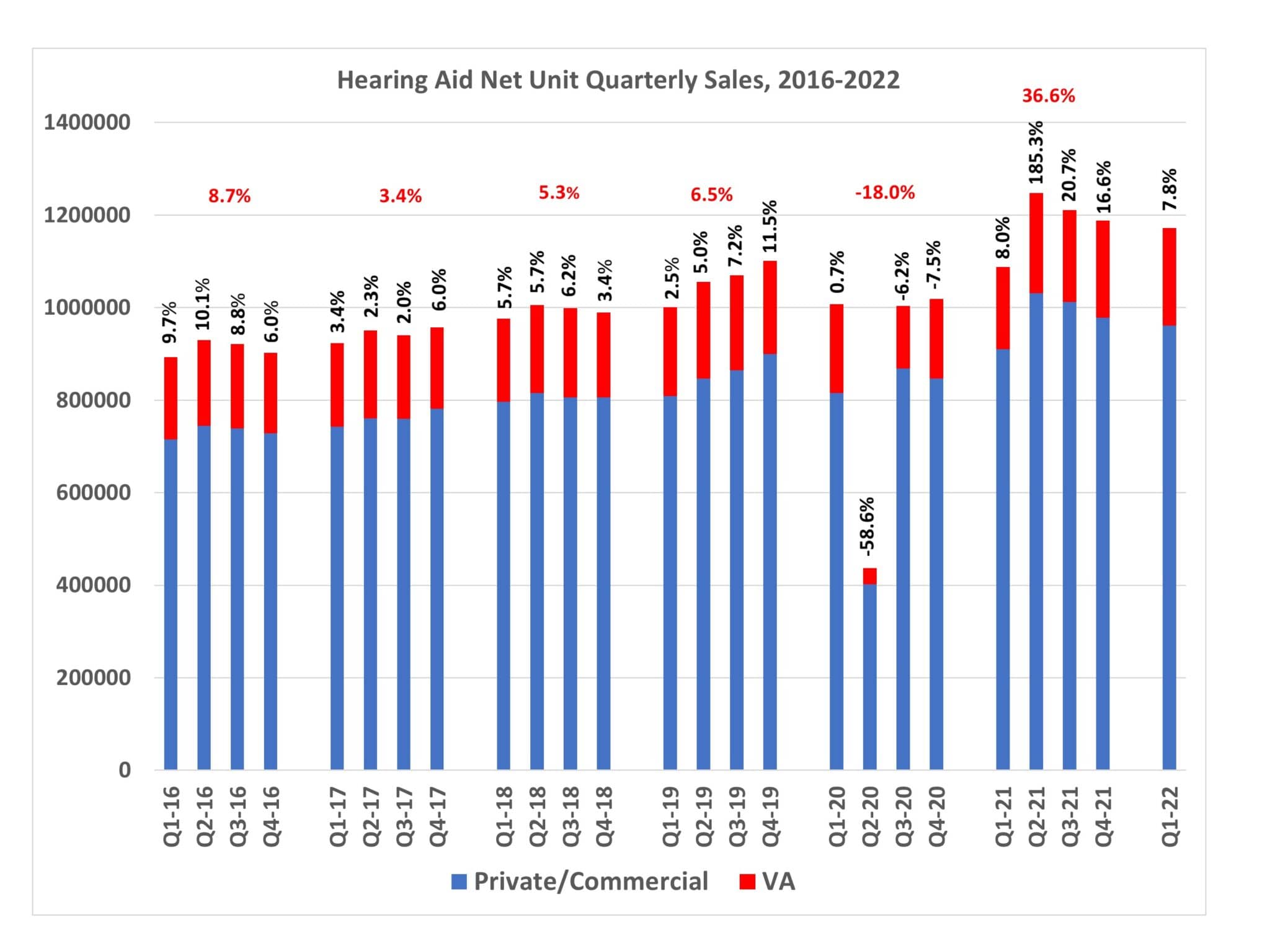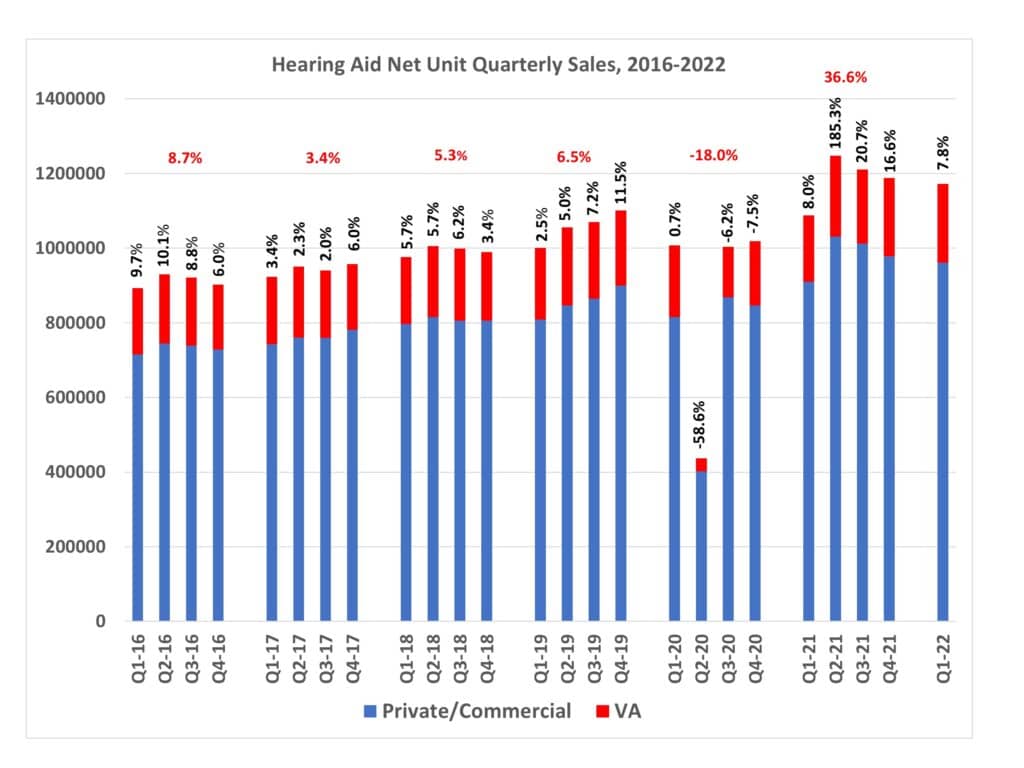 In my opinion, there are at least three pieces of good news in the unit sales shown in Figure 1:
1) The most obvious and important good news is hearing aid sales have rebounded quickly from the pandemic, continuously improving now for over one year (see HR's 2021 market review in the March 2022 edition of Hearing Review). In 2021, unit sales increased by 37% compared to 2020, and were 12% above 2019 sales. Even though Covid-19 variants persist and are dangerous to older adults (the primary purchasers of hearing aids), roughly 95% of people ages 65 and over in the United States have received at least one dose of a COVID-19 vaccine, according to the US Centers for Disease Control and Prevention (CDC).
2) Although 2021 represented a big rebound in sales, it appears that pent-up demand for hearing aids remains a factor. Given the recent growth rates (CAGR) in hearing aid sales during the last 15 years, a very rough estimate suggests that, at the start of this year, there was probably still a deficit of some 600,000-900,000 hearing aids not sold during the pandemic—with units almost equally split between the private sector and VA. That means we should continue to see strong dispensing from the VA and continued above-average (>5%) gains in the private/commercial market (although Q2 2022 sales may appear lower due to a strong comparison base in 2021).
3) Russia's invasion of Ukraine, a sobering downturn in the stock market, and the worldwide uptick in inflation has not (at least yet) diminished consumers' desire to address their hearing healthcare problems. As I've noted previously, the hearing aid market is less susceptible to economic downturns, and even recessions, than other markets. Barring some unexpected negative event, we should see strong sales continuing through all or most of 2022.
About the author: Karl Strom is editor in chief of The Hearing Review and has been reporting on hearing healthcare issues for over 25 years.
Citation for this article: Strom K. Hearing aid sales continue to reflect pent-up demand in Q1 2022. Hearing Review. 2022 May;29(5):6.