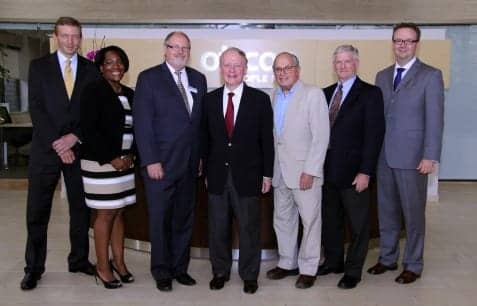 (L-R) Andy Bopp, director of government relations for HIA; Sheena Oliver, VP marketing, Oticon; Oticon president Peer Lauritsen; Rep. Leonard Lance; former NJ State Senator Bill Schluter; Tom Flavey, VP operations, Oticon; and Rasmus Borsting, Oticon executive director.
Congressman Leonard Lance of New Jersey's 7th District recently toured Oticon's new US headquarters in Somerset, NJ. He also discussed his support for HR 1317, the Hearing Aid Assistance Tax Credit Act.
Oticon president Peer Lauritsen was also on hand to discuss the importance of the tax credit, as well as to give Lance a tour of Oticon's new five-story, 162,000 sq ft office complex.
HR 1317 has struggled in Congress for many years, but it's continually championed by several legislators, including Lance. If passed into law, HR 1317 would provide a non-refundable $500 tax credit, once every 5 years, for the purchase of a hearing aid, or $1,000 if two hearing aids were needed.
Lauritsen praised Lance for his support of HR 1317, and he added, "There are an estimated 800,000 people with hearing loss in New Jersey. Statistics show that only 160,000, less than 20%, get help. Untreated hearing loss is linked to isolation, depression, and a diminished quality of life. The passage of the Hearing Aid Assistance Tax Credit Act is needed to ensure that people with hearing loss across New Jersey have access to the hearing solutions they need to live full and productive lives."
The headquarters visit also gave Lance an opportunity to meet informally with Oticon's New Jersey-based workforce, who include audiologists, engineers, technicians, sales, marketing and consumer service specialists, and administrative staff.
SOURCE: Oticon