Audiology leader and advocate Eric Hagberg, AuD, passed away on July 24. Among his many professional accomplishments, Dr Hagberg was president of the Academy of Doctors of Audiology (ADA) and built a successful private practice, Neuro-Communication Services, in the Youngstown, Ohio, area from which he retired about 4 years ago. He was also a valued mentor, guide, friend, and advisor to many in the profession—even after retirement. As a favorite student of Kenneth Berger, PhD, at Kent State, Hagberg also co-authored what can be considered the first prescriptive fitting protocol with the 1977 book, Prescription of Hearing Aids: Rationale, Procedures and Results, which was later referred to as the "Berger Fitting Method."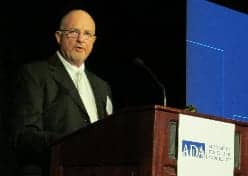 As an audiology advocate, Dr Hagberg was known for his intelligence, humor, and forthright personality—and he was never afraid to think big. Serving as president at the launch of ADA's "18 x 18" initiative in 2012, he was seen as one of the architects of a very ambitious program that would end up moving audiology forward and creating for it a much larger legislative footprint in Washington, as well as establishing clearer objectives for the future. The current the Medicare Audiologist Access and Services Act (MAASA; HR 4056/S 2446) introduced in 2019—which now enjoys support from ADA, AAA, and ASHA—is the latest iteration of the Audiology Patient Choice Act introduced in 2014 and in large part stemmed from those 18 x 18 goals.
In honor of Dr Hagberg, the ADA has established the Eric N. Hagberg, AuD, Advocacy Fund to support initiatives that foster autonomous practice.
According to his obituary, Dr Hagberg was born in 1948 in Buckeye, Ariz, and was raised in rural Frewsburg, NY. He served in the US Air Force as a surgical technician at the Air Force Academy in Colorado, then moved to Ohio to attend Kent State. He later received his AuD from A.T. Still University in 2000. Among many interests, he was an avid hunter and a black belt in Karate.
He is survived by his wife Jane, daughter Rachel (Don), brother Richard and sister Mary, along with many in-laws, nieces, nephews, professional associates, and friends.