Fuel Medical, based in Camas, Wash, and named one of the fastest-growing private companies in the Portland-Vancouver metropolitan area by the Portland Business Journal, has announced the addition of two hearing care industry veterans—Donald Nielsen, PhD, and Brian Taylor, AuD—to serve as clinical advisors. Dr Nielsen is Fuel's new Audiology University Advisor, and Dr Taylor is Fuel's new Audiology Clinical Advisor.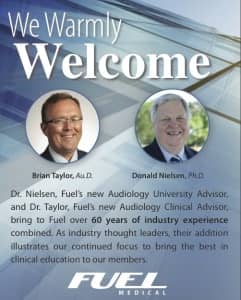 They are both seasoned executives, bringing with them over 60 years of combined industry experience. In addition to creating education- and research-based materials for Fuel and its members, they will consult with clinics regarding business development strategies and holding continuing education events.
"We're very excited to welcome Donald and Brian to the Fuel Team," said Shawn Parker, Fuel co-founder. "They're bringing an impressive set of skills that are not only going to benefit Fuel but also our members. As industry thought leaders, their addition illustrates our continued focus on bringing the best in clinical education to our members."
Fuel Medical's mission is to build meaningful relationships with partners who are passionate about patient care and providing them with a better quality of life through best practices designed to improve efficiency and profitability. Fuel Medical provides customized patient education materials, marketing collateral, and business services to multi-specialty physicians and is funded by manufacturers of medical devices and supplies.
"Adding Don and Brian furthers our commitment to provide exceptional resources to ensure our members' success. I'm looking forward to working with them to expand our already industry-leading service offerings," said Fuel co-founder Brendan Ford.
Source: Fuel Medical