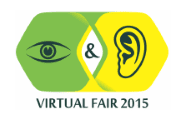 Phionik, a Germany-based company that puts together virtual trade fairs, is organizing the first international virtual optometry and audiology fair, Eye Ear Fair 2015, which offers exhibitors, visitors, and professionals a unique online exhibition experience. Exhibitors from all over the world will present their products and services in the areas of optometry, contact lenses, eye tests, accessories, and cleaning, and also audiology, measurement technology, and headphones.
The Eye Ear Fair 2015 will be held on November 6, 2015. Over 75,000 professionals from both industries have been invited.
Phionik reports that visitors can expect an interesting program during the 8-hour trade show, as well as the opportunity to learn about new features and make contacts–all from the comfort of your computer.
To learn more about this virtual trade fair hosted by Phionik, please see The Hearing Review's event post on the Eye Ear Fair 2015.
Have a look at the show floor on YouTube.
For more details, or to arrange a live presentation, visit the Phionik website.
Source: ????Phionik GmbH