Westone Laboratories Inc, Colorado Springs, Colo, has announced that Jason Lockwood has joined the company as president and chief executive officer. He will oversee all business units of Westone, including hearing healthcare, military, DefendEar, and music products. Lockwood replaces Lynn Kehler who became the company's president in 2006 after the death of longtime president Randy Morgan.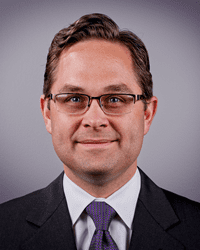 Lockwood was appointed to this position by the board of directors and CID Capital, the private equity firm that purchased Westone Laboratories in 2011. With degrees from Harvard University and Harvard Business School, he brings extensive leadership and management experience to Westone. Lockwood's knowledge and expertise in retail, consumer electronics, and healthcare industries make him the ideal executive to position Westone for continued growth and success.
"Following a thorough search process, the board chose Jason [Lockwood] for his strong fit with Westone's mission, vision, and values," said Eric Bruun, chairman of the board of Westone Laboratories. "In addition to Jason's management skills and professional qualifications, the board was drawn to his energy, common sense, and proven track record."
"I'm thrilled to join the passionate and dedicated members of the Westone team," states Lockwood. "I look forward to building on Westone's unparalleled knowledge and experience in designing the world's finest in-ear audio and hearing healthcare products. We live in an increasingly mobile and 'always on' media environment; in ear audio solutions offer a combination of comfort, convenience and sound quality that simply isn't available in over-the-ear headphones."
For more than five decades, Westone has specialized in manufacturing custom earplugs and earpieces as well as other products to protect and enhance hearing, facilitate communication, and support hearing care professionals. Westone's wide variety of custom-fit hearing protection products are used in work, recreation, and entertainment environments where noise levels can cause permanent hearing damage. The company recently introduced TRU hearing protection, offering universal and custom earpieces for musicians, sound engineers, dentists, air travelers, concert/club goers and sports fans.
Westone was an early pioneer in the professional musician earphone business and has reportedly worked with Def Leppard, Van Halen, Rush, and other elite musicians since the early 1990s to develop some of the first in-ear monitoring systems. Today, popular artists, including The Band Perry, TobyMac, Peter Frampton, Third Day, and Sara Evans are said to wear Westone ES in-ear monitors. Westone's professional in-ear musicians' monitors, with up to six drivers per earpiece, borrow heavily from the company's background in hearing healthcare and are the foundation of today's consumer earphone market.
The company continues to be an innovator with earpieces that enhance the hearing experience, according to Westone. In addition to hearing healthcare, protection and music, Westone designs and manufactures high-end in-earphones for use by audiophiles and music fans. The universal Westone W60, launched earlier this year and available to the public this summer, won the Digital Trends 2014 "Best in Show" in the headphone category at the Consumer Electronics Show.
Westone has also developed specialty communication products for military and law enforcement agencies. Its ACCES® (Attenuating Custom Communications Earpiece System) products are said to be unique in the world market and are currently made exclusively by Westone. Westone partnered with the US Air Force Research Laboratory under a Cooperative Research and Development Agreement to research, design, build and test communications earplugs with the goal of improving hearing protection and communications for military pilots and ground crews.
Source: Westone