During the events at NBA All-Star 2013 Weekend in Houston, members of the National Basketball Retired Players Association (NBRPA) worked with representatives from The HearStrong Foundation to advocate the importance of spreading hearing health awareness and helped present the gift of hearing to deserving children.
Robert Horry, seven-time NBA World Champion, joined representatives from the NBRPA and The HearStrong Foundation on February 15 at Peck Elementary School in Houston. There, Horry presented certificates for EarQ hearing devices to two local children with hearing loss, whose families could not otherwise afford hearing technology.
"Seeing the looks of joy and gratitude on the children's faces was a truly moving and humbling experience for all involved," said Ed Keller, CEO of The HearStrong Foundation. "We were so proud to be involved in the weekend's activities and to help educate the former players, as well as the public, about their hearing health."
With the help of its sponsor, EarQ, the foundation also honored one of its first HearStrong Champions, Rev. Johnnie Mathis, in an official naming ceremony at The Hotel Derek in Houston. On February 14, former NBA All-Star Cedric Ceballos helped present Mathis with his official HearStrong medal. Mathis, a hospital chaplain from Hempstead, Tex, dealt with life-long hearing loss that worsened when he received radiation treatments for vocal cord cancer in 2006. But thanks to hearing devices and hard work, Mathis is now able to fully experience his life.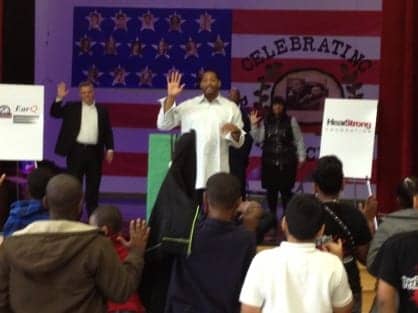 Robert Horry addresses the Houston

school children.
SOURCE: HearStrong