Big Ideas Inc, Glendale, Ariz, has introduced a new spin on what is the oldest remedy for improving directional hearing: cupping your hands to your ears. The company's new model of Earglasses® Sound Magnifiers are essentially a set of clear plastic cups designed to fit over the outer ear/auricle, providing up to 12 dB of volume gain in the mid to high frequencies, according to the company.
"This second generation model is lighter in weight, more comfortable to wear, more effective yet less noticeable, and is easily carried in pocket or purse," says the company's press release.
"We sold more than 100,000 copies of our first model. They've been enjoyed by people all over the world," says Big Ideas CEO Michael D. Riley in the press release. "This new and improved, more user-friendly version should be even more popular. It's now selling briskly on the Internet. We hope to gain distribution in drug stores and mass merchandisers very soon."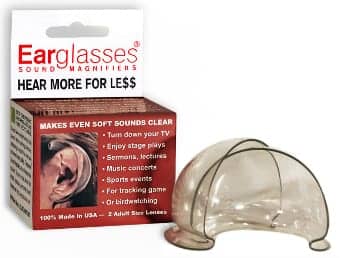 In correspondence with Riley, HR noted that dispensing professionals were likely to see this as a novelty item. Nevertheless, Riley expressed interest in working with those willing to test demand for the product: "If my device can serve as 'training wheels' for [reluctant hearing aid buyers], I think audiologists might wish to dispense them as a strategic part of their practice. Especially for those folks who may enter their offices but start to leave without making a purchase," Riley wrote.
More details at www.earglasses.com.