Oticon, Inc announced that it again joins Homes For Our Troops (HFOT) to support the national non-profit organization's work of building and donating specially adapted custom homes nationwide to severely injured post-9/11 veterans, helping enable them to "rebuild their lives." These veterans have sustained multiple amputations, paralysis, blindness, or traumatic brain injury. Oticon has supported the Homes For Our Troops mission since 2017.
On October 8, Oticon Government Services team members participated in a Community Kickoff in Wind Gap, Penn, the location of a new home construction for medically retired Marine Corporal Daniel Lasko. Oticon National Sales Director Candace Depp, AuD. presented a $5,000 donation to support construction of a specially adapted custom home for the injured veteran.
"Oticon is proud to partner with Homes For Our Troops to support US veterans, like Corporal Lasko, who have so generously served their country," said Depp. "Each day, through Veterans Affairs, the Department of Defense, and other federal agencies, Oticon works to provide life-changing hearing technology that improves hearing and quality of life for our nation's veterans and active-duty military personnel. Volunteer opportunities, like today's Community Kickoff event, create another way for our team to show support and appreciation for the sacrifices made by our nation's veterans."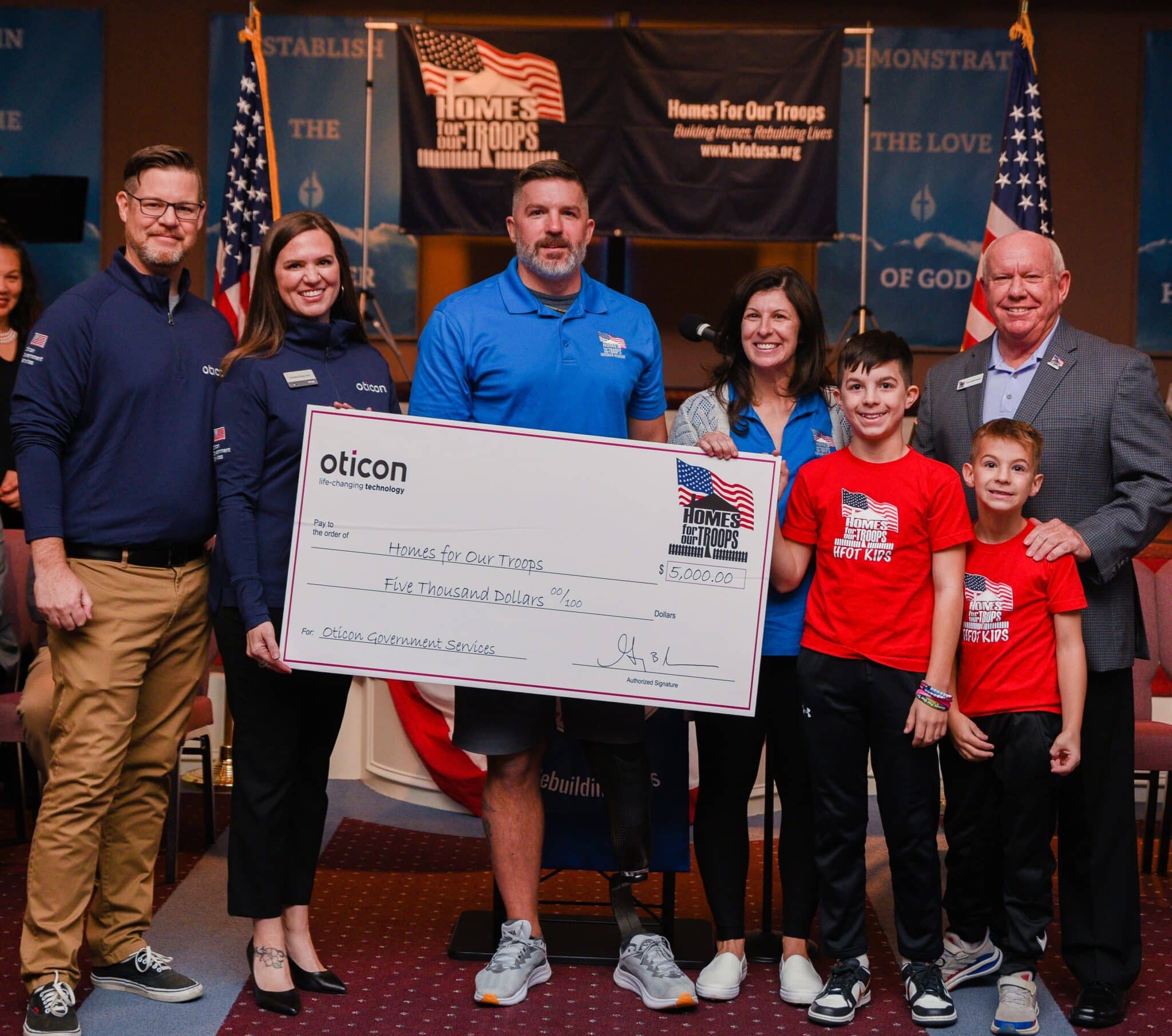 In 2004, Cpl. Lasko lost his left leg below the knee and sustained a traumatic brain injury and other injuries on a recon mission with the 22nd Marine Service Support Group for the 22nd Marine Expeditionary in Afghanistan. He has not let his injuries hinder his active lifestyle, but he continues to experience obstacles within his current home. A specially adapted custom home will provide Cpl. Lasko, his wife Jess, and their two sons, Luke and Ben, peace of mind and enable them to look forward, according to the announcement. The donated home will also give Cpl. Lasko the opportunity to continue his education, and time to invest in starting a business.
Oticon is an official supplier of quality hearing solutions to the Veterans Health Administration. Throughout the year, Oticon Government Services offers a "high level of continuing education with a focus on research, product development, and hands-on training to support VA audiologists and technicians in increasing success for their patients."
For more information on Oticon hearing solutions available through the Veteran Affairs Administration, including the entire Oticon More family, visit: https://www.oticon.com/solutions/for-veterans.
Source: Oticon
Images: Oticon