At AAA, the Ida Institute introduced the three winning ideas that captured top honors in Ideas, Speak up – Action and Awareness for Hearing Loss, the worldwide open innovation competition for ideas with the potential to create public awareness of hearing loss.
At a well attended gala celebration at a hotel ballroom near the convention center, Ida Institute managing director Lise Lotte Bundesen and Niels Boserup, chairman of the Oticon Foundation, unveiled the Hearing Tone Test Card, a wallet-sized hearing checker; Look Who's Hearing, a public art initiative that fits famous sculptures with hearing aids; and The Three Monkeys: Eyes Checked. Teeth Checked. Hearing Checked, a clever mnemonic that promotes regular hearing checks.
"We recognize that to continue the good work of this project and to achieve increased public awareness of hearing loss worldwide will require a strategic, dedicated initiative," said Boserup. "Oticon Foundation will investigate ways to develop and implement the worthy ideas."
"The Ideas Campaign sparked the creativity and passion of people around the world," said Bundesen. "All of the ideas focus on bringing hearing health and health loss into the mainstream of public awareness."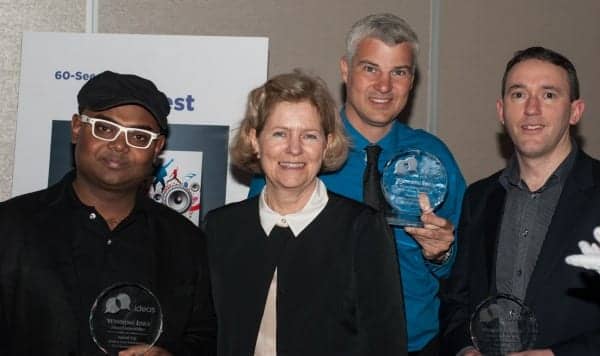 From Left to Right: Khalid Islam, Lise Lotte Bundesen, Kasper Rubin, and Curtis Alcott
Honored at the event were creators of the winning ideas: Kasper Rubin from Denmark, Curtis Alcott from the United Kingdom, and Khalid Islam from Bangladesh.
Category of Best Public Awareness Campaign
Three Monkeys: Eyes Checked. Teeth Checked. Hearing Checked. – Curtis Alcott's idea links a simple message to the iconic three wise monkeys to raise awareness for regular hearing health checks. The three monkeys encourage hearing checks as part of a health routine that includes getting one's eyes checked and teeth checked on a regular basis. The visual reminder suits a variety of mediums including print and broadcast advertising, websites, billboards, bus posters, and cinema trailers.
Category of Best Gadget
Hearing Tone Test Card – Kasper Rubin's inexpensive electronic card serves as a clever but practical hearing checker. The pocket-sized card uses simple electronic technology found in the popular singing greeting cards but with an important difference. It tests hearing. The card fits easily into wallets, can be used numerous times, and has strong pass-along appeal.
Category of Best Event
Look Who's Hearing – Khalid Islam's international public art initiative makes imaginative use of statues in major cities around the world by fitting them with hearing aids. The artist-designed hearing aids could be mounted as sculptures and auctioned off to support hearing health charities. A website campaign would enable people to follow this initiative, track the next statue, and spread awareness.
A VIP panel of judges representing thought leaders in communications, philanthropy, advocacy, and academia, met in New York in January to choose the top three ideas from among 10 finalists representing the best of the best of more than 400 entries in the international competition.
SOURCE: Ida Institute