At its annual award ceremony during AAA 2013, Beltone announced that Dr Robert Keith had been named the winner of the 2013 Larry Mauldin Award for Excellence in Education.
"Beltone is proud to present this award to Dr Keith for his profound contributions to the field of audiology and the hearing care industry," said Todd Murray, president of Beltone North America. "We are grateful for his ongoing efforts to improve our industry through continuing education, research, and innovation."
The Mauldin Award is unique because honorees are solely nominated and selected by their industry peers. Created to honor the accomplishments of the late Larry Mauldin for his work and commitment to education in the field of audiology, the award has been presented annually since 1999 to an industry leader committed to continuing education and unselfishly giving back to the profession, the community, and the hearing impaired.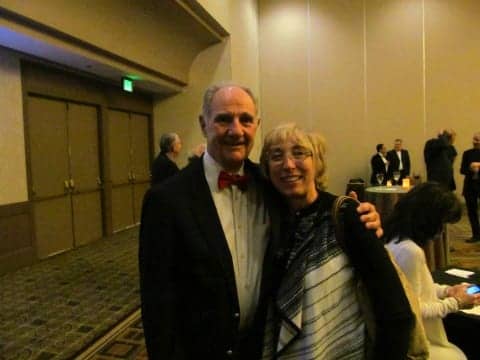 Robert Keith, PhD, with the co-founder of the Larry Mauldin Award, Cydney Fox, MA.
Keith has always been committed to the education of students. As an adjunct professor and director of Audiology in the department of communication sciences and disorders at The University of Cincinnati, Keith has either chaired or served on approximately 180 master's, AuD, and PhD thesis communities during his career. He teaches doctoral level courses and advises PhD and AuD students in the department of communication sciences and disorders. He also serves as faculty advisor to the Cincinnati Chapter of the Student Academy of Audiology.
"I am honored to be chosen for this award by my peers," said Keith. "It is very rewarding to be recognized as an educator, researcher, and advocate within the industry that I am so passionate about."
In addition to his work at the University of Cincinnati, Keith is a fellow of the American Speech-Language Hearing Association and a founding member of the American Academy of Audiology (AAA). He received the Distinguished Service Award from the American Academy of Audiology in 1998 and 2009 and was the Outstanding Graduate of the North Iowa Area Community College, Mason City, in 2005.
Keith is also the author of several tests for use in identifying auditory processing disorders (APS) including the SCAN:3 auditory processing test batteries that are designed for children, adolescents, and adults.
SOURCE: Beltone