Another successful Special Olympics Southern California (SOSC) Fall Games is on the record books, but the work to further support the athletes is just beginning. Hundreds of athletes underwent hearing screenings over the weekend through the Healthy Hearing Screening Program, part of the broader Healthy Athletes initiative, sponsored by Phonak, Warrenville, Ill, and the charitable Hear the World Foundation.
Based on the screenings, those athletes who need them will receive hearing aids free of charge from Phonak, giving athletes the greatest gift of all—the ability to hear.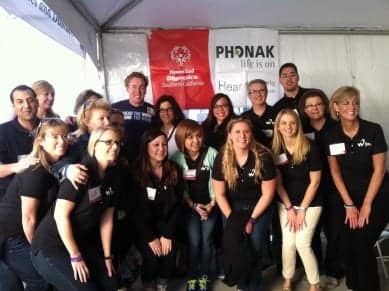 The Healthy Hearing Screening Program is an initiative aimed at providing needed hearing healthcare to this medically underserved population. Nearly 30% of Special Olympics athletes are found to have hearing loss, but many have not had viable access to hearing healthcare until now.
More than 40 volunteers from Phonak and SoCal Sonus, a hearing healthcare provider with 29 clinics throughout Southern California, joined audiologist Judy Montgomery, PhD, and her volunteer students from Chapman University to conduct hearing screenings during the SOSC Fall Games. Actor and Special Olympics spokesperson John C. McGinley was on hand to undergo his own hearing screening and see firsthand the work being done by Phonak and the Hear the World Foundation.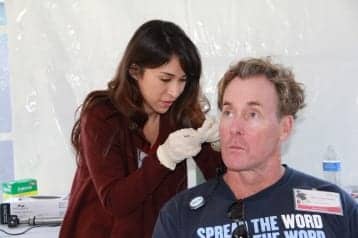 John C. McGinley (seated), actor/Special
Olympics
spokesperson, gets hearing test
at Southern California Special Olympics Fall Games.
"As a Special Olympics advocate and spokesperson, I want to be with the athletes as well, so I make sure to attend different Games," says McGinley. "Today, I came to see what happens when an athlete goes through the hearing screening. I went through the Healthy Hearing screening myself and found out that I actually have a high-frequency hearing loss. I'll move forward with that, but I wanted to see how it works for the athletes, and that was a good way to initiate the day here.
"The most stunning thing that I see about the Special Olympics Games is the fact that the athletes come here to try their very hardest to win," says McGinley. "As athletes, that's exactly what you're permitted to do here…win! The word 'special' comes out of it, they're 100% athletes. To me, that's what's so empowering and elevating about Special Olympics."
Source: Phonak