Martha McGarity, former sales director of The Hearing Journal, passed away on September 2 in Sacremento, Calif, after a long battle with cancer. McGarity was born in 1946 in Tulsa, Okla, to Clarence "Buzz" and Louise Walters of Carmichael, Calif. She graduated from Wheatland High School by correspondence in Peshawar, Pakistan, where her father was stationed in the Air Force as the Staff Judge Advocate for 2 years. She studied at Armstrong College in Savannah, Ga, and graduated from Sacramento State University. For several years, McGarity and a friend ran a successful interior decorating business in Sacramento.
In 1996, pursuing a long-held dream, McGarity moved to New York City, where she worked in sales and management in the publishing industry, including as sales director of The Hearing Journal for several years.
David Kirkwood, a long-time colleague and friend, recalled, "Martha had an amazing gift for making friends with colleagues, clients, and virtually everyone she encountered. Not only was she warm, charming, and full of fun, but she also had a wonderfully generous spirit that led her to always see the best in others."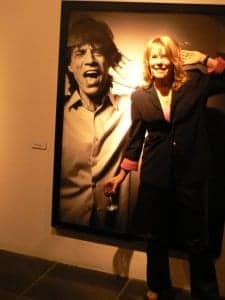 Kirkwood added, "At a remembrance gathering in New York shortly after Martha died, we recalled fondly how Martha would talk about how 'brilliant' or how 'interesting' someone she had met was.  Very often these were people that we also knew, but somehow had never observed the high virtues Martha that ascribed to them. But Martha genuinely believed that most of us were better than we were, which made us love her all the more."
Martha was predeceased by her first husband Michael McGarity and her father Clarence "Buzz" Walters. Martha is survived by her second husband Michael Rainey, her daughter Lisa McGarity, her granddaughter Katelin and grandson Zane, her mother Louise Walters, and her brother and sister-in-law Michael and Debra Walters.
Source: Sacremento Bee, David Kirkwood